Not-So-Rustic Cabin in the Woods + Behr Paint
If you follow me on Instagram, you might have noticed some recent rustic cabin in the woods photos and, as promised, I'm sharing some sneak peeks with you today!
First, I must say, this rustic cabin in the woods is NOT so rustic!
One thing led to another with the cabin renovations and it's looking and feeling like a brand new place now but I'm determined to keep it rustic by the home decor accents (it's all about the accents, right?)
So grab your cup of cocoa and cozy up to some sneak peeks of this tiny rustic cabin tour.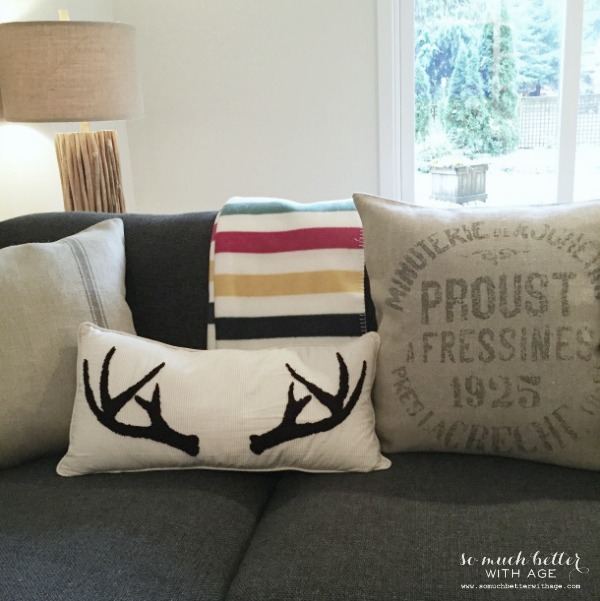 Here is the living room of the not-so-rustic-cabin-in-the-woods. I've cozied up the grey couch with an assortment of soft throw pillows and blanket throws.
I love the warm neutral wall color I picked out.
 It's called Varnished Ivory paint and I used the new line of Marquee paint from Behr.
It actually goes on in ONE coat. I couldn't believe it.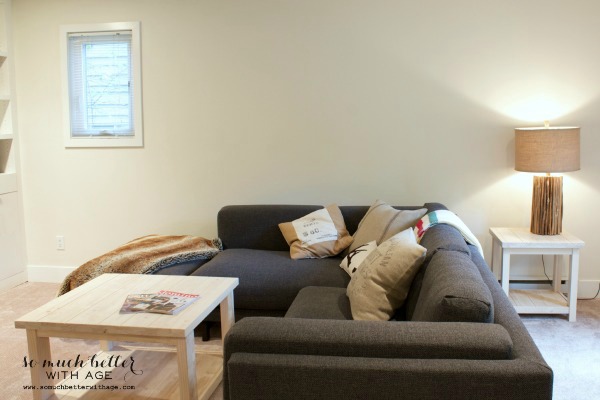 Here is the before color on the wall. It was a greeny-beige color that looked drab.
Getting prepped for painting!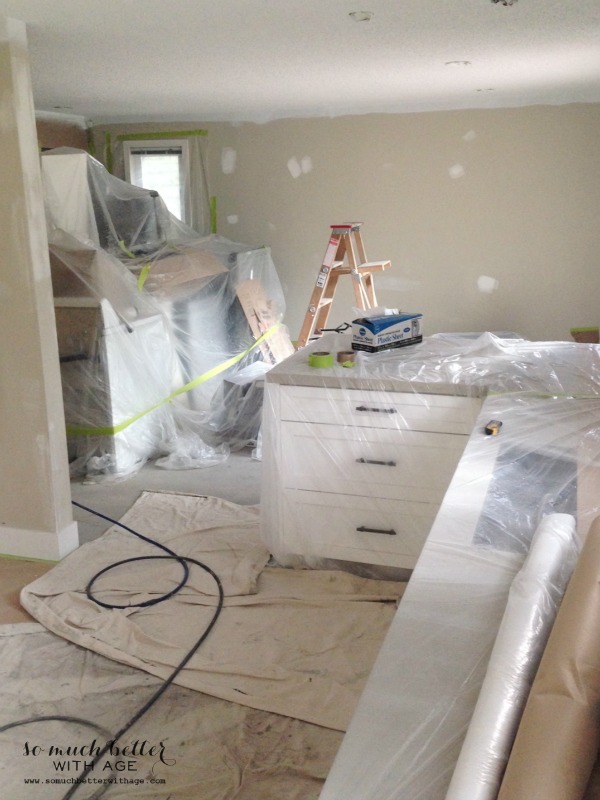 The gorgeous kitchen cabinets and countertop were already installed and had to get covered up for protection during the painting.
It's so light and bright in here now. The paint completely freshened the place up!
The built-in bookshelves were already here and I'm trying to make them a little more rustic. I have a few ideas up my sleeve so stay tuned.
 Another before shot of the kitchen.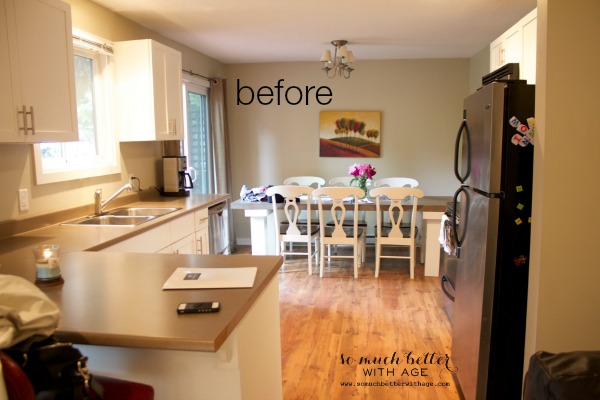 I love the way the light flows through the kitchen.
We used the same creamy white color throughout the entire place.
Don't you love these floors??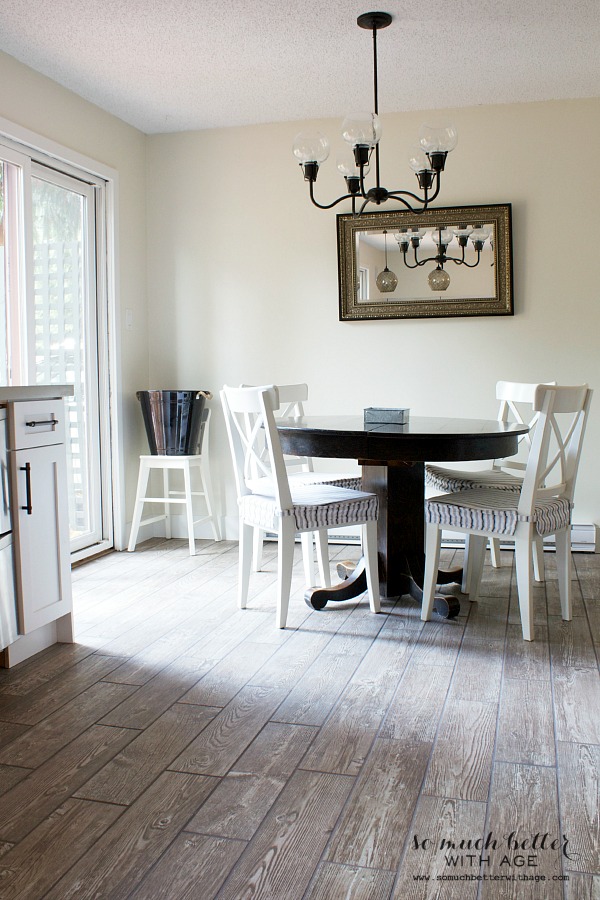 My daughter already knows where the snacks are kept in the renovated kitchen!
We are just waiting on some rustic open shelves for the kitchen. I cannot wait!!
Loving the tranquility of the place now, it has complete serenity!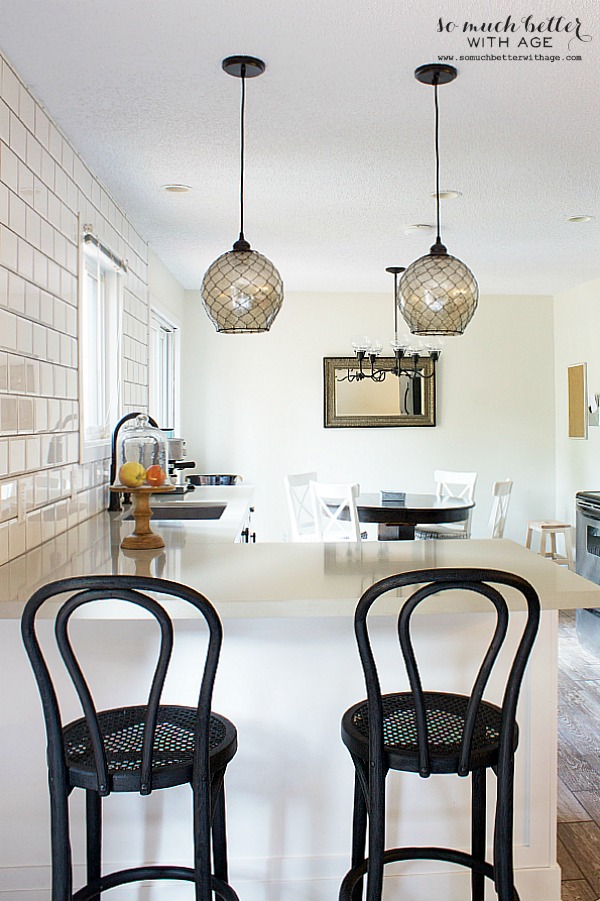 Can't wait to get some window coverings.
And put my deer head up here and some rustic art.
Loving the freshly painted walls.
Just recently in September Behr announced their 2015 Colour Trends. Of course I gravitate to the neutrals like this gorgeous grey:
Dreamscape Gray
But I'm also in love with these new colors:
Blue Clay

Secret Blush
Elusive Blue
You can see more places where I've used Behr paint here, here and here.
So what's left for our not-so-rustic cabin in the woods?
What Was Done:
All walls, doors and trim painted
Flooring replaced (carpet needs to be replaced again, that's another story)
All light fixtures replaced
New kitchen cabinets, countertop and wall of subway tile
What's Left To Do:
Living Room
Stain coffee table and side table in living room
Find some rustic artwork for the large living room wall and hang up deer head
Spray paint handles black (ones on built-in bookcase)
Window coverings
Kitchen
Add custom rustic shelves over subway tile
Replace broken dishwasher
Window coverings
Guest Room
Decorate (coming soon)
Kids' Rooms
Decorate (coming soon)
Master Bedroom
Decorate (coming soon)
Sources:
Disclosure: Thank you Behr Paint for the Marquee paint!! All opinions are 100% my own.
* Affiliate links added
To see more Not-So-Rustic Cabin posts:
[catablog_gallery id="11509″ template= "gallery"]
Sharing at these parties & Remodelaholic & The Scoop & The Shabby Nest