Organizing Loose Tea in Weck Canning Jars
Organizing loose leaf tea in Weck canning jars will not only keep things functional, but will look pretty too.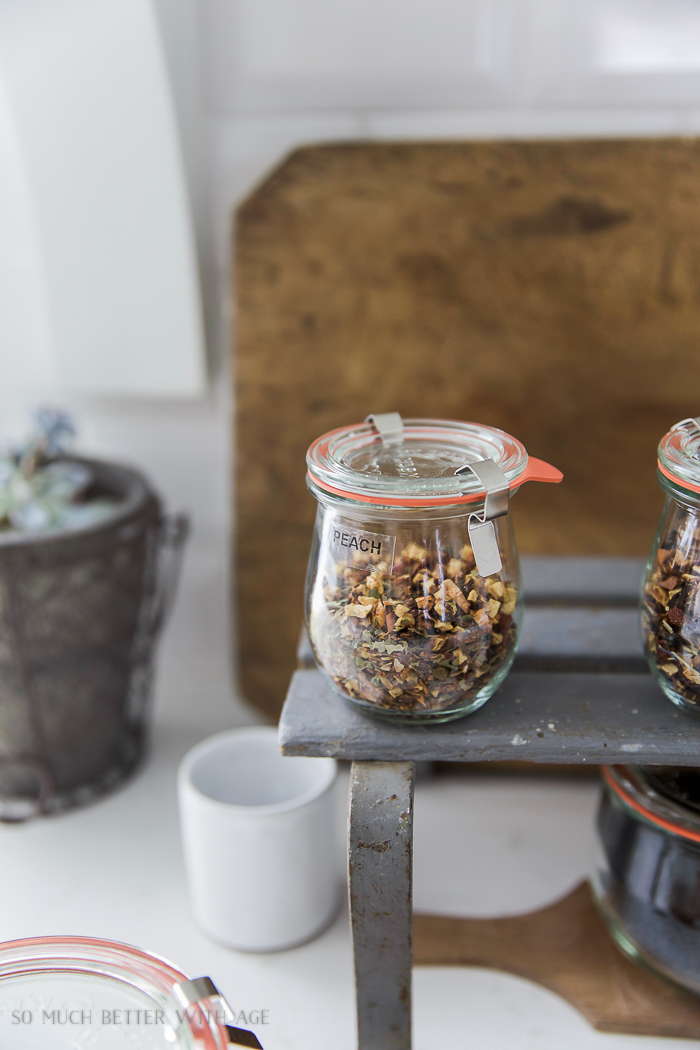 Now that the kids are back to school, I've been trying to get more organized. It's a bit difficult while I'm writing my book. There are projects laid out in every corner of my main floor.
To keep me going with the book projects, I drink a lot of tea. I never liked the taste of coffee and have always been a tea drinker so I have quite the stash of tea including a lot of loose leaf tea and they always come in not-so-pretty bags or a mix match of containers.
Weck canning jars come in the cutest sizes and they are the perfect way to organize all my loose tea.
Let me show you how I organized my loose tea in Weck canning jars.
This post contains affiliate links for your shopping convenience. Click to read my full disclosure policy.
Here is just some of my tea collection. I'm sure everyone has an assortment of tea like me. Sometimes you need caffeine, sometimes you don't. I love a decaf green tea at night. I have different favorite teas for friends and family that come over. When it comes to tea, everyone has a specific one that they like.
I like to organize my tea bags in pretty containers like the metal chicken feed container and the Kraft cheese box that you see in the image below. Once the loose tea goes in the jars, you'll need to label it somehow so you know what tea you'll be drinking.
I brought out my favourite label maker and made sure to use clear tape with black ink.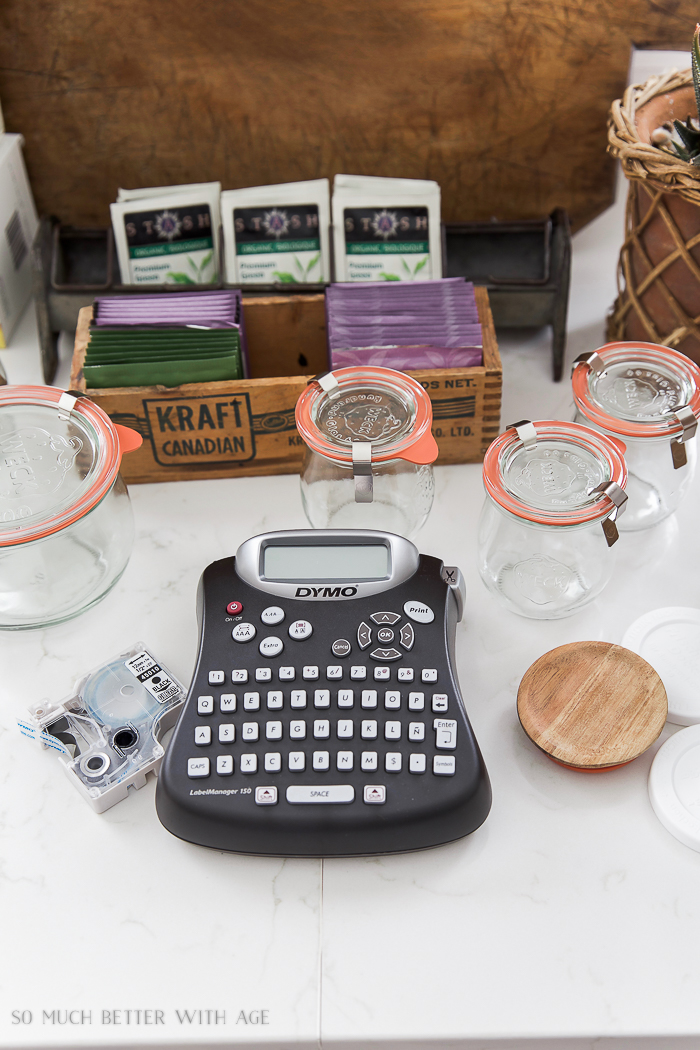 I initially found some Weck jars at a local cooking shop in various sizes but when I looked online on Amazon I found that they had different lids too!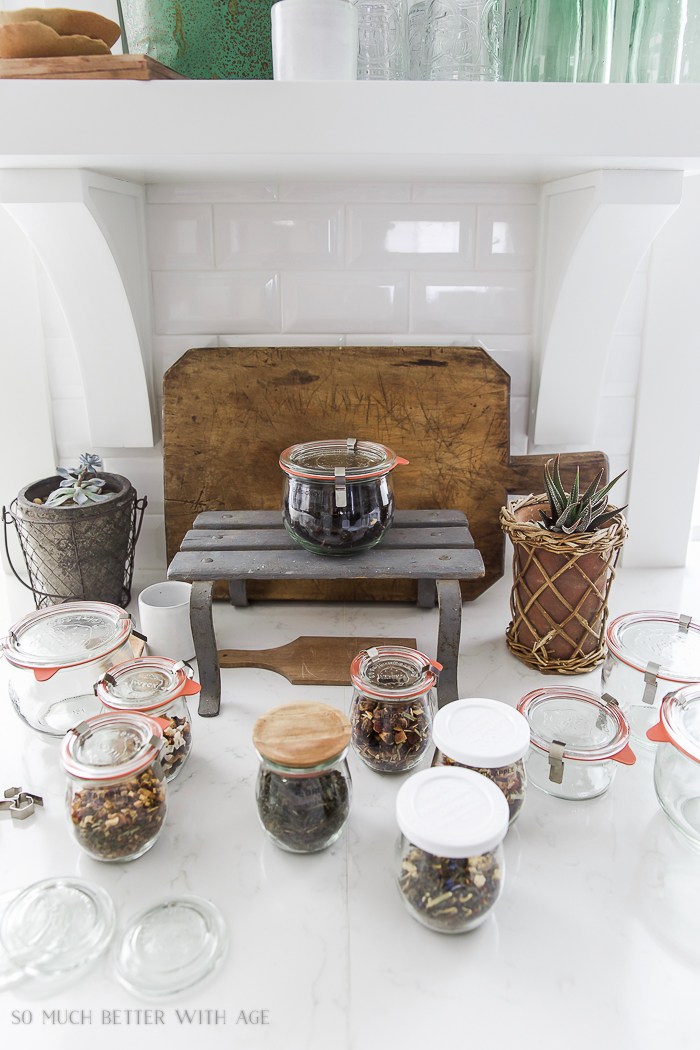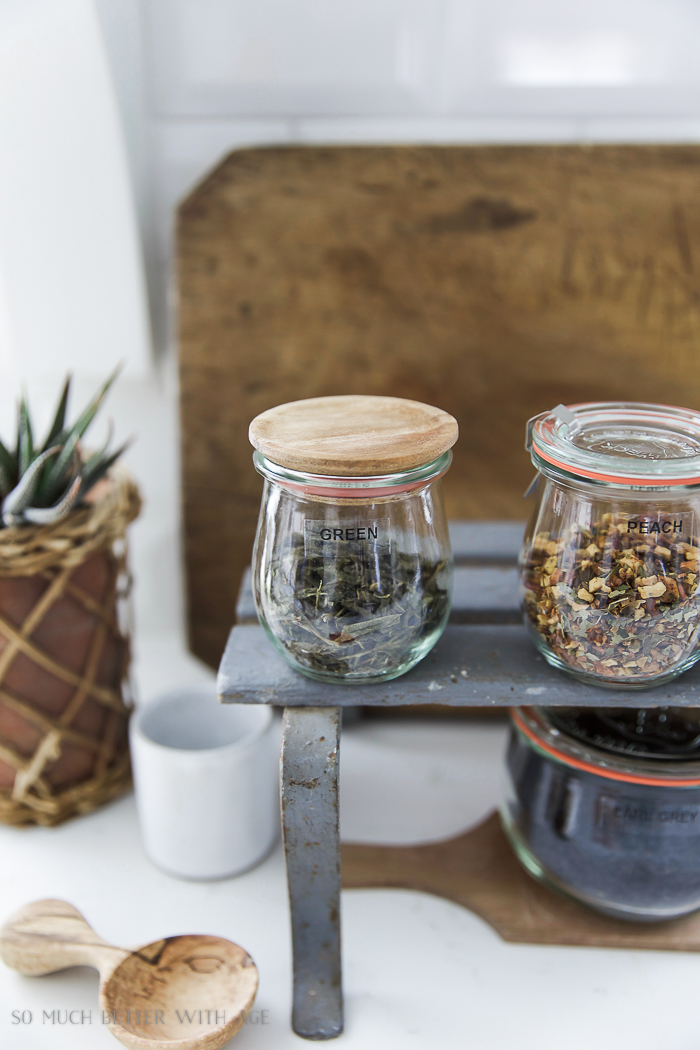 The wood lids are my favourite! They even have the orange seal attached underneath. There are simple white plastic lids too.
In the image below you can see the three different lids. Weck also has cork lids too.
I think I'm going to buy more wood ones, I initially just bought one to see how it looked as it was pricey for one lid.
For now I have 6 little Tulip jars with the original lids on an old stand that I bought in France last year at my first brocante market.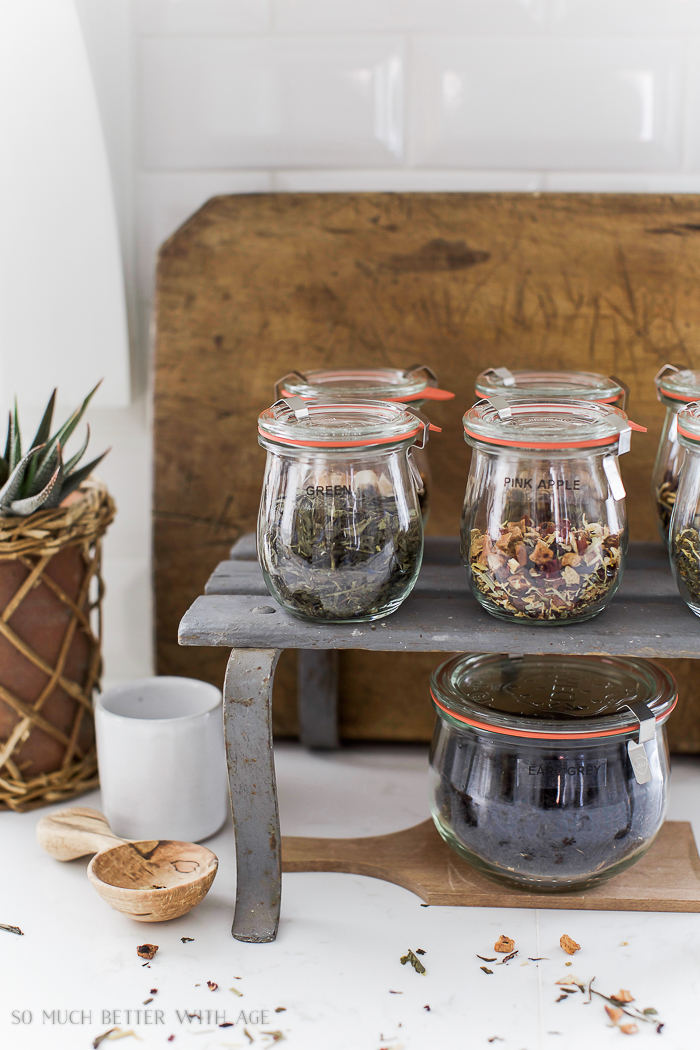 I have one large (1/2L) Weck jar with my favourite creamy Early grey as I go through that one a lot.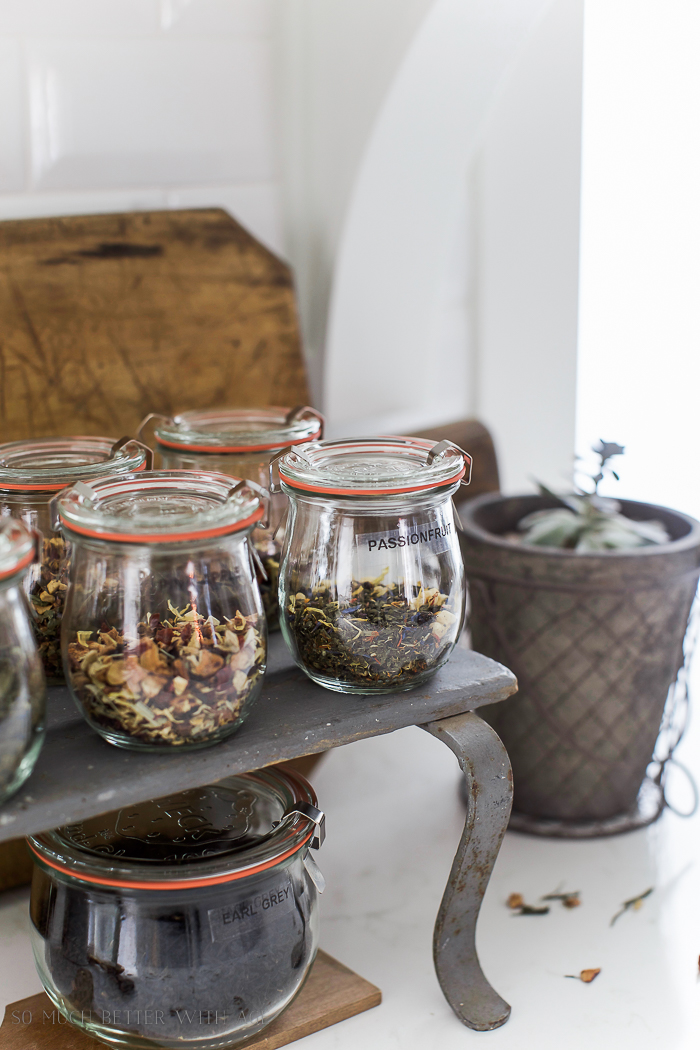 You can also pop a candle on some loose tea in the jar and it will act like potpourri when lit!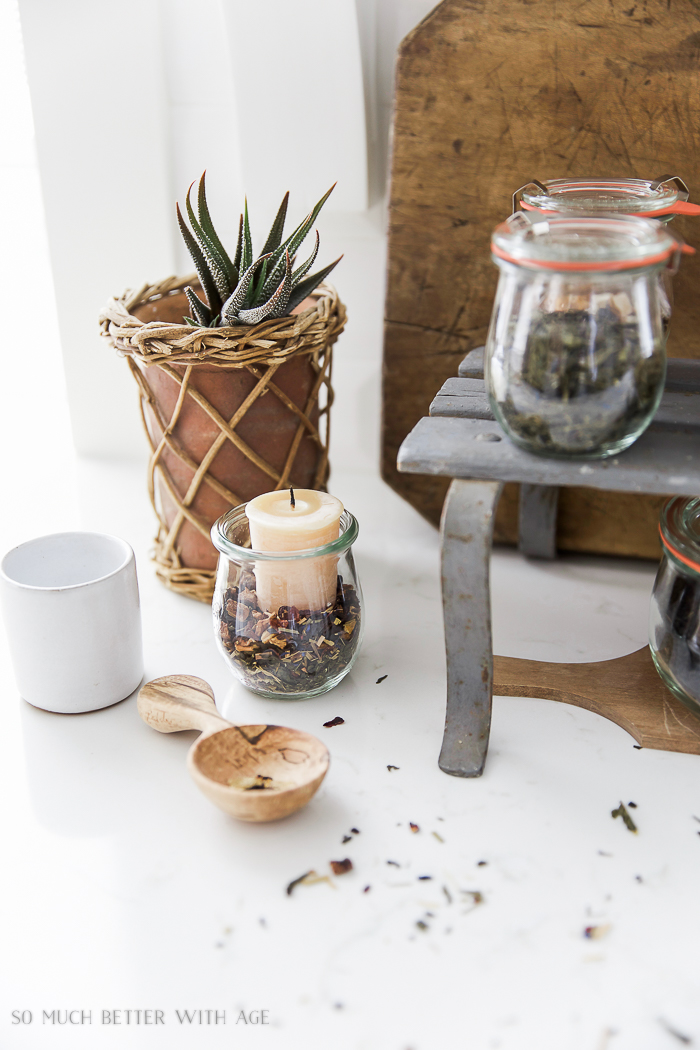 The jars with the loose tea look pretty enough to keep on the kitchen counter now.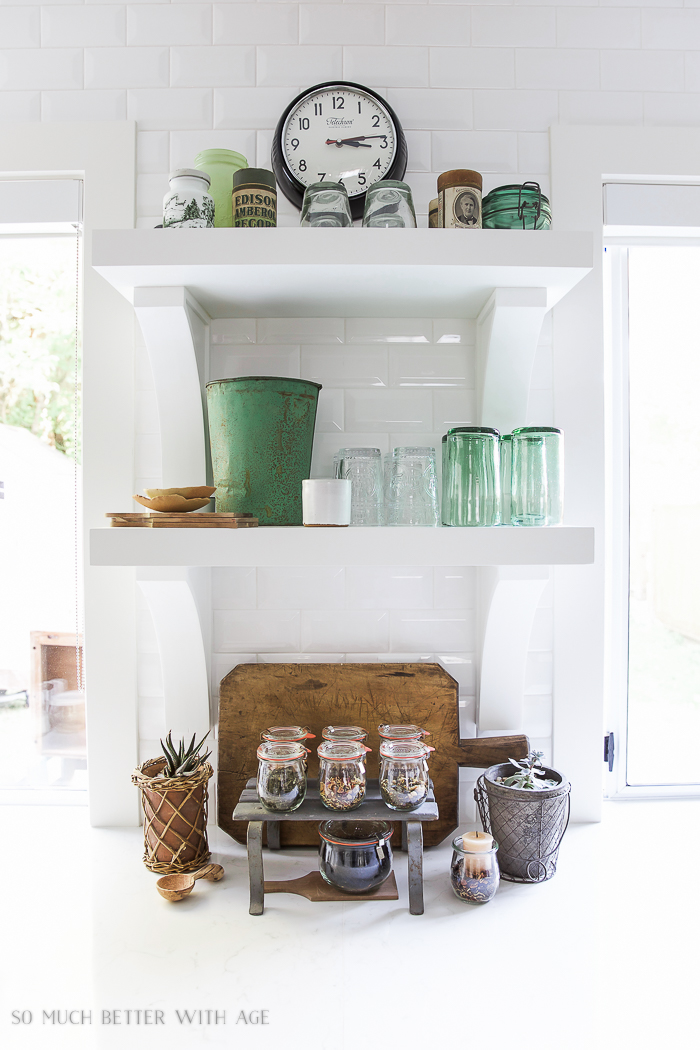 I hope I've inspired you today!
If you're interested in my label maker, this is the exact one I have –
Dymo Label Manager 150Black on clear labelling tape
I've had it for years now so here is a newer version – Dymo Label Manager 210 D
Black on clear labelling tape for the 210D
Make sure to pin it for later!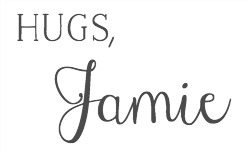 Click in Case You Missed:
60+ Items to Declutter from Your House Today