Pantry Reveal With Lots of Tips
I organized my pantry and found so many different ways of organizing all the different items.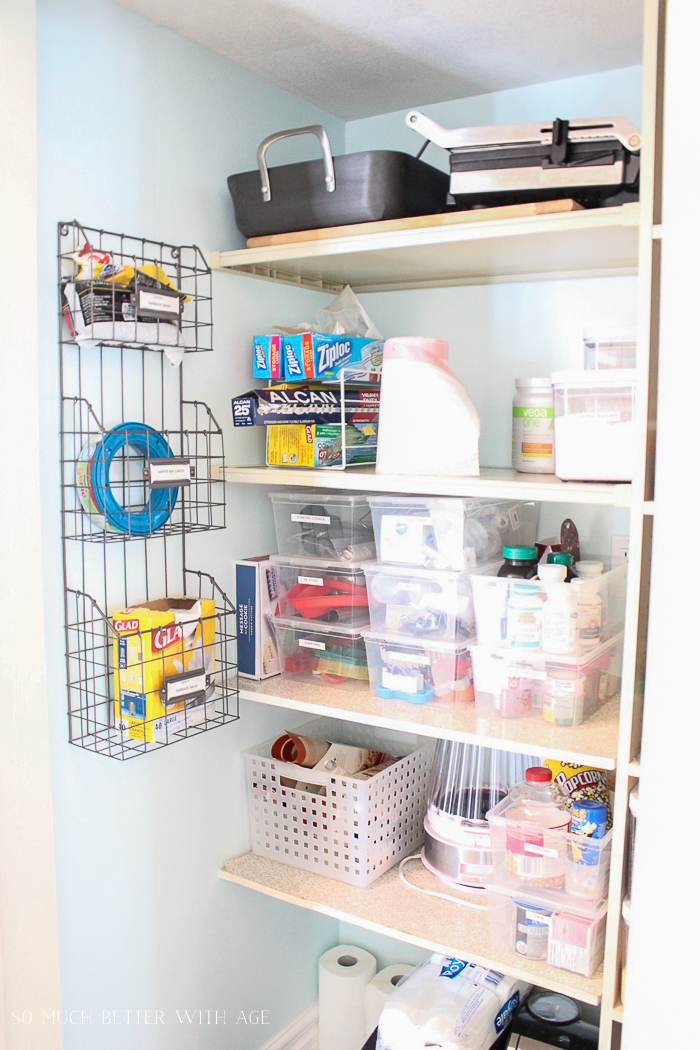 Let me show you how I organized my pantry just off my kitchen with lots of different storage ideas and tips!
Just off my kitchen there's a long hallway that leads to the garage door and laundry room. My kitchen doesn't have enough space for an actual pantry so I utilized this closet as a pantry and today I'll show you how I did it and share all the tips I have to keep it organized!
This is the closet that I turned into a pantry and just beside the two closet doors was another closet! With so many closets, we turned one of them into a mini butler pantry/coffee station.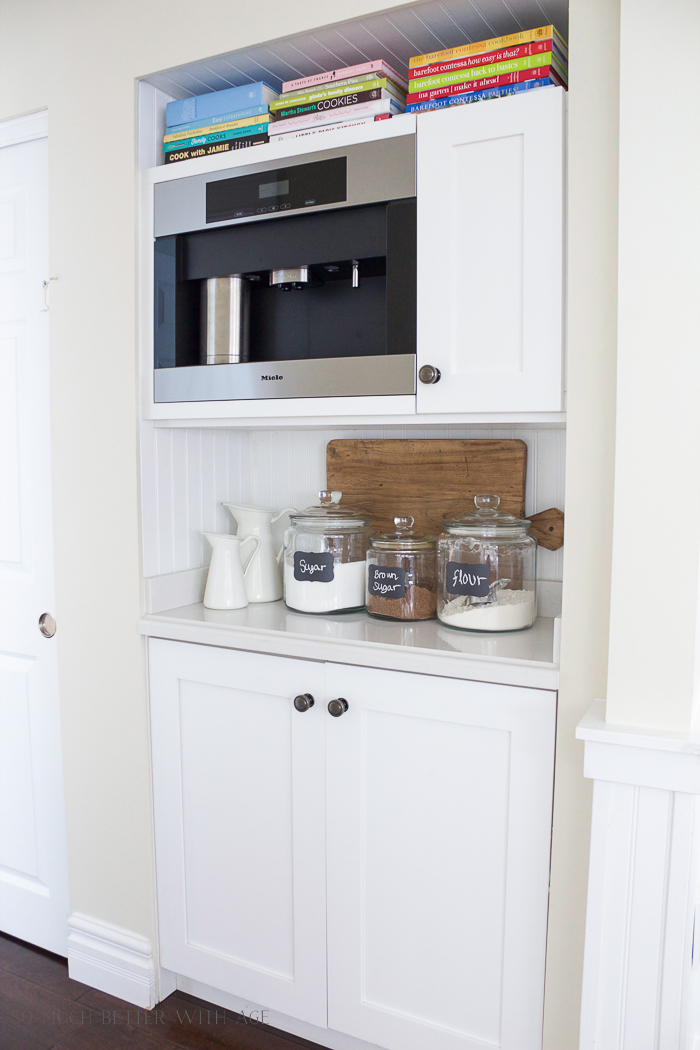 To give you an idea of what I started with this, this is what my 'pantry' looked like before.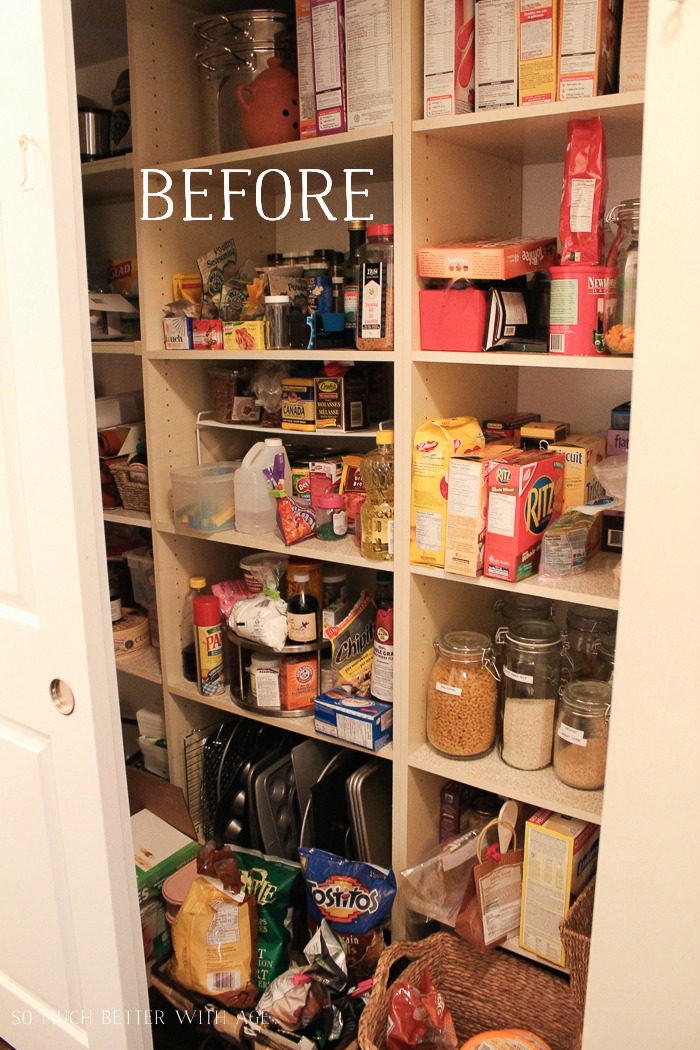 Disclosure: This post may contain affiliate links. Please read my disclosure policy.
Because this closet was so big, things just became messy over time and needed to be organized and STAY organized.
How I Organized My Closet Pantry with 14 Tips!
1. Paint
I painted the inside of the closet with some leftover paint.
I thought I might keep it in order more if the walls were pretty. It seems to have worked!
2. Store bulky items
I took big, bulky appliances from the kitchen and stored them in this pantry as well which freed up more space in the kitchen for everyday items.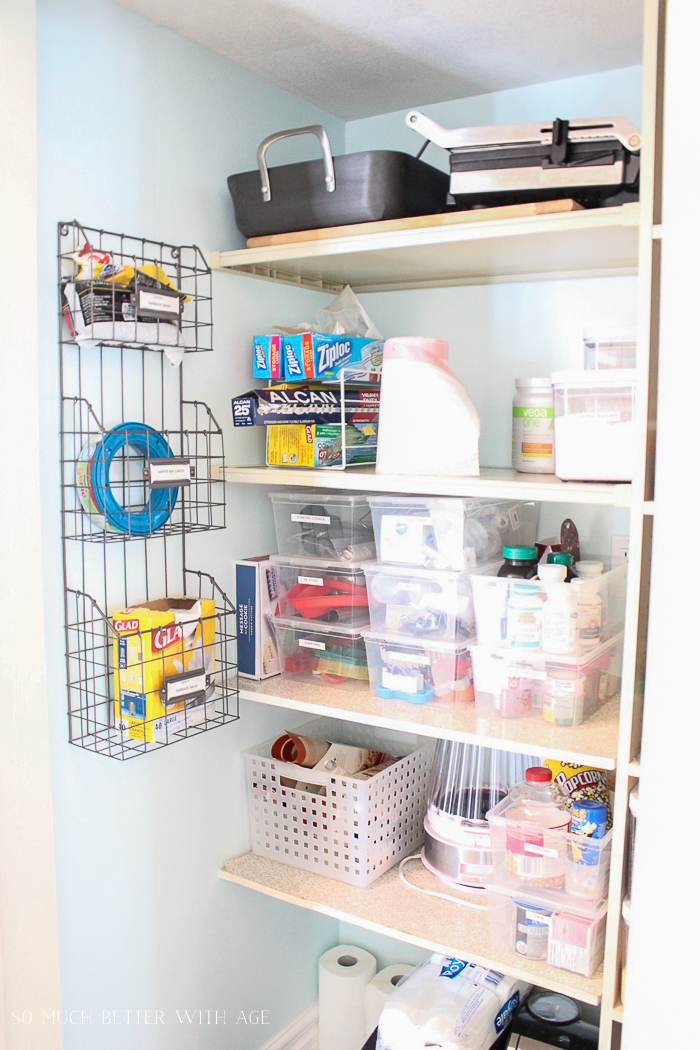 3. Organize creatively
I used a variety of different organizing items to keep things in their proper place.
Using a hanging magazine/file folder holder was great for keeping garbage bags and diaper genie bags in place.
This kitchen wrap organizer is perfect for holding plastic wrap and bags.
4. Clear shoe boxes
These are my favorite for so many things around the house! Group like items together (like roasting utensils, cookie cutters) and label them in their own plastic box. They are easy to stack and easy to see inside.
5. Labelled glass sealed canisters
Have a section for different baking items and dried pasta labelled in glass sealed canisters.
I also keep a container to keep all the pasta sauces together.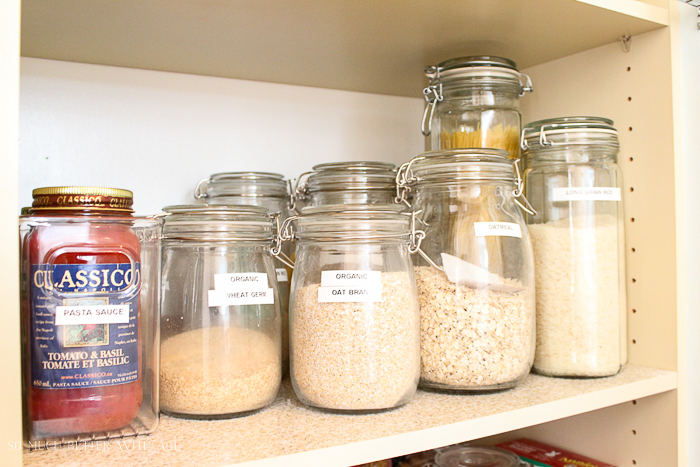 6. Keep oils and vinegars together in plastic containers
I hate when bottles of oils drip onto the shelves. Keep everything clean and in order by grouping these items together and putting them in a clear plastic container like the clear shoe box.
7. Sealed canisters
I keep my all-purpose flour, sugar, chocolate chips and cornmeal in these sealed plastic canisters as they are used most often in our house.
8. Soup can dispensers
Soup can dispensers are such a space saver. Using vertical space is so important in a pantry.
9. Metal shelving units
Stacking shelving units are great for adding more vertical space and holding smaller items.
10. Organizers for packets
If you have taco seasoning packets and spice bags, divided organizers are great for holding them.
11. Add tray dividers to hold all your baking sheets upright.
Do you see all those baking sheets near the bottom? Tray dividers are an inexpensive and great use of the vertical space.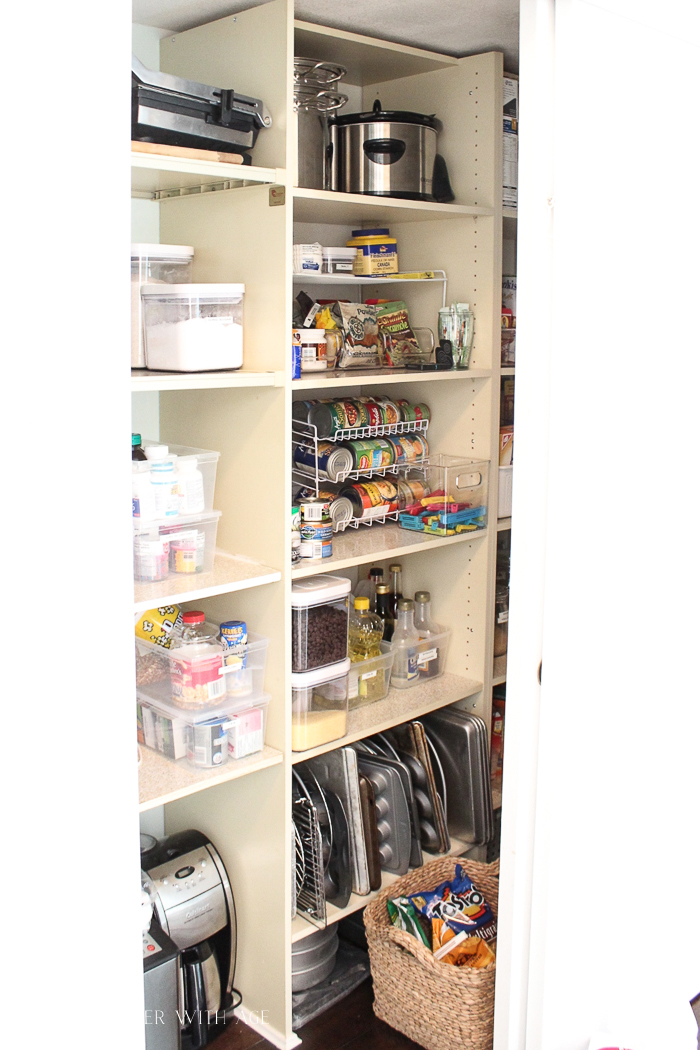 12. Store snacks in containers and label them
Keep porridge packs and granola bars in handy organizers and kids can grab them easily.
13. Use larger baskets and containers to hold group bigger items.
Corral boxed items together and label them. When you pull the basket out, it acts like a drawer.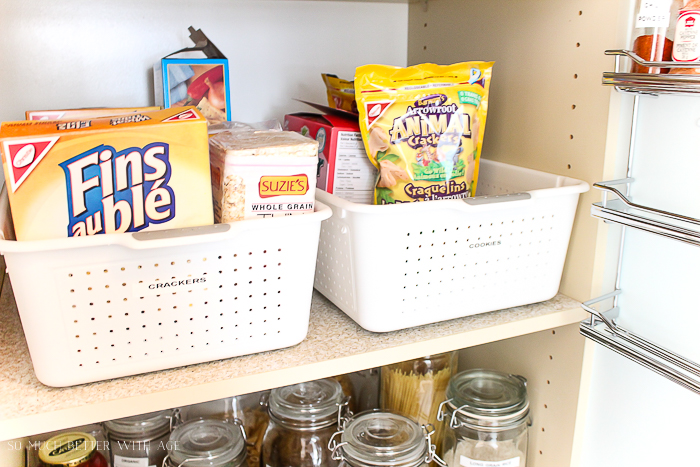 14. wall spice rack
This is the greatest space saver of all time! If you can put a wall hanging spice rack up like this, you'll save so much space.
I hope this helps you to get your pantry organized and to maybe think of using a closet for your pantry if you have one.
Shop My Post

Make sure to pin it for later!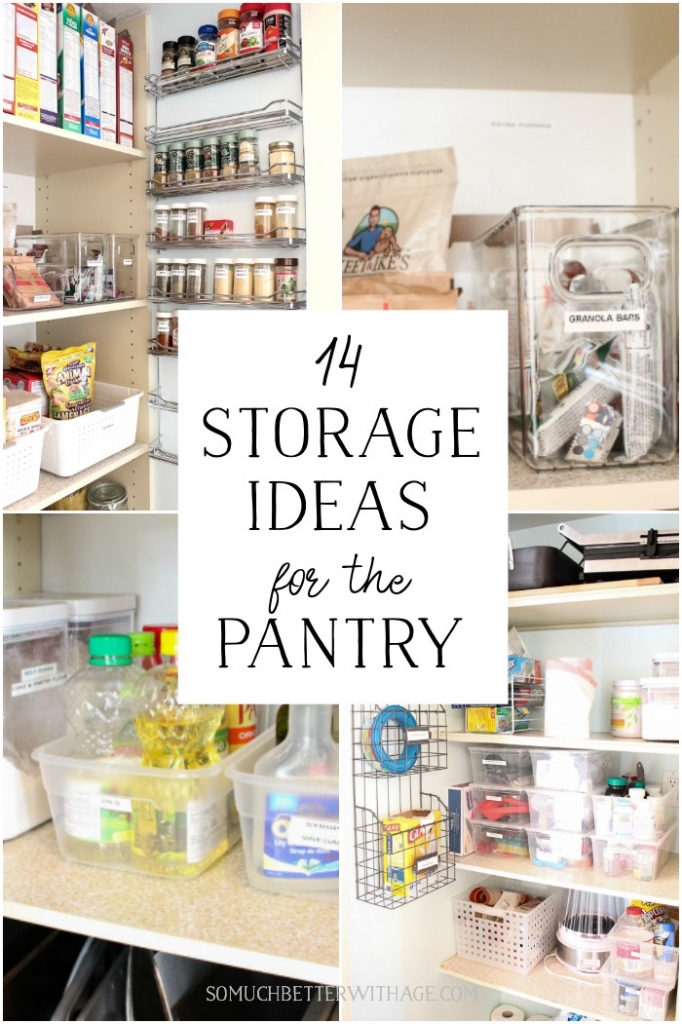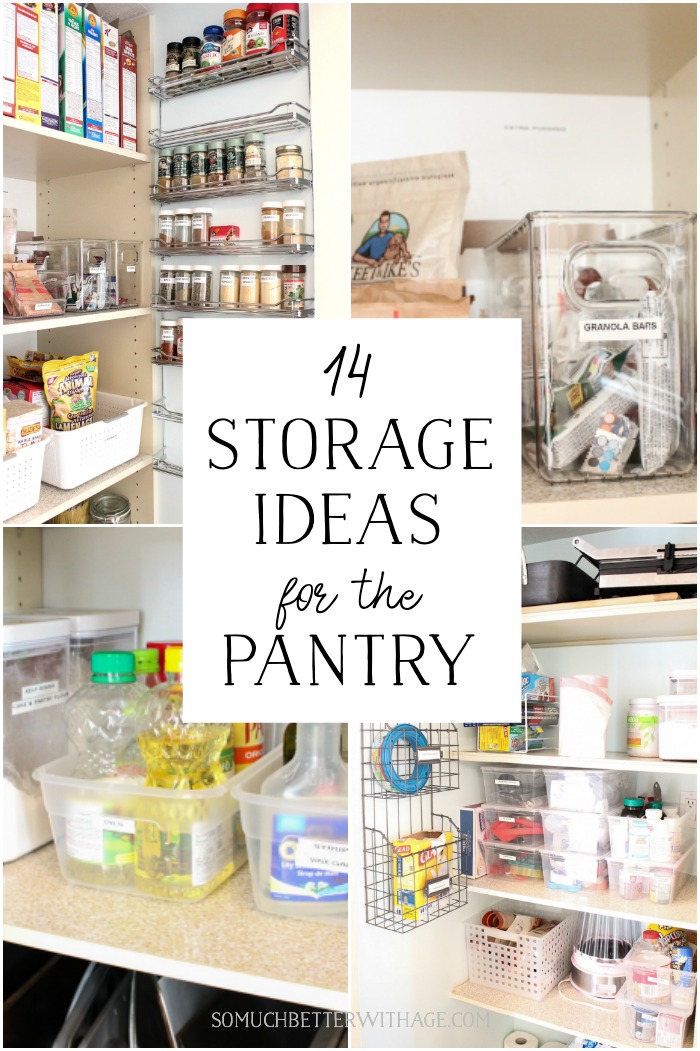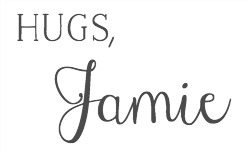 Click in Case You Missed:
Kitchen Updates – Add A Butler Pantry and Kitchen Office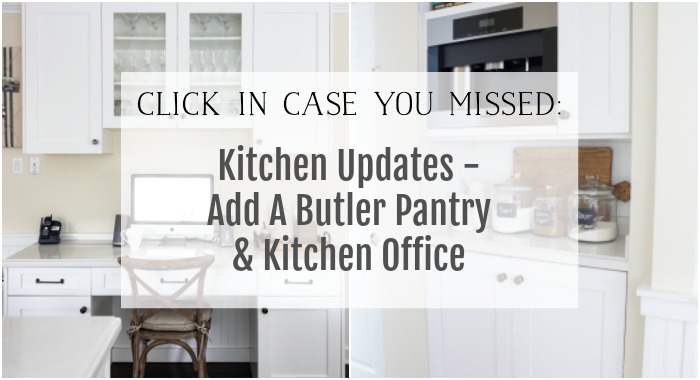 Kitchen Cupboard and Drawer Organization