I love old stuff, including bathrooms!
To bring this bathroom out of the 80s and into the 30s, I went with black and white tiles and a claw foot porcelain tub.
I'm in love!
Wait until you see the before photos.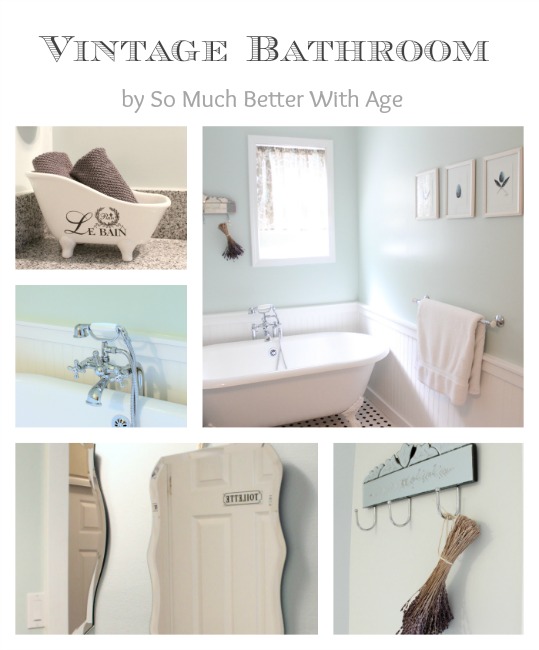 I call it a powder room because it's our main floor bathroom off the kitchen even though I realize a powder room doesn't contain a bathtub and a clawfoot tub for that matter!
But I still think it's a lovely name for this bathroom.
This is what it looked like when we bought our house.
Yikes!
Here it is after:
Typical 80s tub shower combo. Nothing to like here.
My beautiful clawfoot tub.
It even had faux wood linoleum! Wow. I have no words.
So we had the bathroom gutted.
And drywalled the walls.
We had crown moulding added, beadboard with trim, and black and white tiles.
So obviously I'm not a modern decor girl. I wanted it to seem like this was the way it was when the house was built.
Here is a close-up of some framed artwork. I bought them on Etsy years ago but I can't find the artist anymore.
I love vintage and nothing is more vintage than robin egg's blue. It's called Limelight from Behr.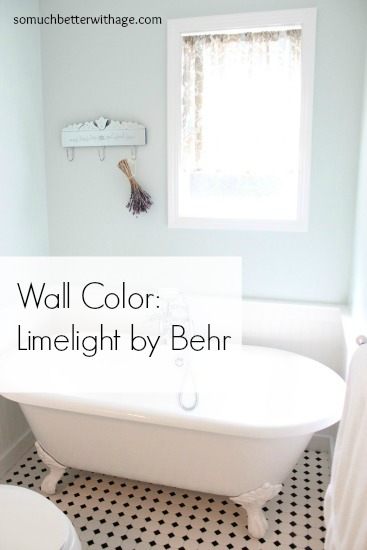 So there you have the little tour of my powder room.
Check out these bathroom updates.