Rustic Industrial Kitchen Shelves
I had these very beautiful rustic industrial shelves custom made and it added such a nice touch to my kitchen.
If you've been following my Instagram account, you might have noticed I was in Hawaii last week with my little family. We went to the big island for the first time and we loved it. We usually go to Maui but it was nice to change it up and travel to a new island. I hope you enjoyed Jennifer and Krista's posts while I was away. I love those girls!
I'm now getting caught up on reader questions and I've had so many questions on the rustic kitchen shelves in my not-so-rustic cabin in the woods.
Seriously. Everyone wants open shelving! Who wouldn't, right?
The renovation of a not-so-rustic cabin has been complete for a couple of months now with the exception of these gorgeous wooden shelves. I had them custom made for me. They came all the way from Alabama. Yep, Alabama to Vancouver, BC Canada!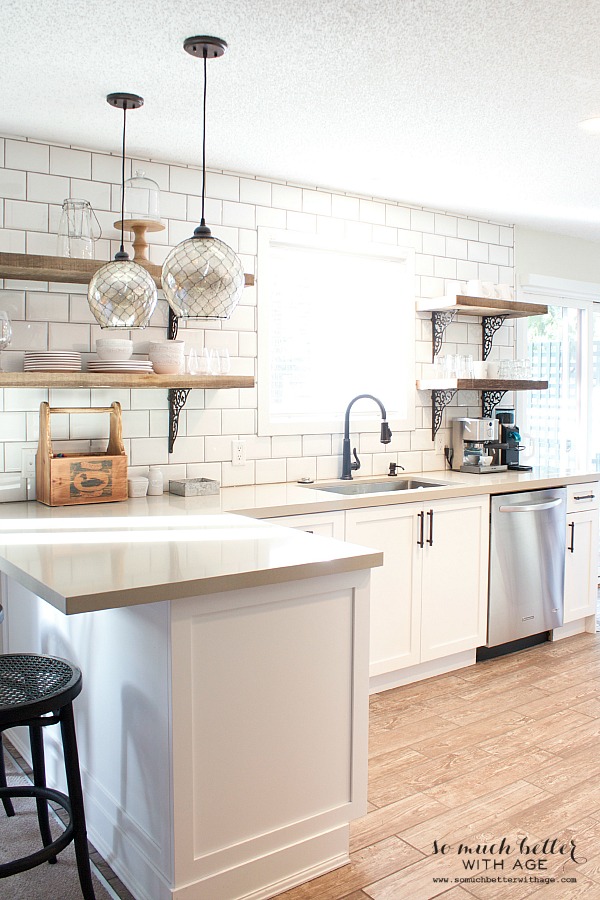 I knew when we bought this place that the kitchen needed open rustic shelves. I immediately thought of Garlan. We met at Haven in 2013.
When I contacted him with the possibility of making some shelves for me, he was more than happy to accommodate. And he had them shipped to me! I gave him the dimensions, an image of what I wanted and that was it.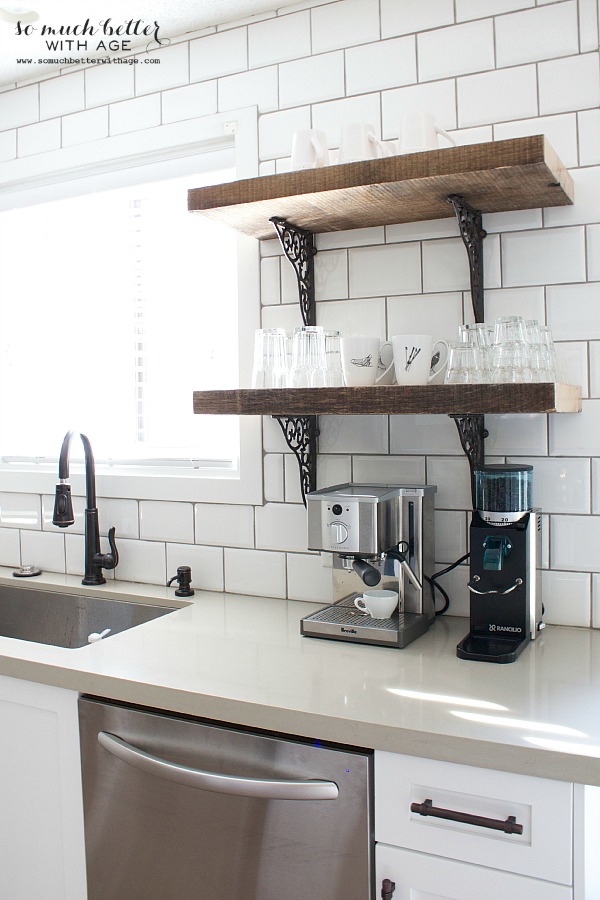 Open shelving right now is hot (not that I follow trends).
What could be more perfect for cabin decor that is used by a lot of people? Who needs to guess where the cups and plates are when they are all open. It's been working out so great.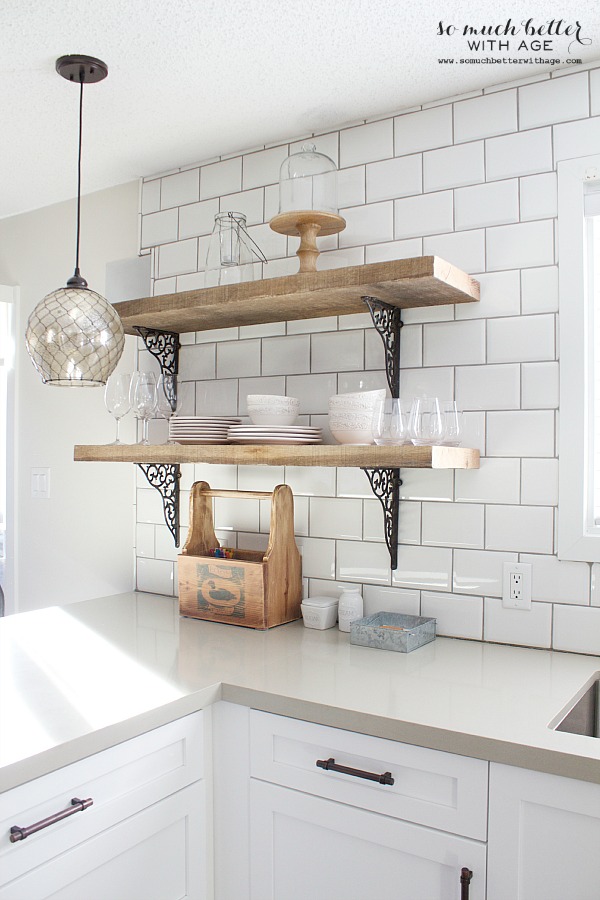 The shelves are incredibly thick. The rustic barn wood is gorgeous. I was worried that it might be a little too rustic for my plates and cups but the top of the shelves are polished smooth. Amazing.
Love the black metal brackets too.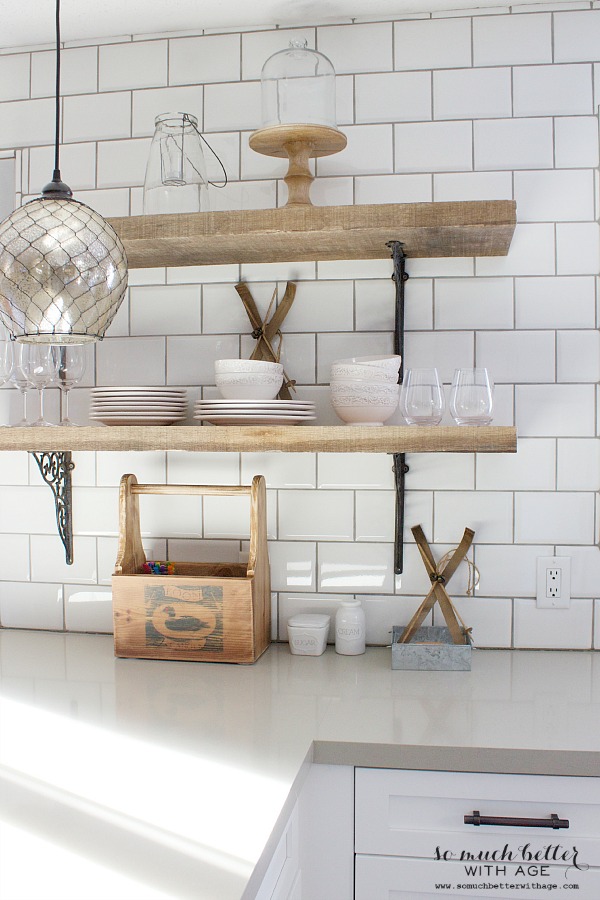 Now that the kitchen is done, it's really nice to head up to the not-so-rustic cabin and just relax.
I have some artwork still to put up on the walls. I'm going to frame a bunch of postcards for simple artwork.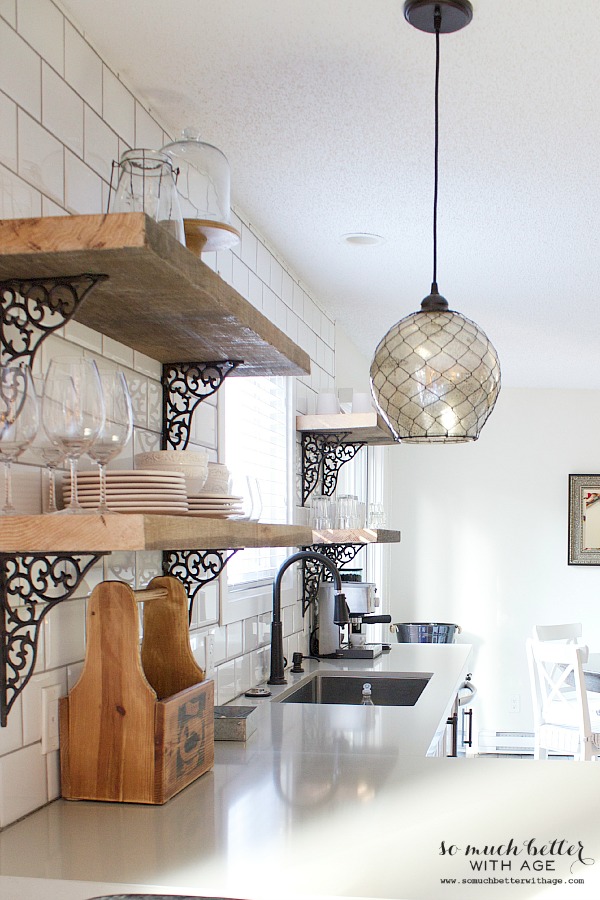 I love white and neutrals of course.
And whites with woods is my all time favorite look.
The wood just pops.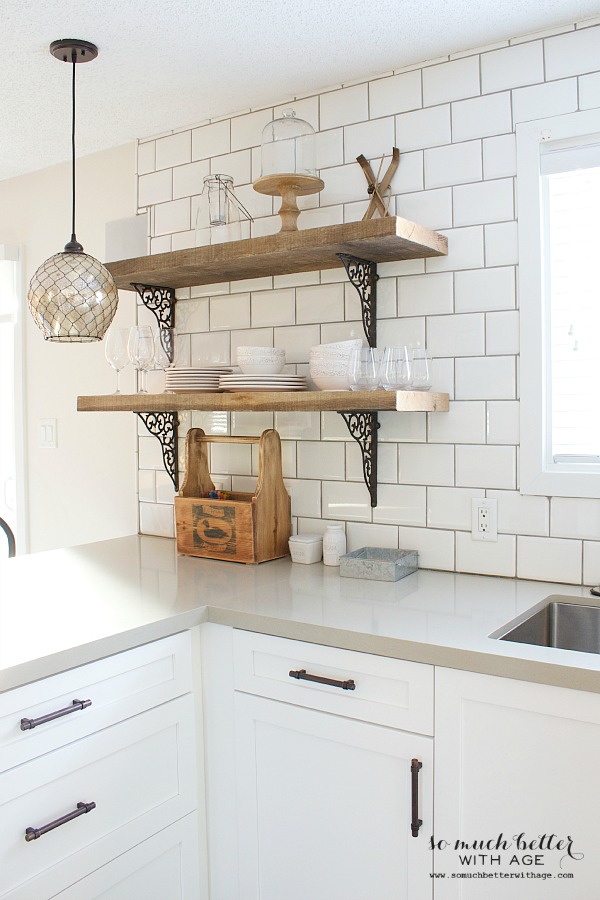 I love this cabin kitchen. And it feels so good that it's all done now!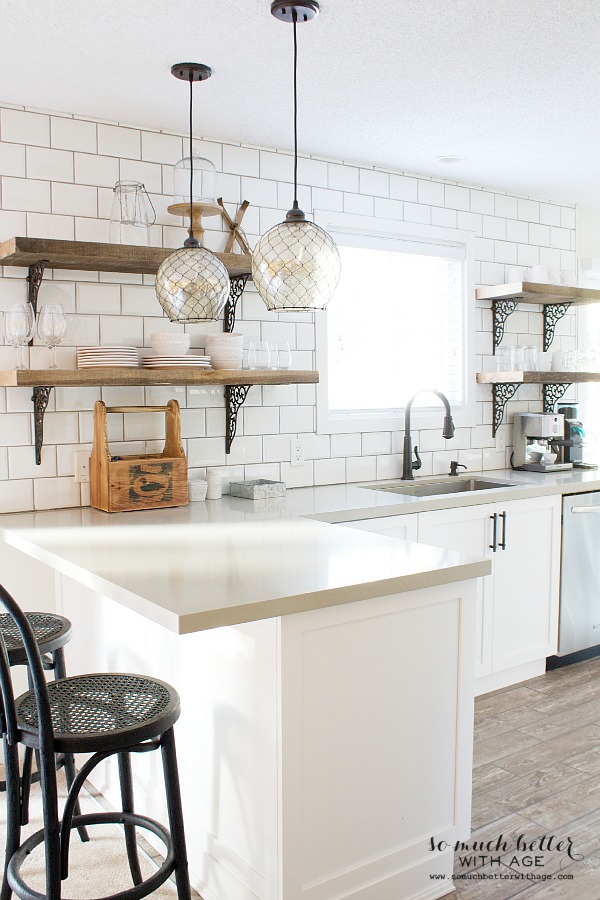 What's Left To Do in the Kitchen:
Add custom rustic shelves over subway tile
Replace broken dishwasher
Window coverings

Source List:
Rustic shelves: Southern Accents Architectural Antiques
Kitchen chandelier:  National Builder Supply chandelier
Wall color:  Behr Marquee Varnished Ivory
Pendant lights:  Kenroy Home
Custom kitchen cabinets: DSP Kitchens
Countertops: quartz, local retailer (trying to get name of quartz I picked)
Subway Tile: Ames Tile
Faucet: Home Depot*
Wood-look ceramic tile: Nufloors (Forest Rain in the Pluie colour from the Casa Roma collection)
Kitchen cabinet handles: Richelieu
Rustic table:  Craigslist find
Mirror:  bought at a local shop about 15 years ago
White chairs:  Ikea
Disclosure: Thank you, Southern Accents Architectural Antiques, for the gorgeous rustic shelves. All opinions are 100% my own.
Here are all the posts in one convenient spot:
[catablog_gallery id="11509″ template= "gallery"]
Affiliate links added
Sharing at these parties & Coastal Charm & The Scoop & The Shabby Nest