Organize your home with seasonal decor capsules and you'll never go back to your old way again!
I'm sure by now we've all heard the term 'wardrobe capsule'. It's a minimalist way of curating your clothing so that you have clothes that all go together, usually for a season, so you have more time in the morning, you spend less money and save on storage space. Seasonal decor capsules are essentially the same thing!
I can't wait to share with you how I organize all my decor for the seasons and holidays.
I'm also excited to announce that I'm part of a new monthly series called Simply Home Series with Sheila from Maison de Cinq, Deb from Seeking Lavender Lane, Rachel from Shades of Blue Interiors, KariAnne from Thistlewood Farms and Cami from Tidbits. We'll be sharing every third Thursday of the month a different topic but always about the home! Make sure to see what my co-hosts are sharing on organization at the end of this post!
This post contains affiliate links for your shopping convenience. Click to read my full disclosure policy.
seasonal decor capsules
I just shared my big basement decluttering and organizing last week and I made sure to set up areas for where I keep my decor items for different seasons.
I make sure to keep only what I love, items that are timeless and I really think about every decor item I'd need for the different seasons. I also make sure that whenever I buy something new, something old gets donated. This ensures that you keep the same amount of decor items (or less) but never more.
I have a small amount of throw pillow covers, a set for spring, a set for fall and I'm currently use the winter covers.
I also have bins for candles, votives and French yogurt jars (for my taper candles and epsom salts).
I also have an area set aside for candlesticks and table accessories.
Placemats, chargers and vases in abundance.
If I didn't need different decor for photography, I would pare it down even more! For now I have lots of options for the different seasons.
I have a storage bin for different faux florals to decorate with as well.
Again, I probably wouldn't have this much if I wasn't a blogger and needed different options for styling but I'm happy that it all has a space now.
If you didn't have option shelving, you could use clear storage bins labelled and stacked.
Did you see what my basement looked like before? It was such a mess!
You can create endless combinations of looks for any season with some timeless decor pieces. It doesn't have to be a lot – a few candlesticks, a beautiful vase with some faux florals is all you need to create a beautiful table, mantel or coffee table.
You can create a different bin for each season (one for spring, one for summer, etc.) but I find grouping all my candles together, all my pillow covers together, etc. easier. I always use the same candlesticks and candles 😉 Figure out what would work best for you and organize accordingly.
Items to keep for your Sesasonal Decor Capsules:
faux florals like peonies or roses for spring
faux eucalyptus for anytime of the year
faux fall leaves for Thanksgiving and fall
faux evergreen for Christmas and winter
candles and candlesticks
clear vase and pottery like vase for different centrepieces for the table or coffee table
throw pillow covers for changing up throw pillows (covers are way better to store than an entire pillow, you can learn to make your own by checking out my tutorial – invest in pillow inserts!)
holiday decor capsules
Organizing for specific holidays is pretty straightforward but it can easily get out of hand if you buy new items each year. You can combat that problem by going through all your seasonal decor items and donating ones you no longer use.
I have a small bin of crafts for Valentine's day for the kids, two bins for Easter, two bins for Halloween and lots for Christmas!
Again, because I'm a blogger I have more than what I'd normally have. I'd love one bin per season (other than Christmas) and I'm hoping I can get there eventually!
christmas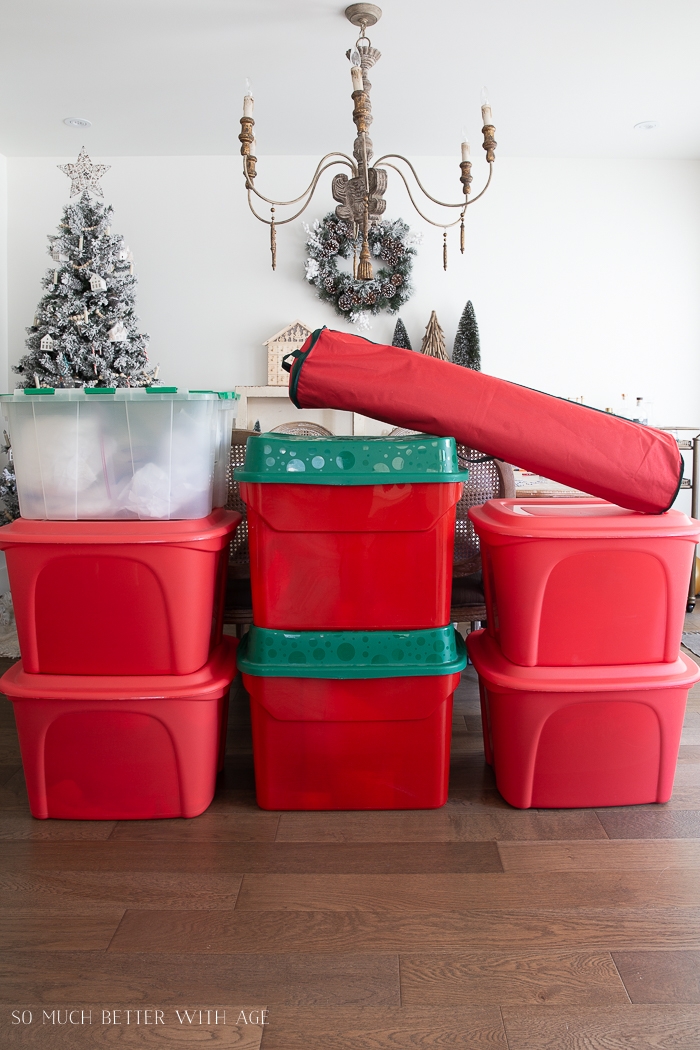 I used to have 12 bins of Christmas decor! Crazy, right? Without having a storage unit anymore, I had to reduce it. After Christmas a couple of years ago I went through everything I didn't use the year before and donated it. And now if I buy something new for Christmas (like a set of new ornaments), I make sure that I donate the same amount of an older Christmas item. That way the number of bins stays the same. Currently I have seven bins for Christmas.
It makes you take stock of what you own constantly so that you're not just buying stuff the sake of buying.
Click here to read more about how to organize Christmas ornaments and decor.
Items I keep in my Christmas Decor capsule:
Christmas trees (in separate original boxes
ornaments for two trees (I'd probably have one if I wasn't a blogger)
sentimental and kids ornaments for small kids' tree
stockings
small lights (trees are pre-lit)
faux evergreen
Christmas gift bags and tissue paper
tree stars
a few Christmas towels for the powder room
a couple Christmas tea towels for the kitchen
Christmas wreath
ribbon
Christmas cookie platter
4 Christmas plates and mugs for Christmas morning
holiday decor capsules by holiday
I keep all my holiday decor storage bins in the far back corner of my basement (you can see the floor plan in basement post).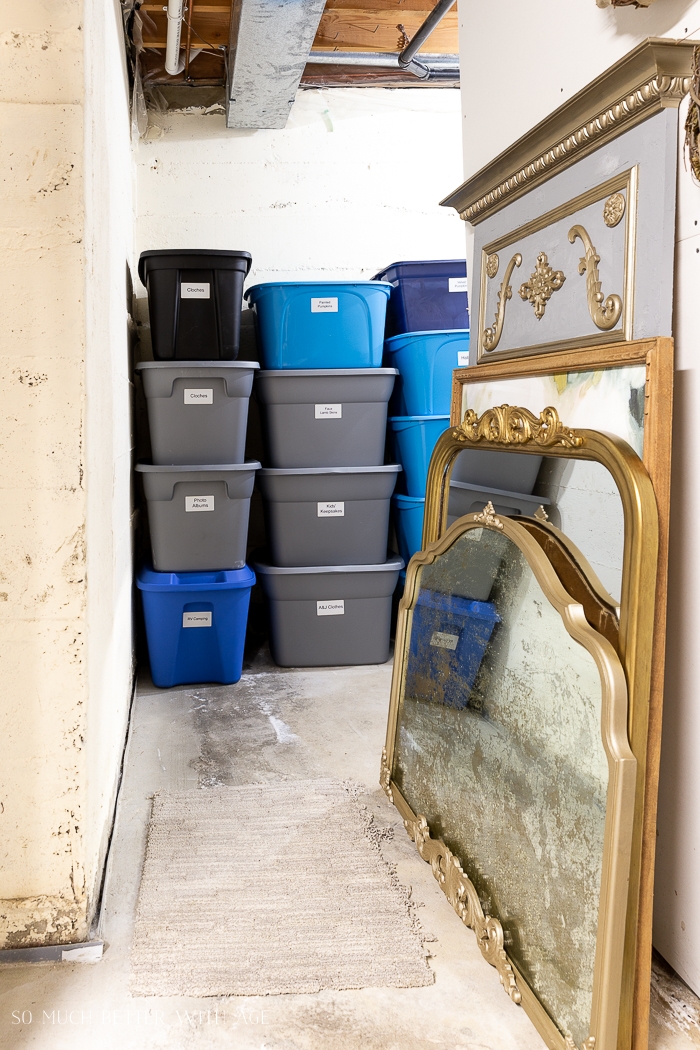 halloween
I have two storage bins for Halloween – one with decor and one with costumes.
For Halloween, my kids don't wear the same Halloween costume every year so if I purchased it from a Halloween store, I make sure to keep the packaging that it came in and store it in the Halloween bin. Then at the beginning of October, I sell them through my local Facebook groups. I use that money towards new costumes! It's a win win!
Items I keep in my Halloween decor capsule:
paper bats
crows
candelabra
spider nets and spiders
costumes with store packaging for reselling next year
any outdoor decor items
trick or treating bags
flashlights
pumpkin carving set
I try to always use regular decor items to decorate for the seasons like my cloches and candelabra.
Easter/spring
My Easter capsule includes two storage bins. I make sure to include the kids' Easter bunny bags (they don't like the baskets) and bunny ears.
I also make sure to pack them with the plastic refillable eggs so everything is ready to go for the next year.
Items I keep in my Easter decor capsule:
Easter bags/baskets
plastic refillable eggs to use every year stored in the Easter bags
bunny ears
a bunny platter
a mossy basket for a centrepiece
my vintage DIY Easter eggs for decor
an Easter wreath
Valentine's Day
Every year I make a heart shaped cookie for Valentine's day and have a few DIY items that I keep and bring out like my clay heart dishes and clay hearts.
Items I keep in my Valentine's decor capsule
clay hearts and heart dishes that I made and used for decor
kids' crafts for making Valentines (washi tape in red and pink, heart cards, glitter glue, stickers)
heart shaped cookie pan is stored in the kitchen
With everything in these capsules, it makes it so easy to locate everything you'll need for each season or holiday. It limits spending and saves time on how to decorate.
Evaluate how you'd like to decorate your home seasonally and for the holidays and make some decor capsules!
My Favorite Large Label Maker
DYMO LabelWriter 450 thermal label printer
Now be sure to visit my co-hosts below for their organization tips below.
Make sure to pin it for later!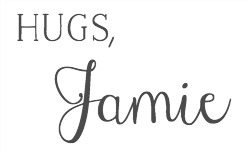 click in case you missed:
How to Declutter When You're Sentimental
How Decluttering Makes You More Creative
Maison de Cinq: My Five Favorite Organizing Tips
Seeking Lavender Lane: Organizing the Spice Drawer
Shades of Blue: How I Organize & Store My Home Decor
So Much Better with Age: Seasonal Decor Capsules
Thistlewood Farms: Nine Simple Organizing Tips
Tidbits: Three Tips for Organizing Your Days