Sentimental Tablecloth to Pillow Cover
How I transformed my Grandmothers' sentimental tablecloth into a beautiful pillow cover.
I love hanging on to some sentimental things but I hate hoarding.
I'm always purging but just can't let go of special items.
Like a tablecloth my grandma made. She did all this beautiful classic needlepoint.
I dislike using it as a tablecloth for fear of staining it and parts of it were frayed near the edges and also I didn't want to ruin it by washing it.
So I had the idea of turning it into a throw pillow.
Let me show you how!
It wasn't a very large tablecloth, just perfect for a side table or an overlay over a larger tablecloth.
There were some holes along the edges and a few stains by the time I received it.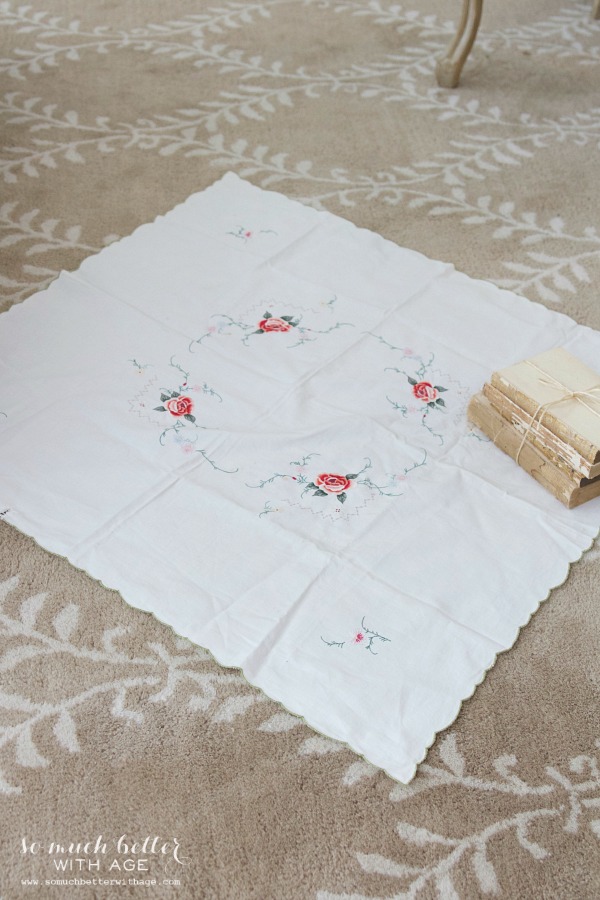 I love the delicate flowers and stem details. It's so darling and sweet.
SUPPLIES:
old tablecloth
cotton fabric (I used another old tablecloth)
sewing machine
scissors
iron and ironing board
TUTORIAL:
Following my own envelope pillow cover tutorial, I decided a square of the tablecloth stitched to the front of the pillow cover would be best.
1. I did the awful task of cutting the beautiful tablecloth. I cut out an 18 x 18″ square.
2. Cut two pieces 18 x 13″ each (I used another old tablecloth making sure one piece had a stripe).
3. Fold over an inch on all sides of the tablecloth square and iron down.
4. Pin the ironed piece to the 18 x 18″ square. Stitch into place.
By following the rest of my envelope pillow tutorial, you can complete the pillow cover.
Side note: when using a stripe fabric like I did, you'll want to stitch that stripe side down first!
What do think? I love the finished results of this needlepoint pillow. It's a great way to add your sentimental pieces to your decor.