Here is a step by step guide on how to set a beautiful Valentine's Day table setting.
I get comments/emails about my table settings that they are beautiful but seem too difficult to reproduce like the Valentine's Day table setting I shared with you yesterday. I want to show you today that they really are very simple to recreate in your home.
Flowers add such impact to the space. Sometimes the simpler the better is the way to go but instead of adding a bunch of flowers to a vase, stretch it out by adding them to the tabletop in an organic way.
Let me show you how I achieved this Valentine's Day table setting.
This post contains affiliate links for your shopping convenience. Click to read my full disclosure policy.
1. Fabric
First start out with a table runner. I actually wanted to set down one of my lace shawls but I couldn't find it anywhere. It doesn't need to be an actual runner. It can be some scrap linen fabric, a shawl or a light blanket. Make sure the fabric is kinda crumpled and wrinkly to add texture.
2. Candles
Candles are the easiest way to add a touch of color to the table and something to break up the flowers that you'll be laying down.
Add a dozen votive candles sporadically down the middle. I used these rose gold votive candle holders.
3. Place Settings
I never go crazy on my place settings since I have this beautiful china and I've added four place settings (a dinner plate and salad plate and one fork since I set it for dessert only). There are no placemats or chargers as I tend not to use them. I like the wood from my table to be exposed and for the emphasis to be on the centrepiece.
If you have a large table and would like to add placemats or chargers, that is fine as well. I felt for this table setting it didn't need it.
My everyday plates are cream and would do just as well.

My china pattern has been discontinued but you can find similar patterns here:
Shop China Patterns

4. Flowers
Of course, we need flowers. I used two dozen long stemmed roses for my table setting.
My tip is to only buy roses at grocery stores or small convenience floral shops. There's no need to spend a bunch of money at a fancy florist.
I went to two different stores and got three different types of roses (the other dozen is in a container on the cabinet). The different variation of pink and texture adds more dimension and difference to the table.
Add them to a vase before you're ready to place them on the table with minimal water. You don't want the water touching the leaves or they'll get soggy and fall off.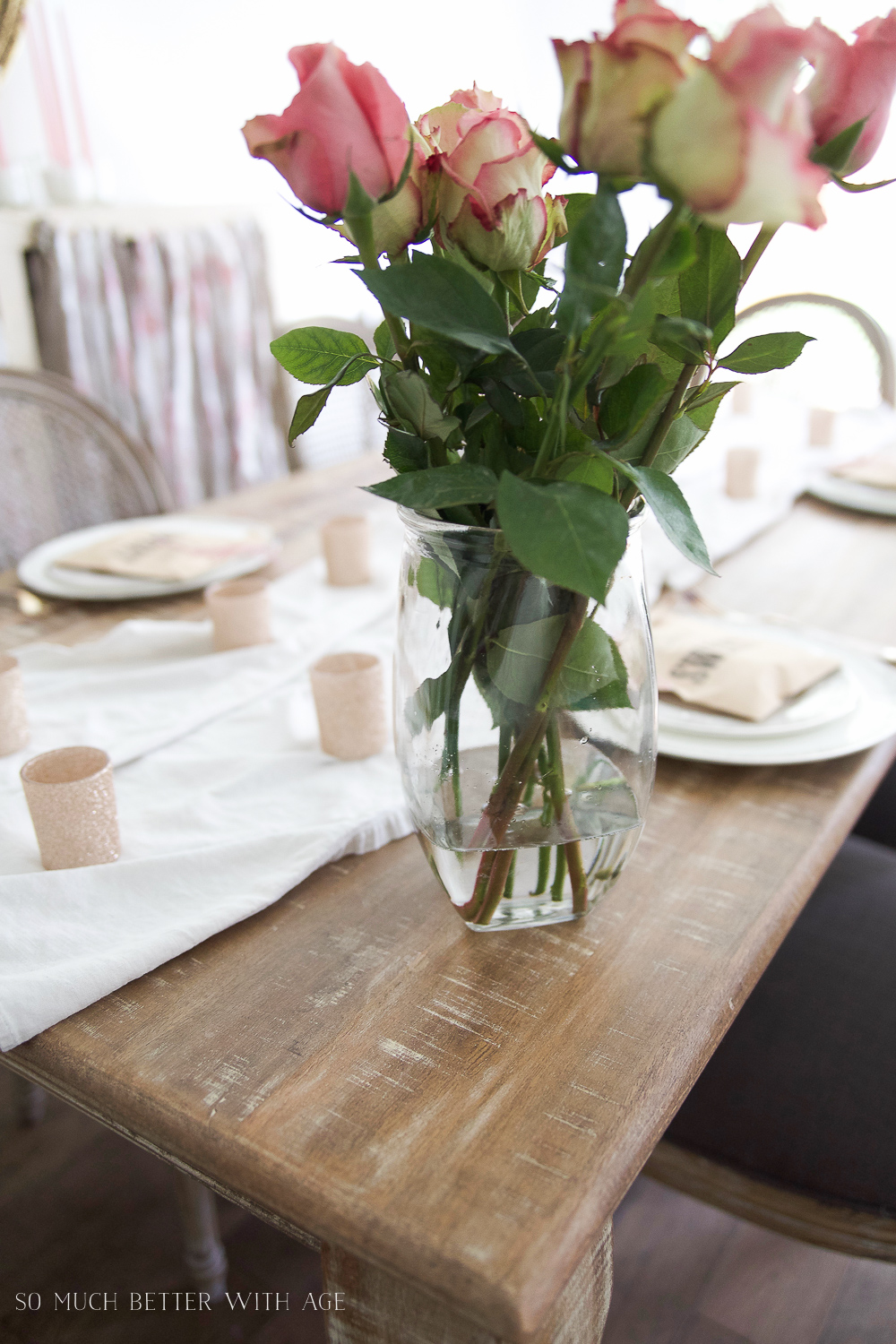 5. Placement
Start off by placing three roses at the ends but making sure the ends are pointing towards the centre of the table.
Notice I have two yellow pink roses on either side and one pink rose in the middle.
Do the same with the other end.
Scatter a few in the middle making sure the ends are tucked in and not sticking out.
So here is what one dozen looks like scattered organically along the runner.
I'll add one dozen more to it but making sure to leave 4 for the place settings.
6. Glasses and Serving Ware
Next you'll add glassware to the right of the place setting. I'm serving sparking pink lemonade and having dessert so I added the pie on a pedestal to the table as well.
That is everything on the table and it looks beautiful with minimal work.
I love adding flowers to different containers other than vases.
The pink books I painted and you can find out how in this post.
Tomorrow I'm going to share with you the treat bags I made and next week I'm going to share with you the painted books.
I've added gold touches to them after this post!
The cabinet is decorated with French yogurt jar candles and the scrap fabric garland I made along with another beautiful dozen roses in a mercury glass container.
Shop My Dining Room

Happy Valentine's Day!
Make sure to pin it for later!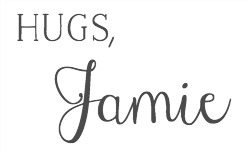 Click in Case You Missed:
Pretty Pink Roses Valentine's Day Table