Looking for Christmas decor that is simple and natural? Lots of beautiful inspiration here!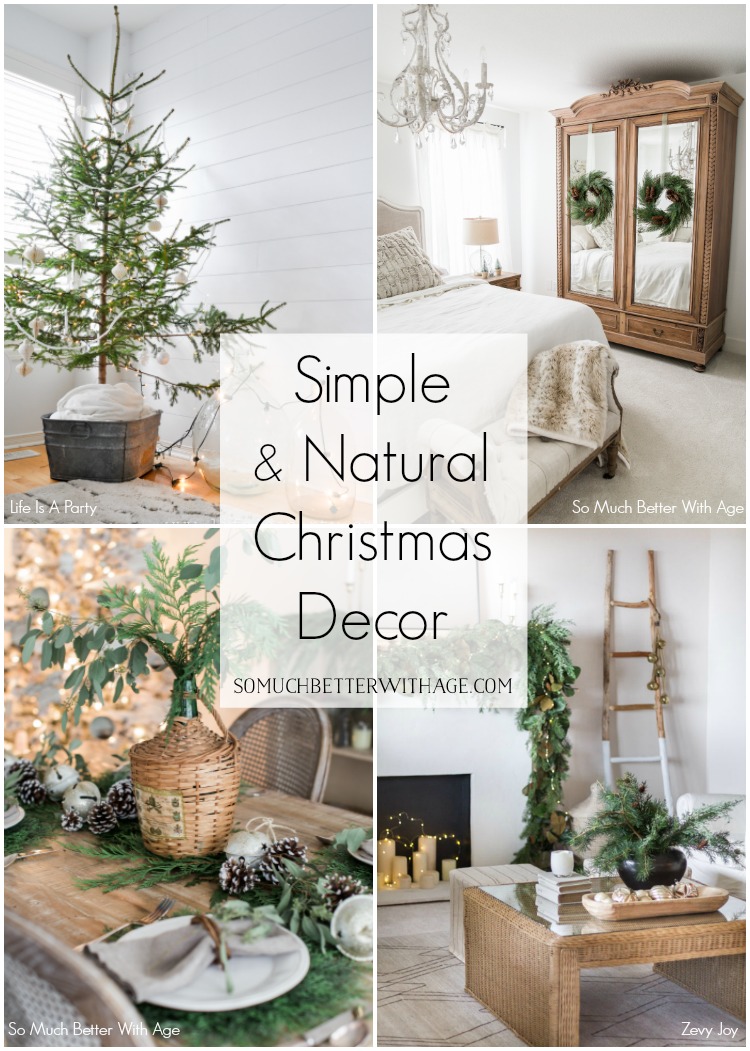 This year has been one for the books, hasn't it? I feel exhausted just thinking of the pandemic in general. I love Christmas and look forward to it every year but this year I just want more simple and natural Christmas decor.
To get inspired, I'm sharing lots of images that will give us that simple decor look using lots of natural elements.
Most of the trees are real and although I would LOVE to have a real tree every year, I've already invested in two flocked faux trees so I'll keep those (for now) and will add other natural green elements other places. For me, natural can mean the look of real trees and an undecorated look. Simple touches can mean so much!
Simple and natural Christmas Decor
I love this real tree with neutral ornaments. It doesn't have a tree skirt or tree collar, just a few presents.
I love the tree in the galvanized bucket. I have a small Ikea tree that the kids put their decorations on each year and I always put it in a galvanized bucket too. The demijohns and twinkly lights are a nice touch.
Rachel always does such a beautiful job decorating her home at Christmas. I love the garland around the window and the simple bowl of greenery with twinkle lights.
The dried oranges in this garland are stunning, aren't they? The greenery looks so good against all the white.
The simple garland around this tree makes me so happy. I always thought the 'perfect' tree would have the 'right' amount of ornaments but there's something about this one that I absolutely love.
This tree and this garland! Michelle does an amazing job with this asymmetrical garland. LOVE!
I want to buy a farmhouse and move to the country just because of this image! There's even a French glass door leading to this parlour room.
I love Sarah's style. The garland on her mantel is beautiful with all the gold candlesticks.
Erin's garland is stunning! This greenery sets off the entire room.
Julie has the most gorgeous minimalist style. I love how the garland pools on the floor.
The greenery in a foyer is so pretty. I love that simple wreath.
The white with gold mirrors and natural greenery is so simple and beautiful.
Jenna made the most beautiful garland for her staircase. I love the green ribbons in the green garland.
Greenery in a basket on the top of an armoire is such a pretty, simple touch.
Adding wreaths with ribbons on every window is an easy win like Deb has done in her gorgeous kitchen.
I've considered two trees side by side for a couple of years now like Chloe has done here but I don't have the space. I love how it looks like a little forest.
Another beautiful garland from Annie and I love the simple evergreen centrepiece on the coffee table.
Adding two wreaths to my bedroom at Christmas is all that's needed for making the bedroom feel Christmas-y.
I used lots of evergreen in this table setting I did a couple of years ago. The smell was amazing!
I hope this has inspired you to decorate with simple and natural touches this holiday sesason!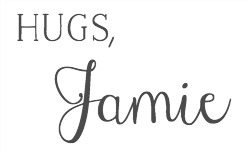 click in case you missed: