Spring Tour of the Kitchen + Video
Come take a peek at my first spring tour of my kitchen.
I moved in to this house last year in April so this is its official first spring tour.
It's also the start of a few spring tours I have lined up for you this month as well as some fun and beautiful spring projects.
So let's begin this first spring tour!
I'm also participating in a blog hop hosted by Jen at Decor Gold Designs and Randi of Randi Garrett Designs. Be sure to visit the other spring tours at the end of this post.
I'm really enjoying my new kitchen. I can't believe how big it is taking those two walls down and adding massive island and this counter (that was once an eating area) is the perfect baking area.
The big windows let in so much natural light!
These pink hyacinths look so pretty in this green sap bucket that I've had for years.
Having a big kitchen island was always a dream of mine and I'm so happy it's now a reality.
I bring my laptop down here to do work and the kids can do homework while I cook dinner.
My French inspired kitchen doesn't need much for spring, just some beautiful pink flowers.
Even though when we took down two walls and put in a big header, I still had to have this post in the corner of the island. I was so disappointed!
Unfortunately, the ceiling boards started to run in a diagonal position right beyond where the big header was put in. So even there is a header, the post had to stay in the island.
It was the post or another header that would have to go straight through the window which meant a smaller window.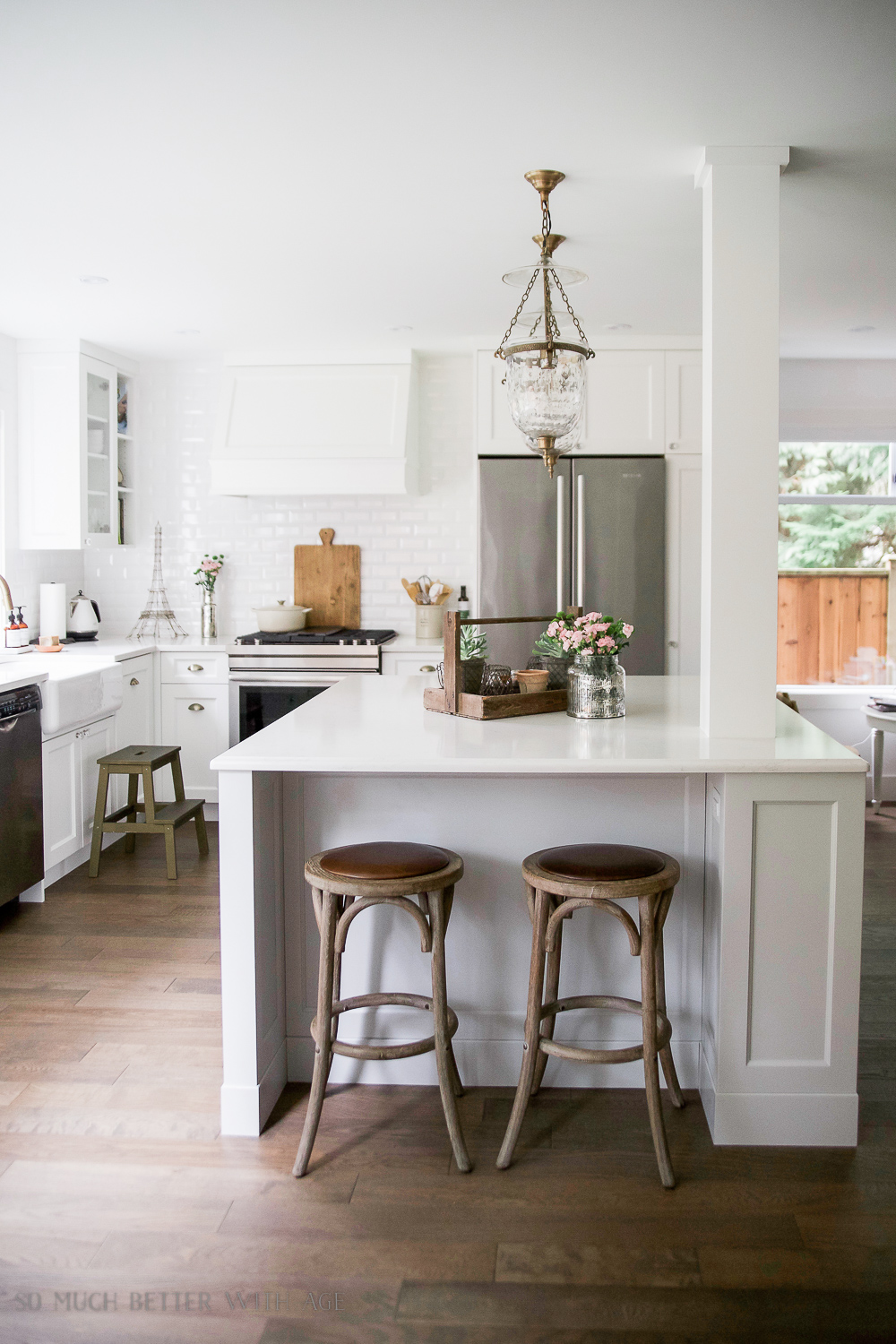 And I didn't want to get rid of this big picture window that was letting in soo much light!
All in all, this huge kitchen renovation was worth it and I'm so happy with all the details.
It's been especially fun decorating my kitchen for spring.
I hope you enjoyed the first spring tour of my kitchen!
Now be sure to visit Lucy at Craftberry Bush.
CHECK OUT THIS SHORT VIDEO ON MY SPRING TOUR:
Make sure to pin it for later!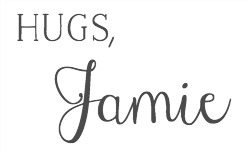 Click in Case You Missed:
My Big, Beautiful Kitchen Renovation
Canadian Kitchen & Dining Room Spring Tour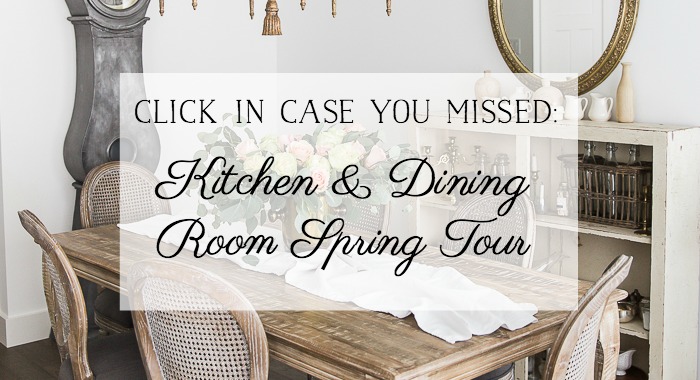 And in case you missed any in this blog hop, you can see them all here.
1 | French Country Cottage 2| Dimples and Tangles 3| Stone Gable
4| Randi Garrett Design 5| Craftberry Bush
6| Thistle Wood Farms 7| Zevy Joy 8| Decor Gold Designs 9| So Much Better With Age
10| Lindsay Hill Interiors 11| The Sunnyside Up Blog 12| CC & Mike 13| Just a Girl and Her Blog