I recently found this vintage cash box and with a little creativity and some stencilling I gave it a new life!
I tend to hoard items to DIY. Case in point, I've had this vintage cash box for the last year!
Also the chair and table that are still in the garage plus a few more items.
I knew what I was going to do with it but then I put it down in the basement and I forgot about it.
Once it goes down in the basement (which is really a scary crawl space), it may never see the light again so it's really amazing I found it and pulled it out.
I grabbed some paint and stencils and got to work.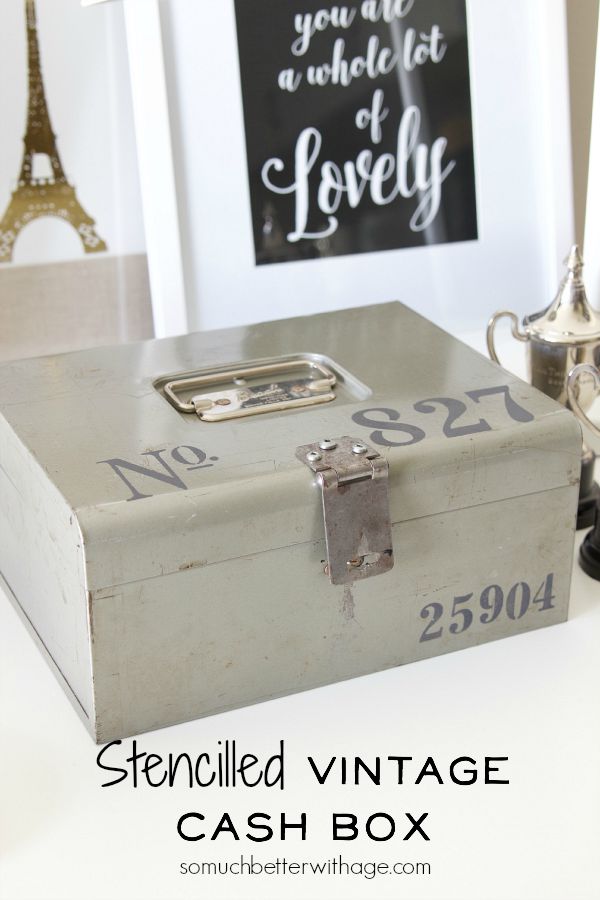 Here is the vintage cash box. Really nothing special and I'm sure most people would pass it by.
I wanted it to look like something from a surplus store/vintage/military or something other than the way it currently looked.
I got this lovely stencil from Fusion and used a sample of Fusion's Ash color paint and painted some random numbers on it.
So super easy and the impact is amazing!
It looks like I picked it up like this.
It's going on my desk in my new office area in my new pied-a-terre.
It's perfect for storing office supplies.
Next time you pass by an ugly vintage cash box, pick it up! You can totally do something cool with it.
Okay, now to start tackling the other 408 projects!