Summer Tour of My New House
Welcome! I am very excited to show you a summer tour of my new house inspired by the French decorating style I love.
If this is the first time you are visiting here, WELCOME! I just moved into my new home that I completely renovated, just came back from two weeks in France for Heather Bullard's Academy and I'm going through a whole rebranding currently on my site! So I hope you can stay awhile and see all the wonderful and exciting things I have in store to share with you.
This is my first official tour of my new house. I've had a few short posts of my living room and just moving in but today's tour gives you a look of the living room, kitchen and dining room.
I'm so happy Nina Hendrick invited me to this tour. She is hosting it along with Birch Lane and Country Living and 29 other bloggers. I made sure I got semi-decorated just in time so come on in and let me show you around on my summer tour.
Disclosure: I received a gift card from Birch Lane. You can read my disclosure policy here.
My dining room is where the family room used to be. I switched the rooms around on the main floor during renovation. I'm so happy I did because I put beautiful French doors in and now you can just walk right out into the backyard.
The roses I picked from my garden. It was pouring outside when I cut them so they are dripping in rain drops.
I have an endless supply of sources that I will be sharing with you soon about my renovated kitchen. I'm so extremely happy with the way it turned out.
As I was taking photos, my sweet neighbour came by and dropped off these cookies to me, I kid you not! They were so good and still warm and little did she know she was helping style my kitchen shoot. I could not be happier with my new neighbourhood for my children. They've already made friends and it's such a wonderful feeling to know that all the hard time I had with picking a new house finally paid off.
When I was in the countryside in France last month, it was amazing seeing calla lilies growing everywhere. They used to be my favourite flower until peonies stole my heart but now I'm falling in love all over again. These blush pink ones are just so pretty.
My living room, or great room, used to be the living room / dining room. I like how there is one big area to hang out, snuggle on the couch and watch a movie. I'm so happy with my decision to move the dining room into the old family area.
I added a few pretty throw pillows with pink and purple. That's the fun part about having your own house! You can add pink wherever you want!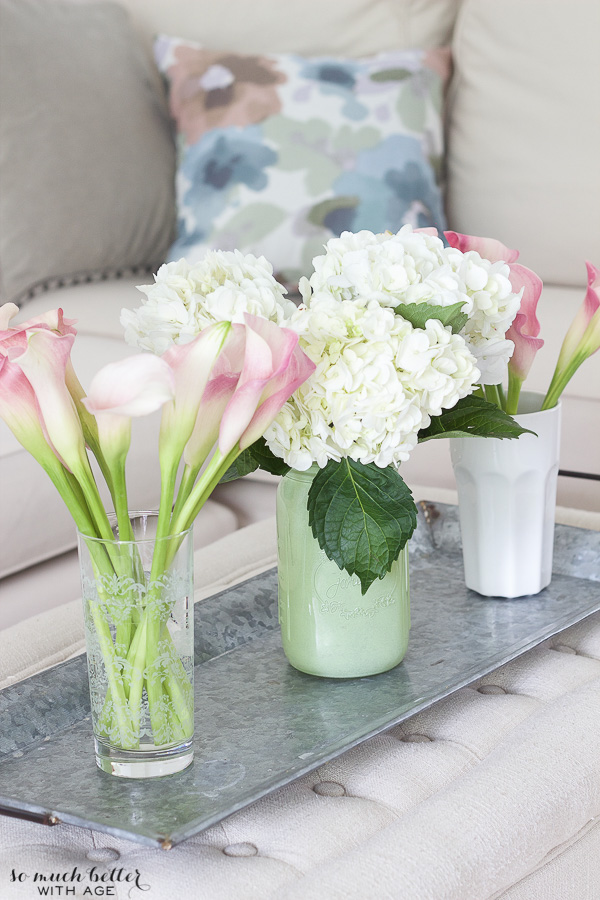 I bought this beautiful Marlena wooden lamp with the Birch Lane gift card I received. It makes such an impact to the room and I just love the natural wood markings on it. I love large decor items and this is the largest lamp I've owned. It's the perfect fit.
I picked up the wooden beads with hearts at Rachel Ashwell's store in Santa Monica a couple of months ago. I will be sharing with you more about that trip soon too!
A sneak peek of the carpet I picked for the stairs!
I have so many new furniture items and sources I want to share with you, trips and soon-to-be whole new blog design! I can't wait to share all of it with you in upcoming posts. I'm so glad you stopped by today. Be sure to see my friends' beautiful summer house tours as well.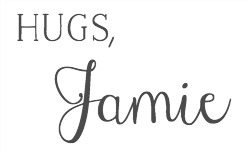 Monday

Nina Hendrick | Maison de Pax | Cherished Bliss | AKA Design | A Burst of Beautiful | Liz Marie Blog
Tuesday

Migonis Home | So Much Better With Age | Zevy Joy | Just a Girl and Her Blog | Shades of Blue Interiors | Making Home Base
Wednesday

Rooms FOR Rent | The Wicker House | Bless'er House | Love Grows Wild | Finding Silver Pennies | Design, Dining + Diapers
Thursday

Craftberry Bush | Jennifer Rizzo | The Wood Grain Cottage | Ella Claire | Tidbits | City Farmhouse
Friday

Kindred Vintage & Co | The Blissful Bee | The Happy Housie | House By Hoff | Nesting With Grace | Life on Virginia Street