Learning creative styling and photography at The Academy workshop in France.

Yesterday I shared with you part of my first day at Heather Bullard's The Academy in France, a workshop all about creative and editorial styling and photography. I had so many photos that by midnight I said to myself….I need to cut this into two posts. And that was just day one.
Remember, I took 2459 photos during my time in France! People I hope you are not going to get sick of all these photos! But that's why I'm spacing them out between my new house tours.
So many photos, so little time.
Okay, so let's get started into Day 2!
Creative & Editorial Styling and Photography – Day 2 
Like I mentioned in yesterday's post, the first day we were in France, we went brocante shopping to get items to do creative styling with. Not surprisingly, halfway through the day we all forgot about that piece of information and just bought whatever we loved. Of course, finding treasures you love in the French countryside brocantes is pretty easy.
Above and below are some of the finds I scored.
That French leather bound book I just LOVE. It looks and feels like it is 200 years old.
Continuing on from yesterday, I practiced more with lighting and creative styling.
Here I wanted to play with shadows in the undercover area. Lots of light but still lots of shadows.
I always do light and bright photos so this was fun to play with shadows. I really like this moody feel.
This is what the shot looked like completely outside.
I practiced angled shots versus flat lays.
I really love doing flat lays now. Hard to get though! I was standing on top of this antique table hoping all that foie gras I'd eaten wouldn't weigh the table legs down.
And styling fabric is always difficult.
This is undercover.
And this is outside.
This shot fully outside on a bench with my French basket is my favourite.
I'm going to need a bench and no rain to do all my styling shots outside from now on!
You can get a sense of how much lighting plays a role with this side by side comparison.
Then Heather talked in depth about Editorial Styling. I was so intrigued with this part of the workshop. She works as an editor for Country Living magazine scouting and styling houses for the magazine as well as HGTV. She also keeps up with her blog and oh yeah, does workshops in the countryside of France. She is one busy lady.
She talked about becoming a stylist, what is involved, how to practice your shots, what looks different from real life to magazine print, and what she carries with her in her styling kit.
The amount of boxes that she and Jill send by mail and courier to each house before each shoot and how it all needs to be packed up again was just mind boggling. It's an incredibly physical job and you definitely have to have an eye for exactly what the shot will look like in print as you're going through the day. It was very cool information to learn about.
After that we learned more about photography and here is some information I can easily share with you using photos.
I brought most of my lenses and tried each one of them out.
We were to just pick one styling object and a table and move it in front of a wall in the barn or stone shed.
We were trying for the bokeh effect where the background is blurred.
You can kinda see how far I had to pull the table away from the barn doors. It's probably about 3 metres away.
With my 18-200 lens you get the whole barn door plus some of the grass outside to the right.
Next the 28-75 lens looks like I put the table closer to the barn doors but in fact I didn't.
My favourite was the prime 50 mm lens. I've had this lens for years but barely use it.
It looks like the table is right in front of the barn doors but it is still in the same location.
The detail on the cups with the blurred background is just perfect.
Heather had us practice on this bench with a bread plate. Yep, gotta get myself a bench and put it outside!
I thought I'd get my roomie Stacie to take a photo of me with my favourite French shirt on.
And yes the front says 'comme ci'
It was more than just okay being in France for this workshop!
I still have Day 3 of creative styling and photography to share with you and many, many more photos of France so I hope you stick around!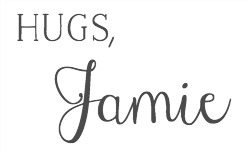 Click to See All My France Posts:
My Trip to France – Heather Bullard's The Academy – Creative Styling & Photography Workshop