For months and months now, I've been telling myself I must arrange to do a group collaboration with some of the best vintage furniture girls out there.
I brought my idea to my friend Jamie from Anderson and Grant and she loved it and hopped on board with it.  I mean, two Jamies can't go wrong, right?
I even gave this group a name, Vintage Girls!
So I contacted Jennylyn from Fusion Mineral Paint and she gave us all some paint to makeover a piece of furniture!
And she wants to give you paint too, $150 worth of product!!
So be sure to enter at the end of this post.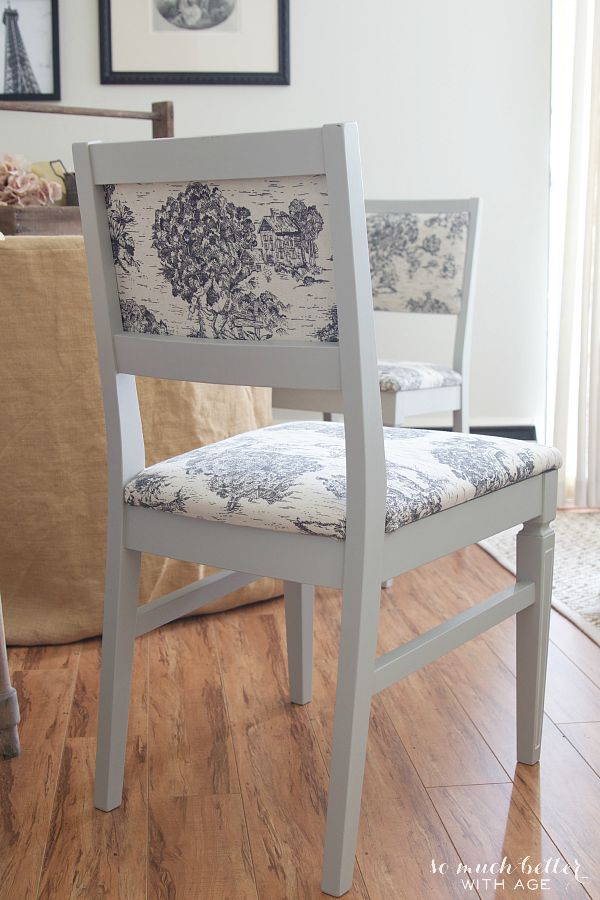 Before and afters come high on my list of fun.  Especially ugly furniture.
Room transformation are amazing but require a lot of time and planning.
Furniture is fairly quick.
Case in point, these chairs I picked up for $10 at a local thrift shop.
They are actually very good solid chairs, made in Canada, and just needed some updating.
I used Bedford which is a great light grey and Champlain (my favourite off-white) for the details in the legs.
I've been wanting to use up fabric I've had for ages and decided on the toile.
Actually, it's what I had most of so toile beat out French script.
Either way I was going to be happy.
After taking apart all the upholstered pieces, I simply painted the chairs and used Beeswax after to seal it.  I didn't sand the chairs before or anything.
I removed the old fabric from the back and seat boards, then used it as a template for the new fabric and stapled the new toile fabric on.
Chairs like these have got to be the easiest piece of upholstered furniture to learn on.
Starting from the centre on each side, you just start by grabbing the fabric until it is taut but not too tight and staple as you go.  You leave the corners until last and fold over kind of like a hospital corner on a sheet.
Next chair I do I'll have to do an easy tutorial for you.
They look perfect in my new pied-à-terre, don't they?
I'm still not sure if I am keeping them yet or selling them.  But I do love them!
Okay, check out the rest of the Vintage Girls furniture makeover pieces.
Then enter the giveaway.  Good luck!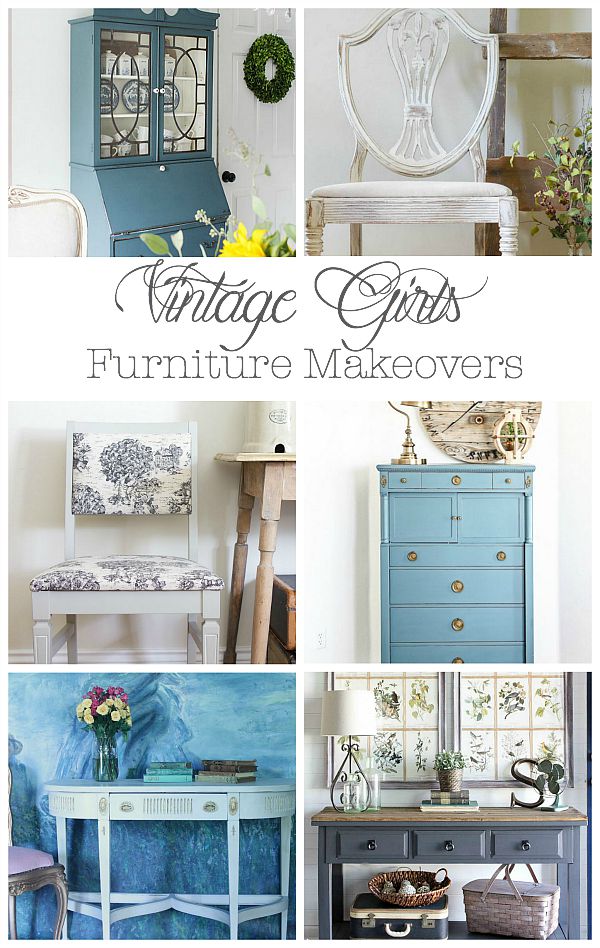 Visit all the Vintage Girls makeovers:
Jamie from So Much Better With Age
Jamie from Anderson and Grant
Rachel from Maison de Pax
Lauren from Bless'er House
Victoria from Trois Petite Filles
Rachel from Shades of Blue Interiors
Disclosure:  Thanks Jennylyn from Fusion Mineral Paint for all the paint!