These adorable brightly coloured Easter eggs are simple and fun to make!
Today I'm showing you a fun Easter craft. You know how much I love my neutrals but today we're having fun with color!
These eggs are adorable and fun to add to any Easter basket.
I'm in absolute love with this variegated hemp twine I found.
Let me show you how I made this simple craft in 3 easy steps!
SUPPLIES:
*Affiliate links added. Please read full disclosure policy.
eggs (hardboiled, wooden or plastic)
twine (I used hemp twine with variegated colors)
white glue or Mod Podge
scissors
TUTORIAL:
1. Spray entire egg with a spray adhesive glue like Krylon over newspaper and wait 20 seconds or so. Wrap twine around egg starting close to the bottom. Continuously wrap the egg until you get to the top.
2. Put a dab of white glue or Mod Podge at the top, cut off twine and poke end bit down. Hold in place for about 10 seconds so it really sticks.
3. Go back to the bottom end, spray adhesive glue,  and wrap twine until you reach the end and dab with glue.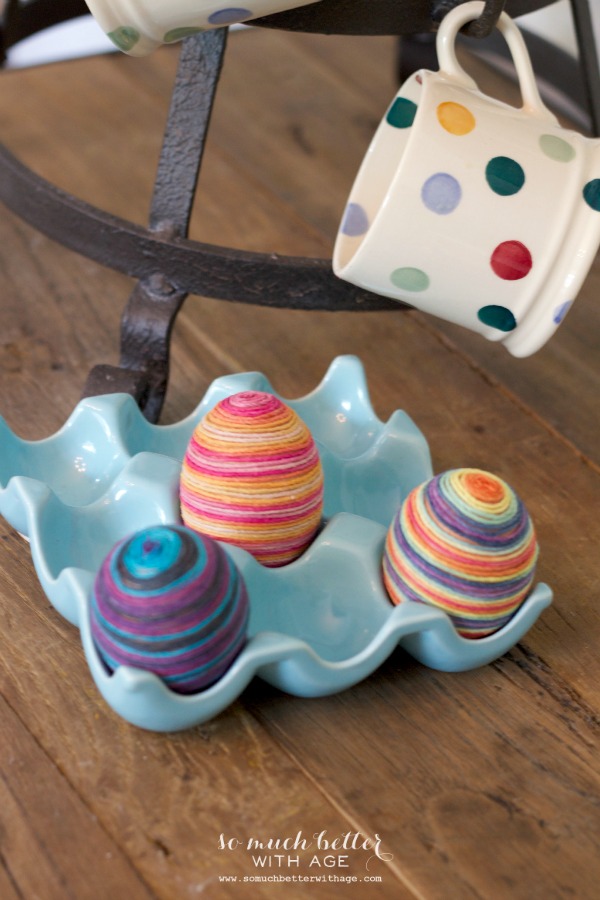 Didn't they turn out cute?
So much fun for spring.
I love them against this dark nest.
I had tons of fun taking photos of them throughout different lighted areas of my house.
They look so different in different rooms.
I hope I've inspired you to make your own twine wrapped Easter eggs.