We're back again this month with our Trash to Treasure series!
Today I'm showing you how to take an old piece of artwork and update it.
Speaking of old, I'm going to my 20 year high school reunion this weekend. I didn't go to my 10 year so I thought I should go for the 20th because there is no way in hell I'm going for the 30th or 40th.
And what do you wear to these things? It's not formal which is awesome but it makes the choices endless.
Who will be there? Any old boyfriends? (god I hope not) What do we talk about? How much are drinks?
Oh that last one I just found out. Super important.
Being old and going to your 20 year high school reunion is hard.
This updated artwork project is so stinking easy.
 Here is the before. It's something you'd see at any garage sale or thrift store, nothing special but the artwork itself is pretty.
The frame is actually plastic. And the matte is dingy looking.
I used my favorite paint since it adheres to almost anything without prep.
I used the leftover Graphite Chalk Paint® from my old dresser makeover.
Take your frame apart and paint on two coats drying in between coats.
I discarded that dingy matte and just put some water colour paper behind the painted piece like I've done here.
That's it!
Crazy, right?
 So easy yet gorgeous! I'm going to add this beauty to my rustic cabin in the woods once the renovations are all done. I can't wait!
So if you want to see what this old person is wearing to her high school reunion this weekend or to check in on the debauchery, then be sure to follow me on Instagram.
And now be sure to pop over to these lovelies to check out what treasure they made from trash!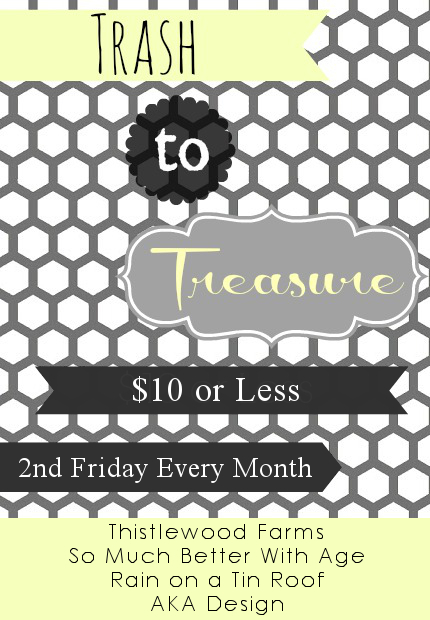 KariAnne from Thistlewood Farms
Jenna from Rain on a Tin Roof
Shannon from AKA Design
Coastal Charm
My Repurposed Life
Remodelaholic
Savvy Southern Style
The Scoop
The Shabby Nest