Vintage Christmas Decorating
This big Christmas tour is perfect for vintage loving people so grab a cup of cocoa and get inspired!
I love vintage items and this year I decorated my whole house with a vintage Christmas decorating theme. I can't wait to show you!
I'm also participating in the Holidays Housewalk hosted by my friend Jennifer Rizzo so be sure to visit all the other tours at the end of this post! There are 33 houses in total for you to virtually tour.
Okay, let's get started! Come on in to my holiday living room.
LIVING ROOM
If you are a regular follower of mine, you know I love French and vintage decor and I'm in love with soft neutrals.
This year I got a gorgeous new Christmas tree. It is stunning!
I recently found these old wooden school desks on my recent junking day with blogger friends.
The Joyeux Noel sign I recently made with my Silhouette machine.
dining room
This year I've done quite a few posts on my dining room goals and this past week I just painted the interior of that cabinet.
The living room is very neutral so I decided to bring some hints green and red into this room.
I added lots of red faux berries around the mirror I painted and along the rustic buffet.
Faux evergreen garland draped over the cabinet looks so pretty!
I decorated this old 7-up crate with bottle brush trees. I filled green mason jars with epsom salts and candles.
I'm loving this green tablescape.
It goes so nicely with my Pottery Barn Christmas plates and mugs.
This beauty was another find from my recent junking day.
The kids love playing with it. Mommy, what is this?
Check out how you can antique a mirror.
 I also gave this cabinet a cowhide look. I love how it looks with Christmas decor.
I wrapped some jute webbing around two grapevine wreaths and tied them with twine to the back of the white bench.
kitchen
I'm so excited about my new kitchen renovation!
We had it renovated in the spring but I recently had the rest of walls in the eating area tiled with subway tile. Best decision ever!
I had fun playing around with my vintage items and greenery.
I found these trophies on Decor Steals.
foyer
I added my glittery vintage postcards to this old wooden ladder.
This is my crock-mas tree. I even recently made my own crocks. Update: you can see the new way I made a DIY crock along with a video!
I found this old sled at a local antique shop. I added some jingle bells to the top. Adorable.
I wrapped my bannisters with more faux holiday garland. Isn't it gorgeous?
I added a string of Christmas lights to some wire baskets for more light around my crock-mas tree.
I hope you enjoyed my vintage Christmas decor! Be sure to check out all the other tours in Jennifer Rizzo's Holiday Housewalk.
Make sure to pin it for later!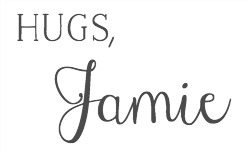 Click in Case You Missed: