My new paint is called Vintage Gold and it's in collaboration with Fusion Mineral Paint. A paint kit is also available that will help you complete many of the projects in my book, French Vintage Decor.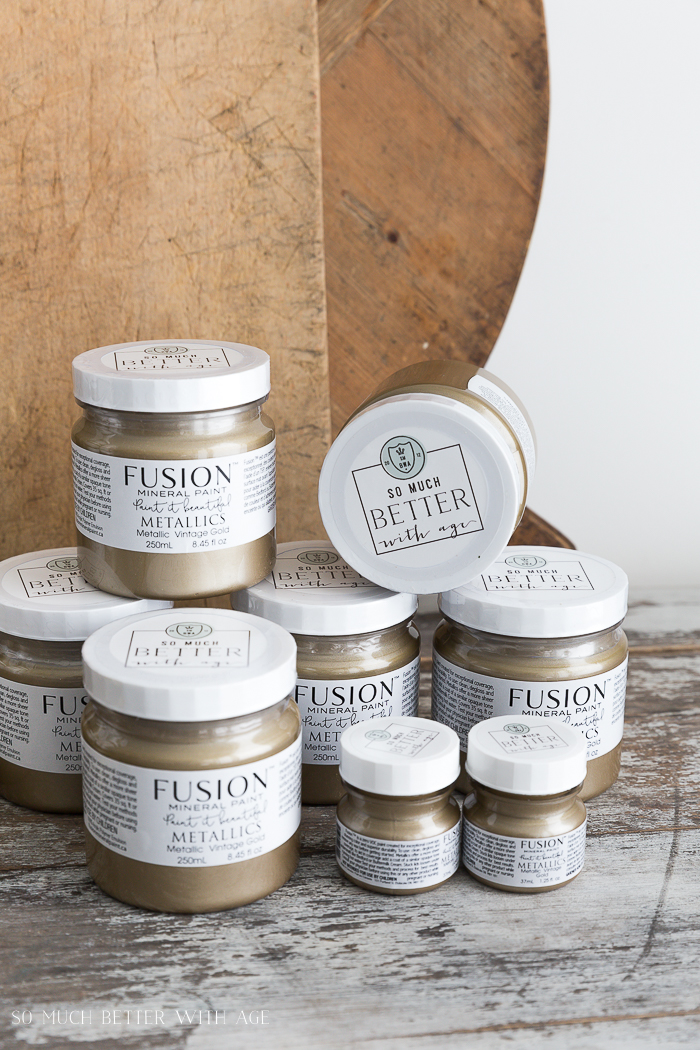 Vintage Gold Metallic Paint
In collaboration with Fusion Mineral Paint, I'm excited to announce my paint – Vintage Gold.
I've always had a hard time finding the perfect gold paint so I came up with my own! Vintage Gold is the most beautiful gold paint (that doesn't look too brassy) that you can paint furniture or home decor items with. It's also looks amazing dry brushed for highlighting areas.
This post contains affiliate links for your shopping convenience. Click to read my full disclosure policy.
Vintage Gold along with two other metallic paints are only available for a limited time!!
You can find out more about the 3 Limited Edition Vintage, Champagne and Rose Gold Metallics on the Fusion Mineral Paint website.
Paint Kit
In combination with my book, French Vintage Decor, Fusion Mineral Paint has put together this amazing paint kit that you can purchase directly from them online!
The kit is complete with many of the products that I used in my book so you can create so many projects just with this one kit!! How awesome is that?!
The kit includes:
Vintage Gold tester
Raw Silk tester
Sterling tester
Champlain tester
Putty tester
pot of liming wax
small bag of Fresco
Decoupage & Transfer Gel tester
two 1″ paintbrushes
These products are made by Fusion Mineral Paint. I'm so excited to be collaborating with this amazing Canadian company.
Purchase My Book