Vintage Neutral Fall Tour
Take a peek at my Fall Home Tour decorated in Vintage Neutrals!
I'm very excited to share with you my fall home tour. My pied-a-tierre has been decorated in Vintage Neutrals that has made my space feel cozy and look beautiful for fall!
So here is my Vintage Neutral Fall Tour.
I. Love. Neutrals. If you've been a reader of my blog for more than five minutes, you will have guessed that already.
So how do you decorate for fall when you don't care for fall colors?
(Did you notice the toile chairs I recently made over?) 
Easy! You just do what you love!
I added a few floral touches, blue hydrangeas, some cotton branches.
And some grey velvet pumpkins.
I wanted to add plaid but not orange or red plaid so I found this plaid throw at Home Sense.
A throw over the couch and a lit candle are just simple touches to making your home feel warm and cozy.
I believe that you can make anything work for any season and have it match your decor. You don't have to go with traditional colors for the season.
The flowers and branches look beautiful in the olive bucket.

This burlap tablecloth was so easy to make and you can purchase the Paris artwork here.
My fall printable looks great on the table with the pumpkins and sugar cookie candle.
I'm obsessed with crocks if you haven't noticed. You should check out my Crock-Mas Tree!
Finally I added a few little decor items to the new bookshelf in my new office space.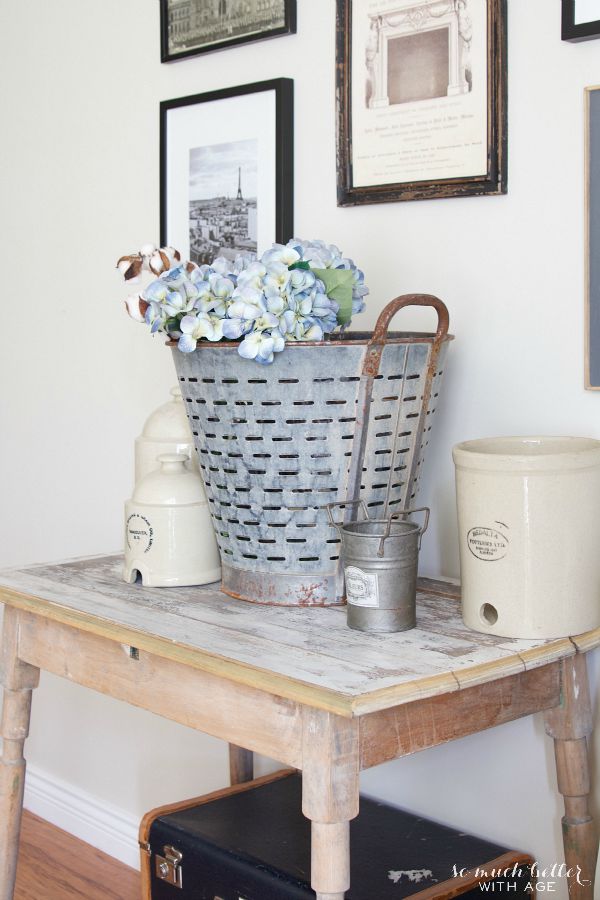 Thank you so much for being on this tour with me!