What to Bring on a Beach Picnic & Printable List
I have a free printable included in this guide on what to bring to a beach picnic!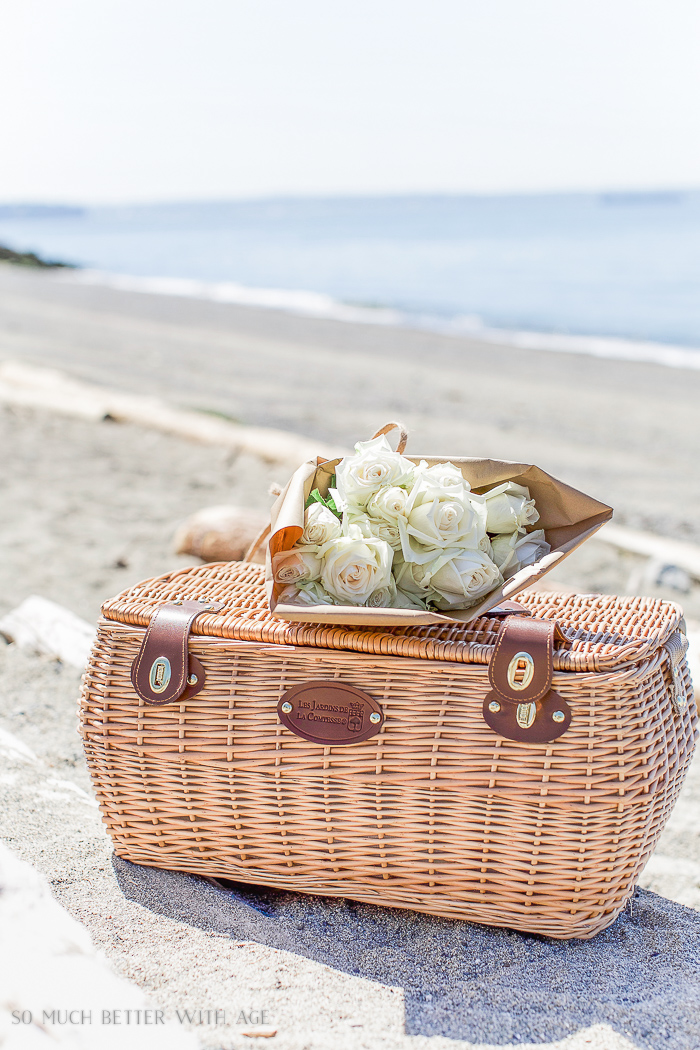 There are a few key elements you need for the perfect beach picnic that I'll share with you today and I have a printable you can download that includes the complete list.
First and foremost, you need a picnic basket. I had one years ago but it was green and navy and smelled kinda musty. I knew I wanted to replace it.
This light wicker picnic basket with polka dot interior fabric made in France is definitely an upgrade!
There's no better way to force yourself to relax and slow down on a weekend than packing up a picnic basket and heading to a park or beach.
Take stock of what your picnic basket includes and grab any other essential items. The one thing I have added to stay in here is a knife to cut bread with.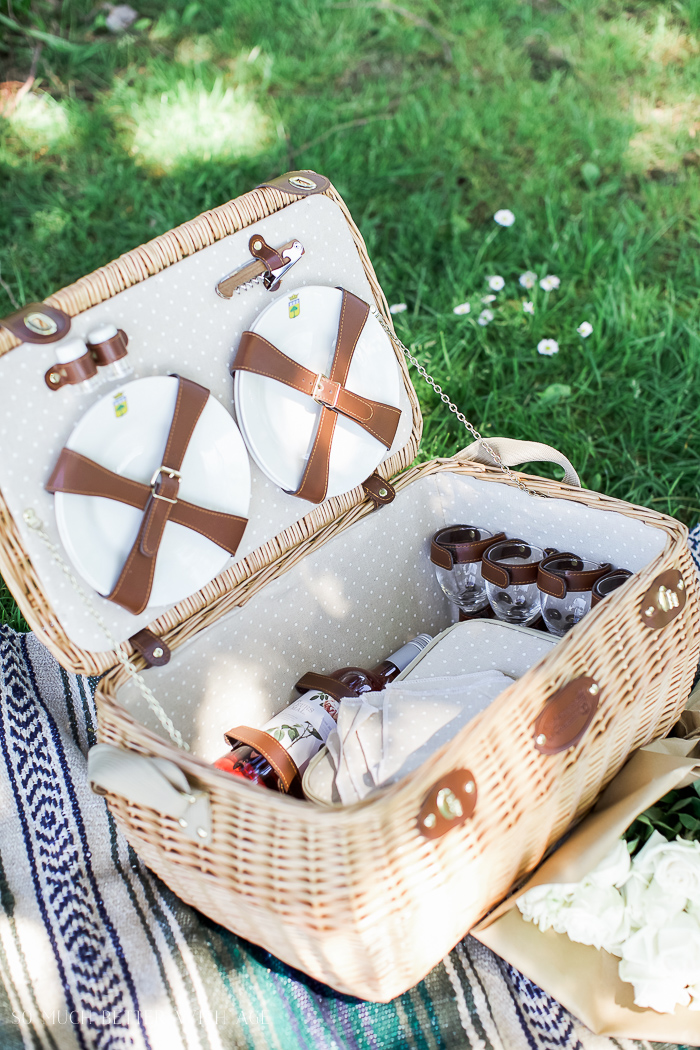 I make sure to grab a bottle of wine like this beautiful bottle of rose that is already chilled.
Just make sure to check your city's bylaws on what you can bring to the beach. Usually wine is fine. Sparkling cider is a nice alternative.
Plates, wine opener and wine glasses are usually included in most picnic baskets.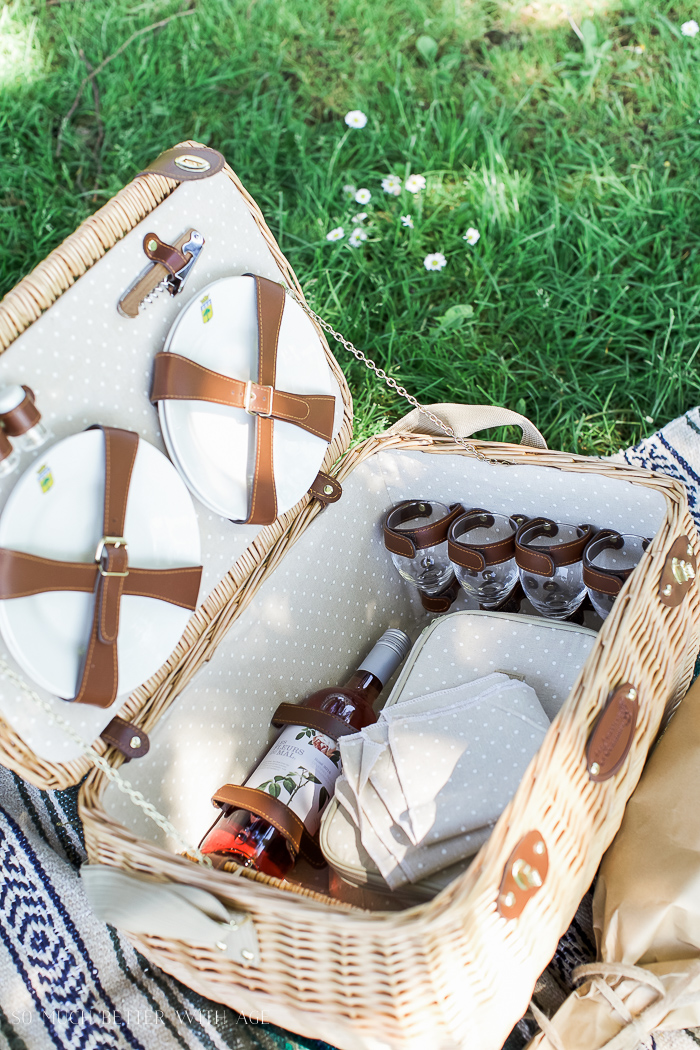 This beautiful picnic basket comes with a little cooler bag so I popped in a little freezer pack and some grapes and strawberries.
Fruit, cheeses and some deli meats are the perfect picnic food.
Think 'France' when you think picnics – wine, baguette, fruit, cheeses, meats. Food that is easy to transport and filling enough to eat for lunch.
I brought two demi baguettes (small baguettes) so they could fit in the picnic basket along with a couple of soft cheeses such as brie.
This picnic basket comes with a cutting board, flatware and napkins so be sure to check on those items as well.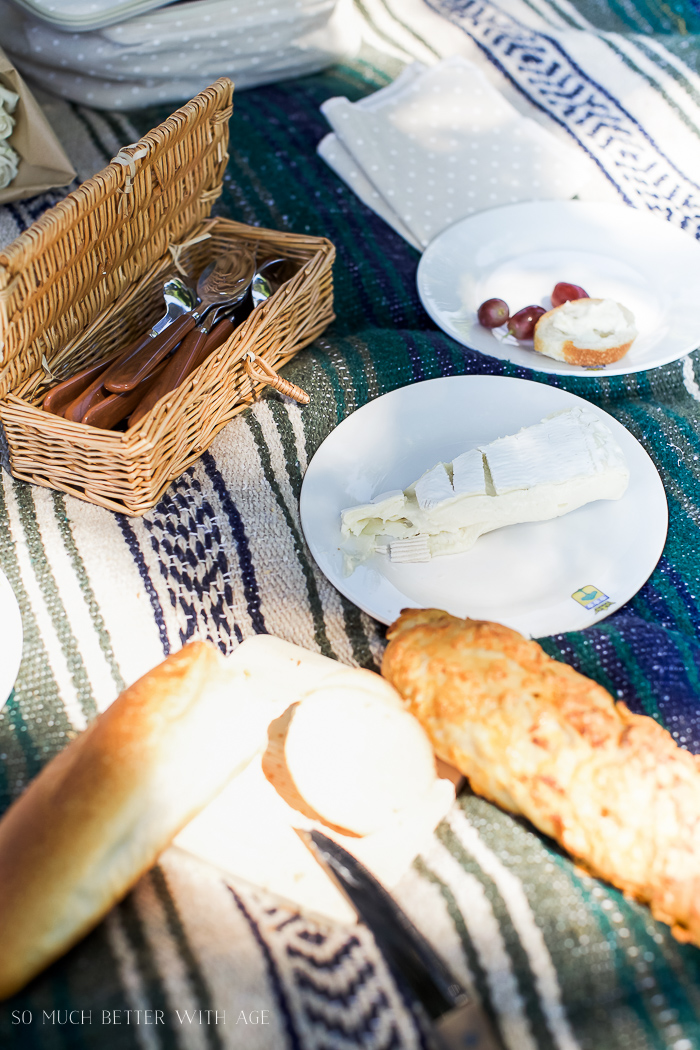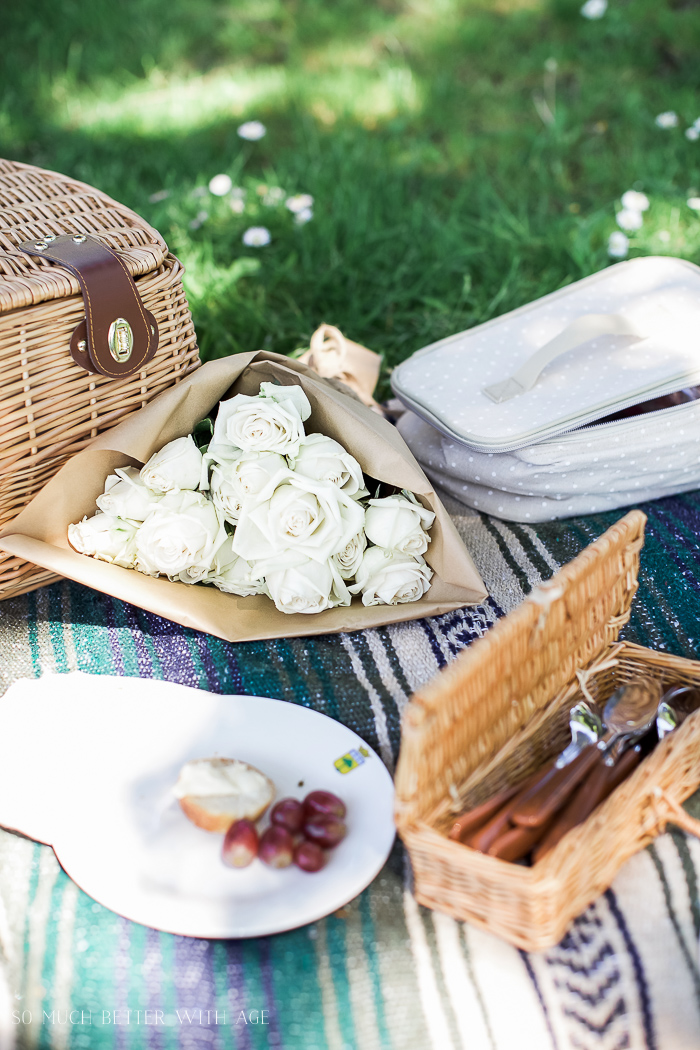 The basket itself serves as a handy place to set your glasses on.
Be sure to bring a blanket, a book and possibly a pillow. It's time to relax.
You might want to bring a beach chair if you have a hard time sitting on a blanket but logs on the beach provide a natural chair too.
This basket has a large carrying strap which makes it easy to carry everything in and out.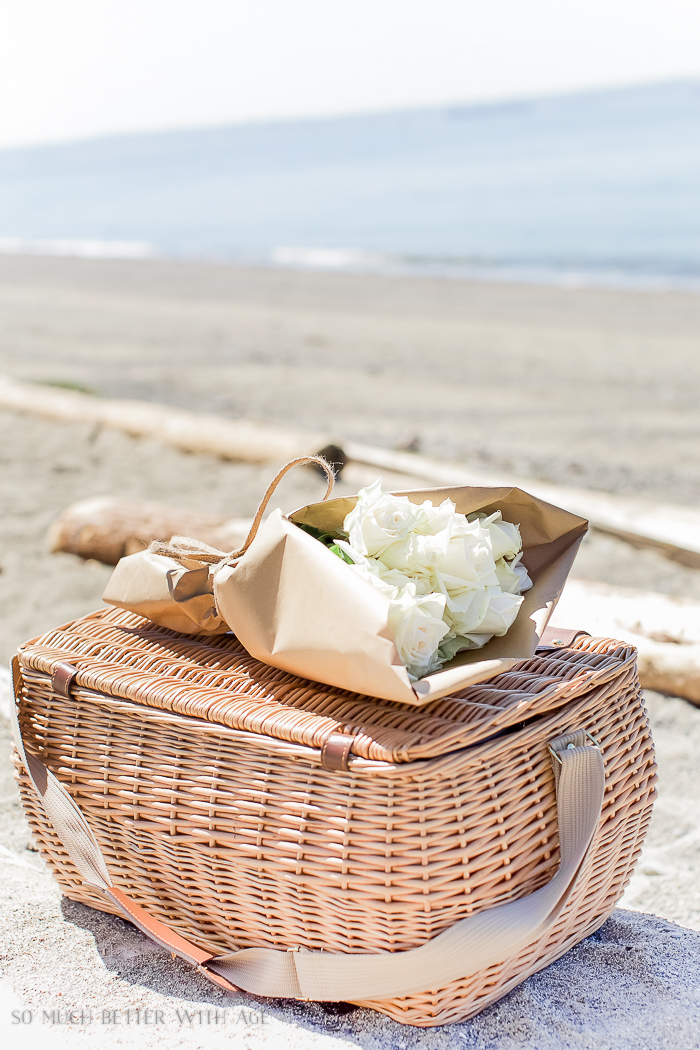 Now it's time to enjoy the view and relax.
Why not spend the day at one of your nearby parks or beaches and bring a beautiful curated picnic basket along with you.
I can't wait to do more of this this summer.
More Picnic Baskets: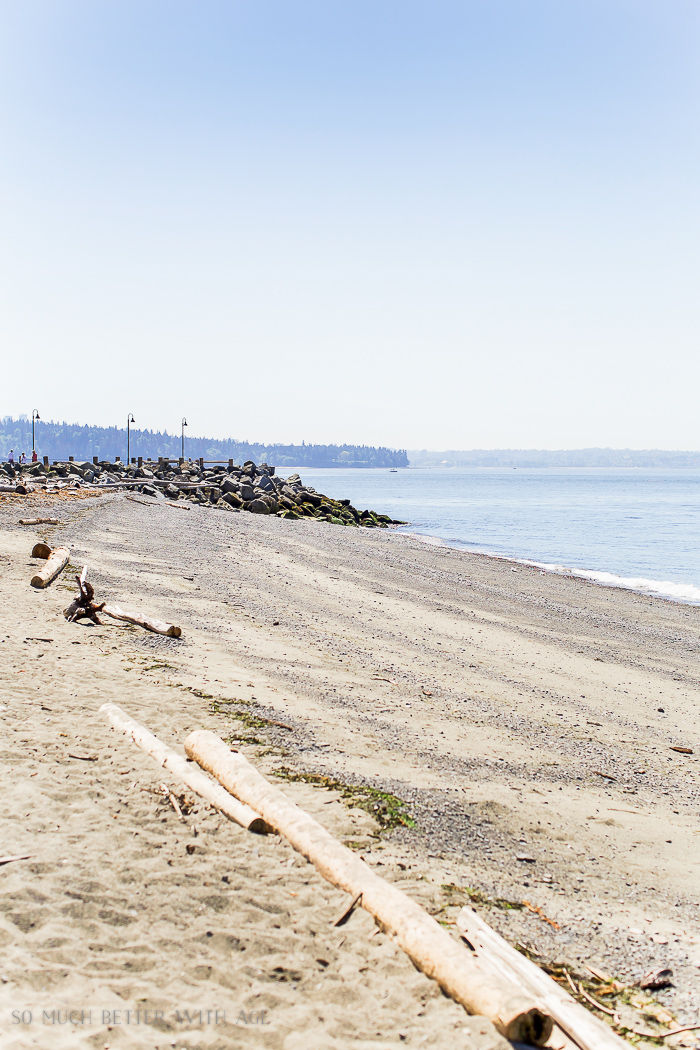 Printable:
To download these printables, subscribe to my newsletter.
If you are already a subscriber, you'll have access to the printable in your inbox.
Make sure to pin it for later!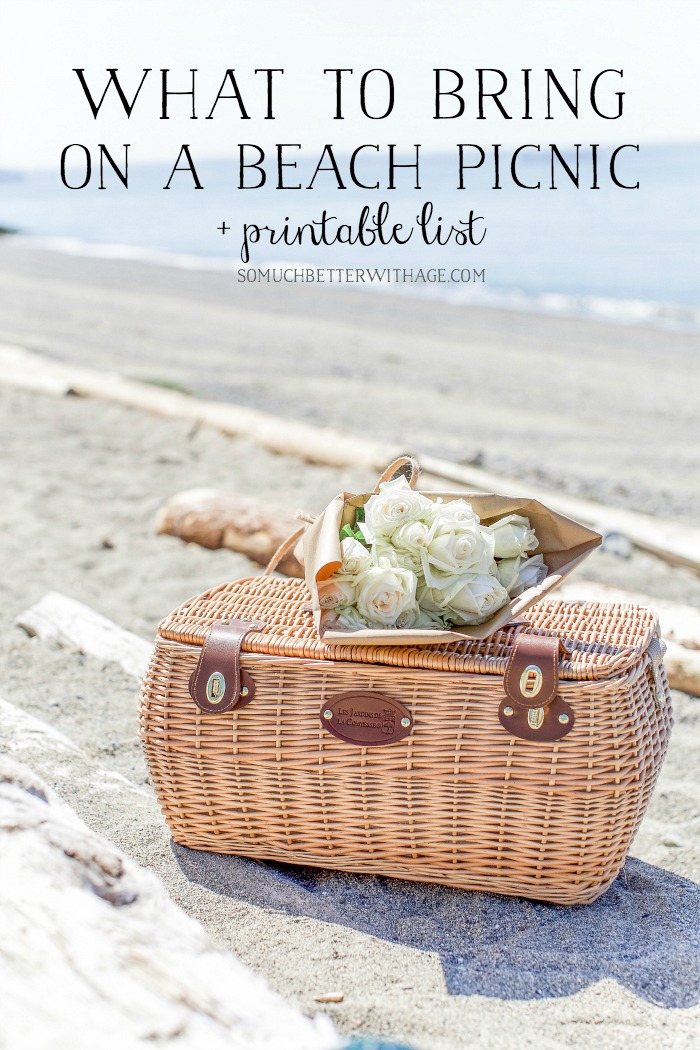 Disclosure: Thank you to Amara for the beautiful picnic basket.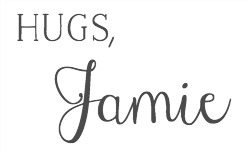 Click in Case You Missed:
Five Tips for Summer Decorating