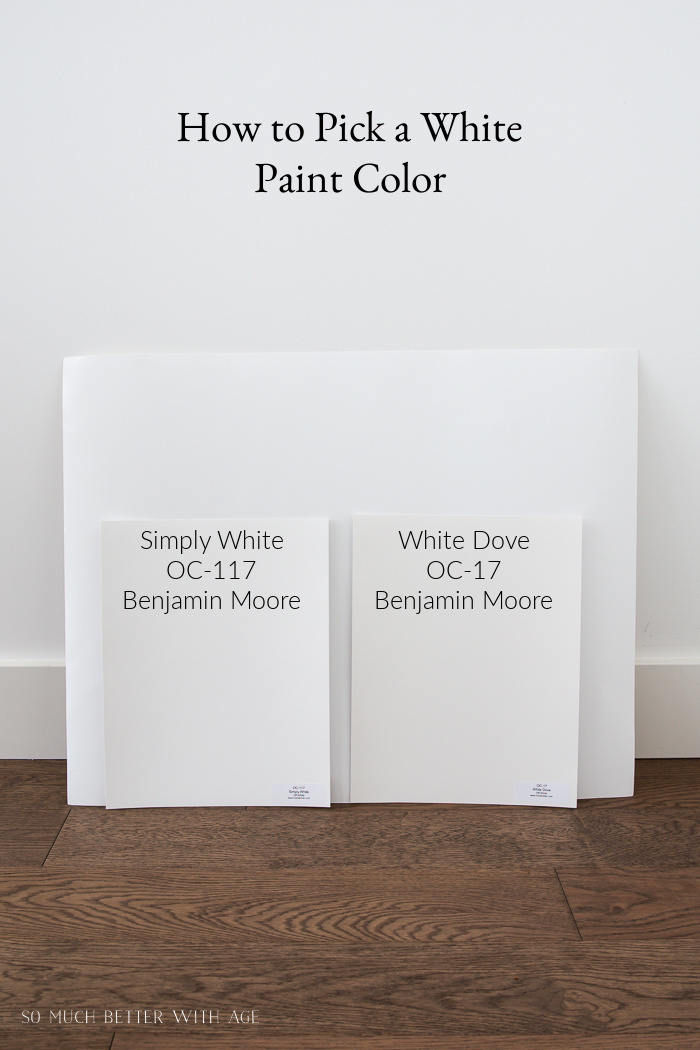 Whites can be so tricky to get right. My favorite is Simply White OC-117 by Benjamin Moore but I know it doesn't work in every single home. I've found that White Dove OC-17 by Benjamin Moore to be another all around amazing white!
Unfortunately, you can't simply look online at a color and start painting your whole house. The right white for your house is just that, the right white for your house. Which is why picking a white paint color can be a challenging undertaking. There are so many things to be aware of when picking the right white.
If you are painting your kitchen cupboards, are your appliances white? The whites might clash.
What other colors are in the room? What color are the floors?
Are there big windows in the room? If so, are there big green trees out front? Or a reddish sandy ground?
How to Pick the Right White paint color
You can either buy samples of paint and paint it directly on your wall like I did picking out grey and white colors when I first moved into this house.
Or you can paint white large cards (like cut up poster paper and paint them) and hold them up against your walls in different light (daytime and nighttime). Also put them next to your floors or countertop or built-ins, whatever you are trying to compare colors to.
Then you want to put another large white poster board behind the cards you painted.
I know this looks like a lot of white in the photo below but trust me, it's important. My walls are already painted Simply White OC-117 but what if they were painted something else? The plain white poster board will neutralize the space and not reflect back on the cards.
Because light bounces from everywhere, it could be picking up different colors from the colors around it (green from trees outside, darkness from dark floors) you'll want to try this technique all around your house.
You can see that White Dove OC-17 looks a bit more yellow in my home than Simply White.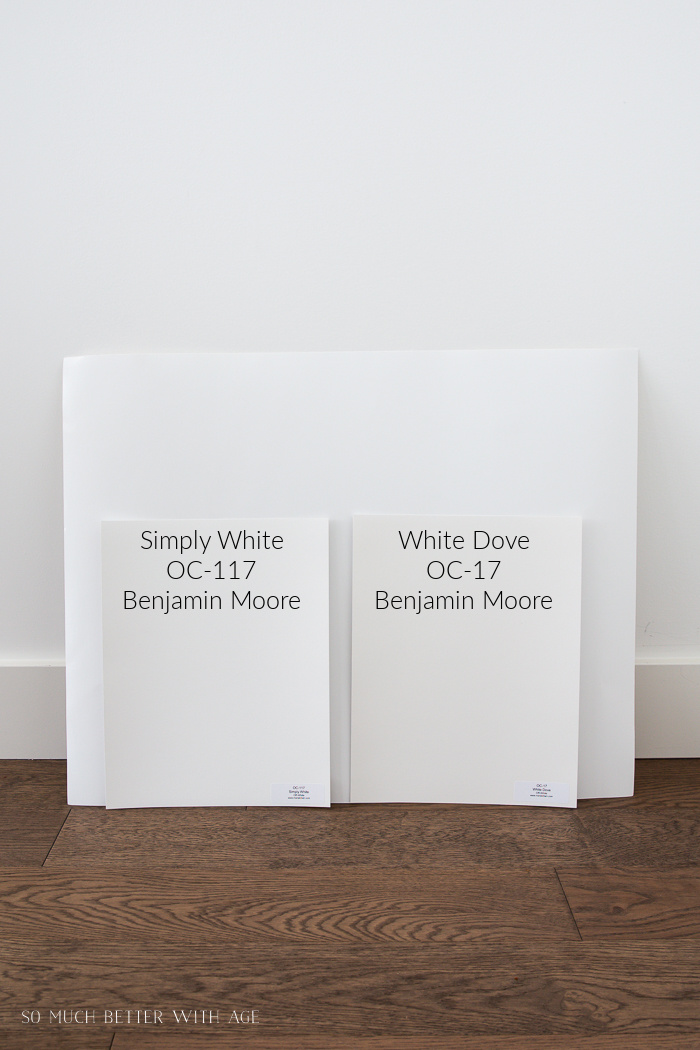 Simply White OC-117 and White Dove OC-17 are amongst the 'off-white' whites. They don't read blue or true white or cream color. Both of these colors have the perfect amount of creamy white, in my opinion. You just have to see which one will work in your home.
Different sheens make a big difference in the way a paint color looks too. My walls are painted flat and all the trim and doors are painted semi-gloss, same color (Simply White). You can see the difference in this photo: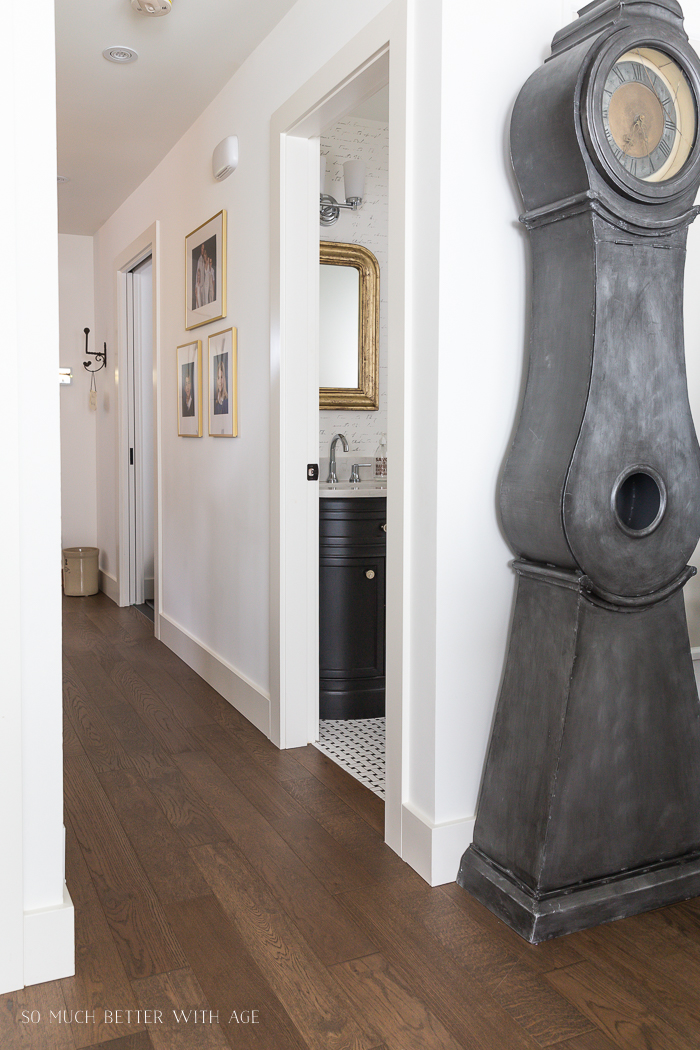 Homes Painted in White Dove
I have many examples of homes painted in White Dove OC-17 from some friends below!
Look at how this standout white looks on Sarah's house from Twelve on Main. The White Dove looks so amazing against the black trimmed windows and copper gutters.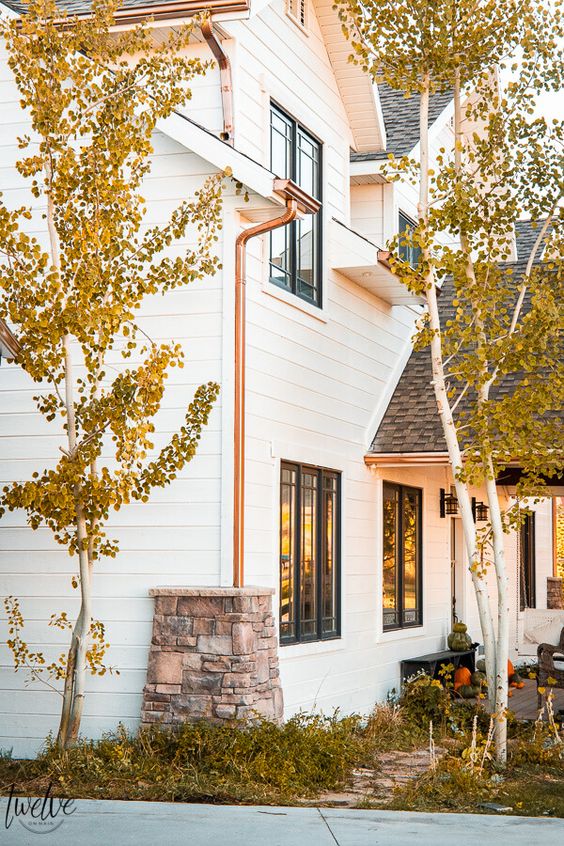 When Sheila from Maison de Cinq used White Dove to add a vintage white to her beautiful bedroom. It looks so cozy and serene in this room now!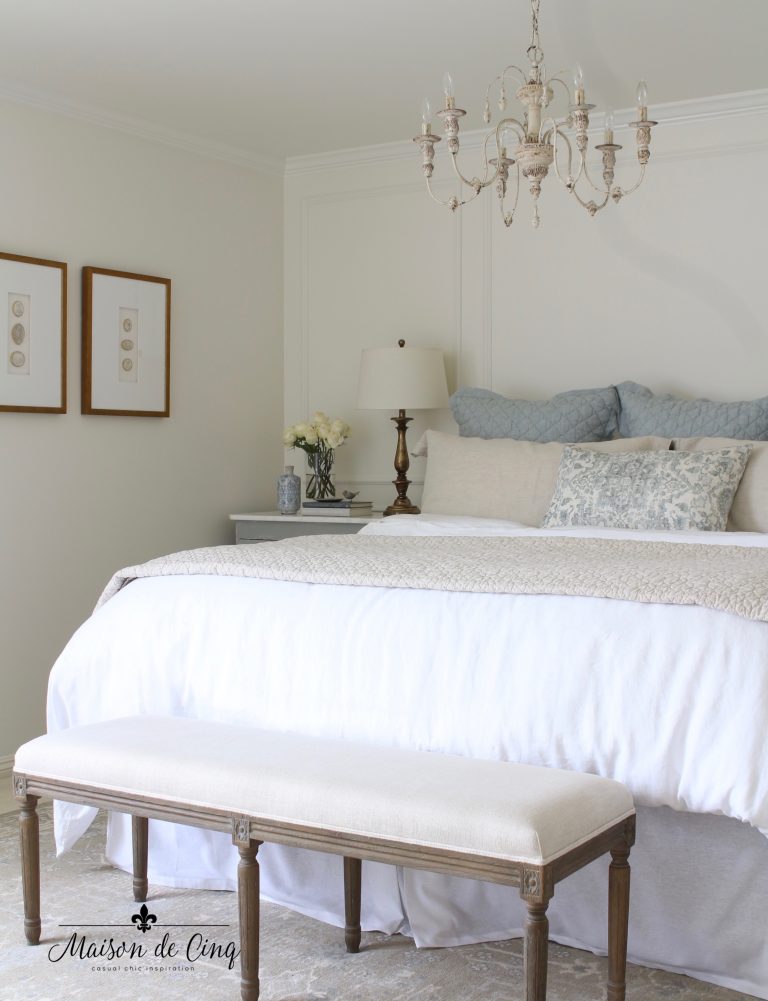 Scout and Nimble used White Dove on the walls and Chantilly Lace (Benjamin Moore) for the trim. It elevates the whole room!
Angie from Postcards from the Ridge uses White Dove in her basement studio which adds more depth to her room.
Shauna from Satori Design for Living demonstrates how well White Dove blends with natural marbles tiles on her beautiful fireplace.
I love the board and batten April from House by Hoff installed in her guest bathroom. This is a great example to see how warm the white looks under artificial light.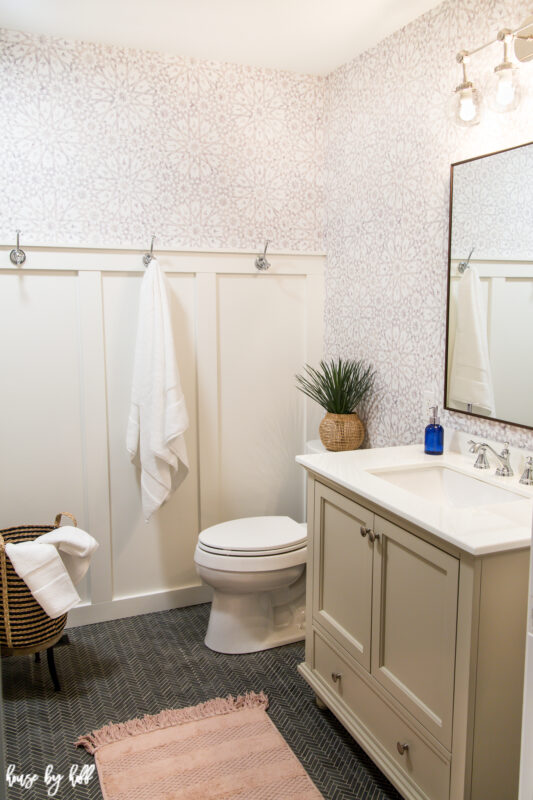 Jen from City Farmhouse updated her master bedroom and even with all that white it does not feel stark.
The beautiful shiplap Jaime Costiglio painted in her bathroom gives the room a crisp white feel.
April from Stampinfool did an amazing job transforming this shared kid's bedroom into a fun, playful, not-boring white room!
And lastly, Janet from Shabbyfufu just updated her bathroom with White Dove to transform this room into a fresh, serene oasis.
I hope this has helped give you help in narrowing down your search for the perfect white paint color for your home.
Make sure to pin it for later!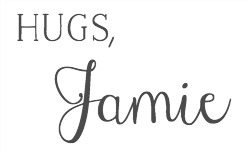 Click in case you missed it:
Simply White by Benjamin Moore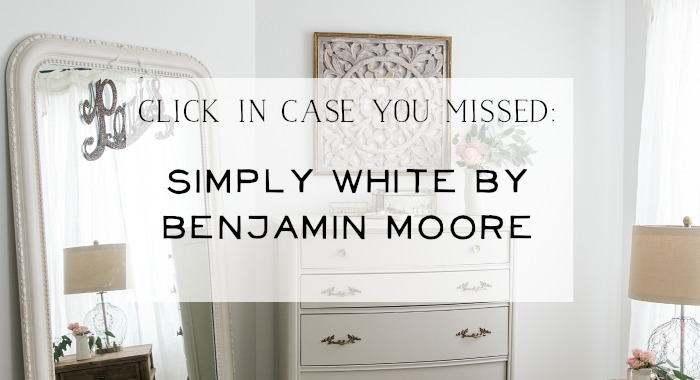 Edgecomb Gray by Benjamin Moore