A New Year's Eve party bubbly bar is the perfect way to serve your guests this year. Plus I'm sharing many party tips!
I know, it's not even Christmas but I'm gearing up for New Year's Eve!
I still have a few more vintage Christmas posts to share with you but I wanted to give you some ideas for New Year's eve. I put together a pretty little Bubbly Bar, complete with the best champagne, snacks, gold decor and clocks. Oh and coupe champagne glasses! I've been wanting them forever now and finally found some at an incredible price.
I also found some of the cutest clock decor to go with my bubbly bar theme. I have a source list at the end of the post so be sure not to miss it!
Let's bring in the New Year!
For a New Year's Eve party, nothing is better than champagne. Cocktails are fun to make too and supplies are always good to keep on hand but champagne is always a given.
The best sound in the world is a champagne cork popping!
Have snacks and nibbles on hand for your guests. It doesn't have to be fancy, just an assortment of goodies and salty snacks.
And make sure to offer guests water throughout the night.
I'm in love with these gold clock paper plates and mini clock gears in paper and metal that I've used as confetti.
Why not have guests decorate their own champagne glass?
I am constantly losing my glass at a party. I put it down then don't know which one is mine. Here is a fool proof solution!
Put out a bunch of rolls of washi tape and have your guests decorate their own glass!
You will never forget which glass is yours again!
And the washi tape peels off nicely after and doesn't leave a mark.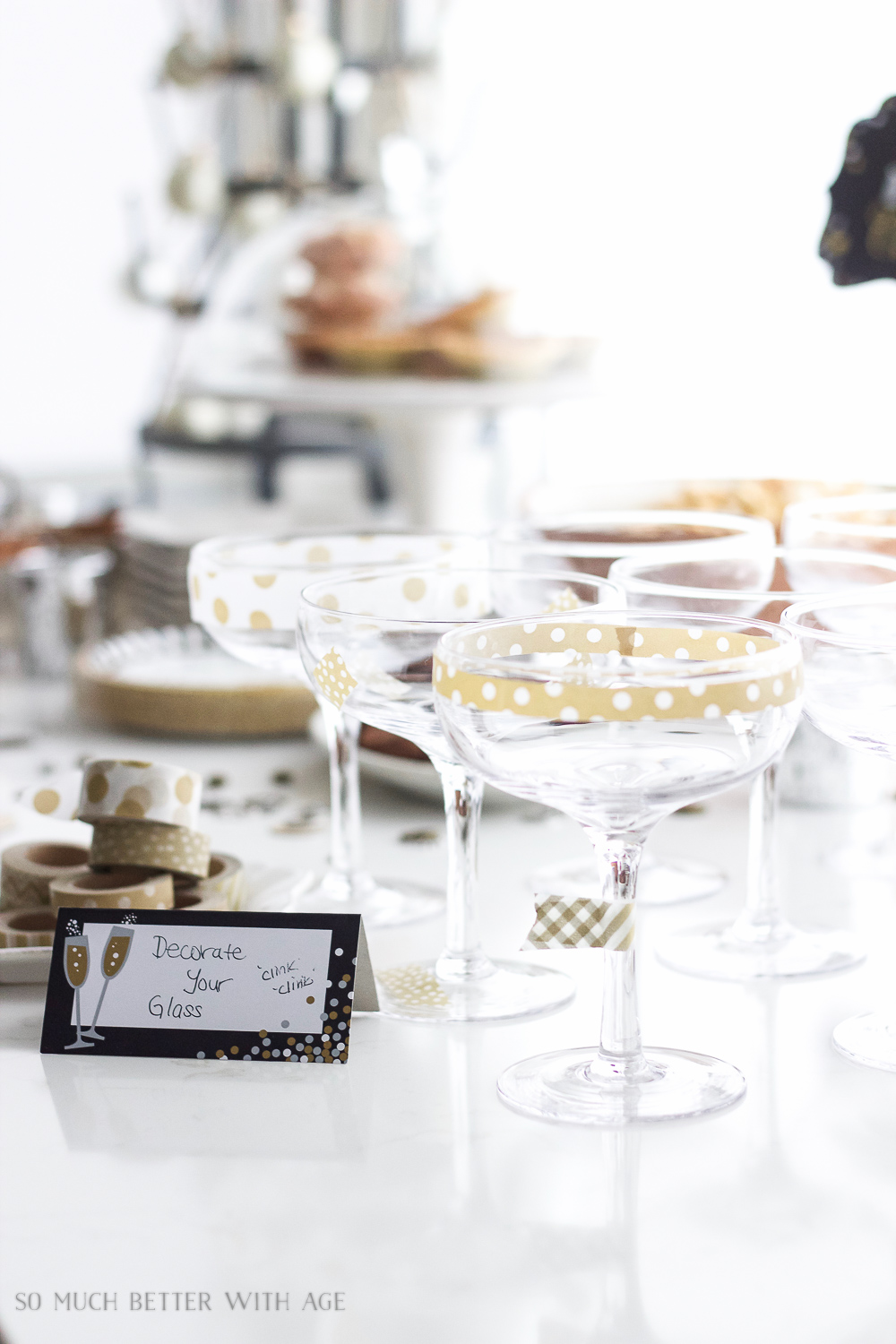 For my bar cart, I actually used a bar cart (obvious, I know) but you can have your bar anywhere like on your kitchen island, one corner of a kitchen counter or on a cabinet in the dining room or living room.
Wherever you feel is best for your guests to grab drinks from.
I think self-service bars are best as guests can grab drinks when they need refilling and don't need to look for you to fill up again.
If you're offering a signature drink, have your bartender (AKA hubby or friend) pre-make the drinks and have them lined up on the counter or kitchen island or a table for guests to grab.
Have your 'bartender' continue to make them in batches throughout the night but not constantly so he has fun too.
Decorate the bar cart with pretty decor that's small so there is plenty of room for glassware and liquor.
A sign directing guests where the champagne is kept will make it feel more inviting for them to grab a drink.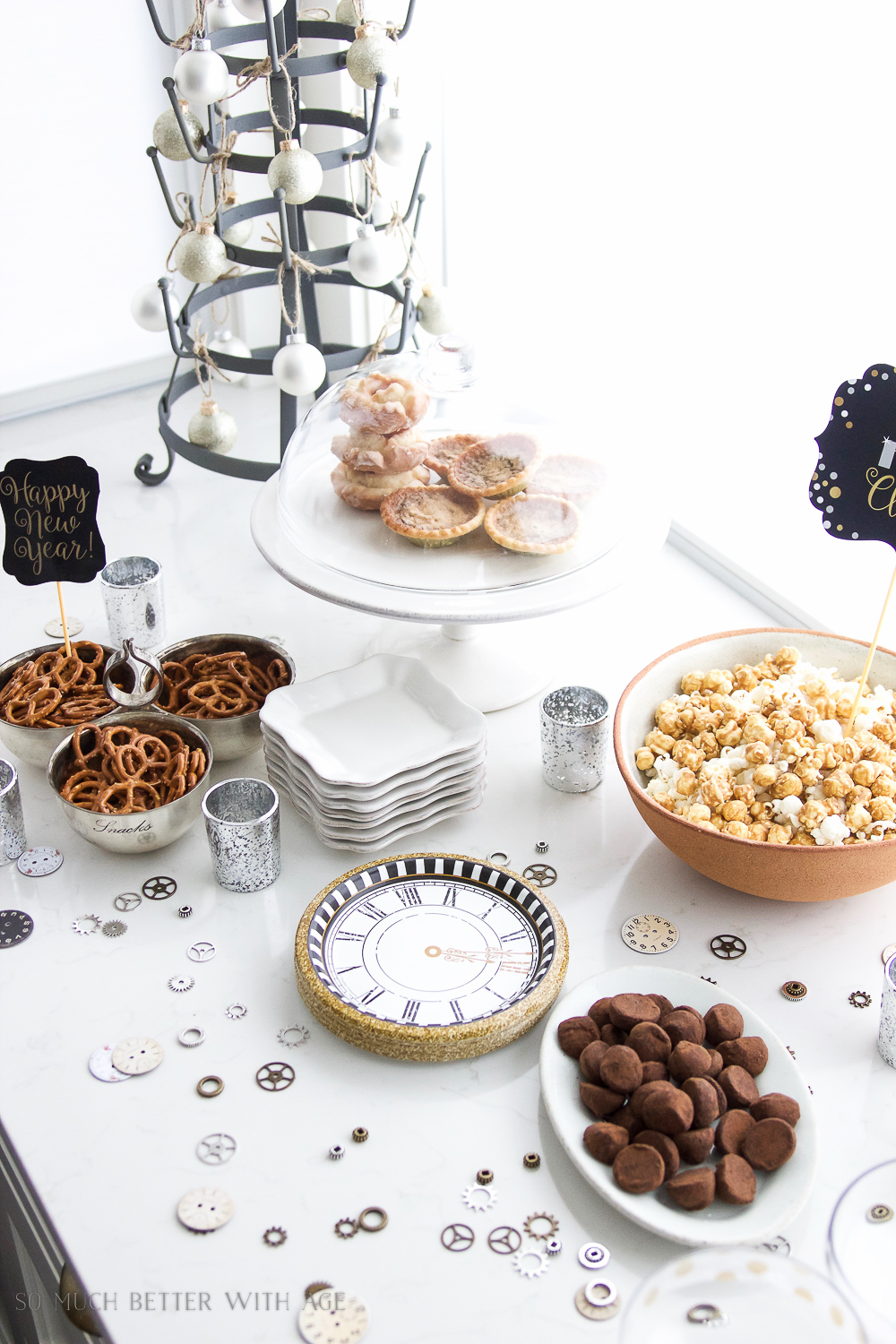 And most importantly, it's time to have fun! Nothing better than to bring in the New Year with a little party with a beautiful bubbly bar!
Disclosure: Thank you to Oriental Trading Co. for providing me with the supplies to my New Year's Eve Bubbly Bar post. All opinions are 100% my own. 
Please note, affiliate links are added for your convenience. Please read my disclosure policy.
Sources List:
Tips: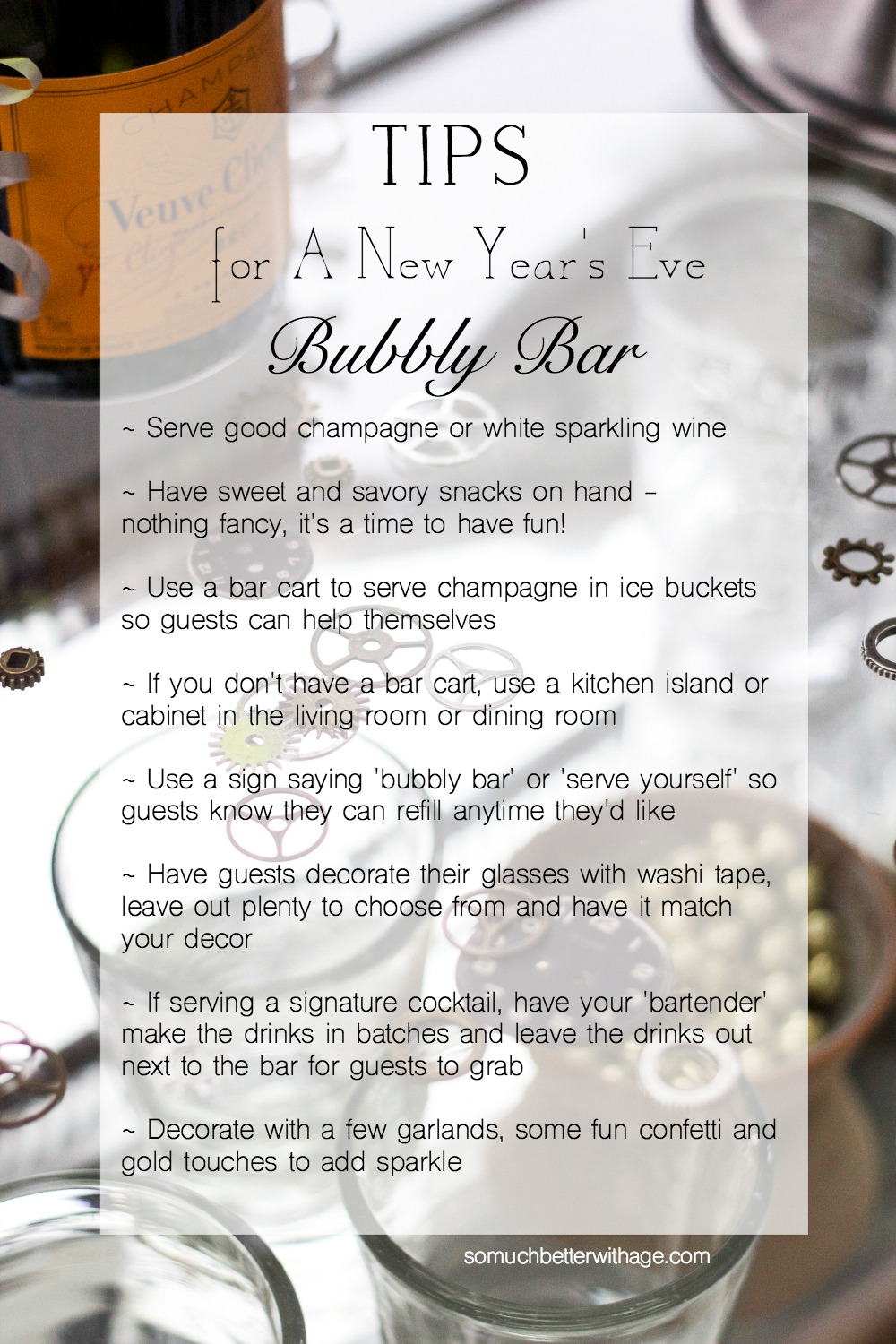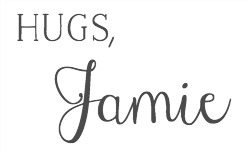 SaveSave
SaveSave