DIY Evergreen Wreaths and Fabric Banners (Free Printables)
These DIY evergreen wreaths fabric banners add that handcrafted French touch to any room this holiday season.
On Monday I shared my French dining room decorated for Christmas with evergreens, pinecones and holiday banners and today I'm going to share with you how to make these evergreen wreaths with fabric banners, mini banners and large ones!
Today I'm taking part in Christmas Decorating Tips home tour hosted by Jennifer of Decor Gold Designs and Randi of Randi Garrett Design. Be sure to visit the rest of the lovely home decor bloggers in this tour at the end of this post.
This post contains affiliate links for your shopping convenience. Click to read my full disclosure policy.
Supplies:
grapevine wreaths – 5″ diameter
faux evergreen and pinecones stems (about 2-3 bunches for 4 wreaths)
hot glue gun & glue
strips of fabric – cream/white linen fabric cut into strips, washed and dried (place in lingerie bag in the wash – it makes the fabric fray nicely along the edges)
Mini banners: 1 1/2 x 10″ Large banners: 5 x 36-40″
2 strips of fabric per banner (the second piece of fabric needs to be cut a bit smaller and doesn't need to be washed)
26 gauge wire (I found it in the craft store jewelry section)
iron-on transfer paper, for white fabrics
Directions:
Cut the sprigs of evergreen off the stem with wire cutters.
2. Hot glue about 4-5 sprigs onto each grapevine wreath.
3. Iron the washed fabric strips and cut any loose edges.
4. Cut a piece of wire the length of the fabric strip. Do the same to a piece of the fusible hemming tape.
5. (Note: I ironed on the letter images first but it's best to do last). Straighten out the piece of wire as best you can and lay down on top of frayed fabric strip. Lay the piece of fusible hemming tape over the wire then the second piece of fabric strip and iron down. Because there are so many layers, hold and move the iron slowly leaving a space of about 1 inch at a time to iron until you go all the way down the strip. The fusible hem and fabric keeps the wire in place.
6. Next print off the mirrored Joyeux Noel (Merry Christmas) printable (near the end of this post) onto white iron-on transfer paper.
7. Cut around the words as close as possible and iron on the front of the fabric strip with a hot iron on no-steam setting, following directions of the iron-on transfer paper.
8. Cut a triangle off both ends and bend the banner into shape. Hot glue into the evergreen wreath.
I hung the Christmas wreaths on each chair with some more fabric cut into strips and taped it to the chair.
I just love how they turned out! Soo festive and pretty!
You can make large holiday wreaths too by ending two pieces of wire (one to the top and one to the bottom) of each banner.
I made another large banner for my living room mantel and I love it!
Visit my French dining room Christmas tour here and be sure to visit the rest of the tour below.
Printables:
To download these printables, subscribe to my newsletter.
If you are already a subscriber, you'll have access to the printable in your inbox.
Make sure to pin it for later!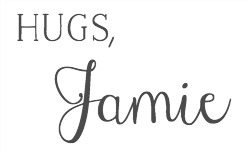 click in case you missed:
French Vintage Christmas Dining Room
Decor Gold Designs | Eleven Gables | Randi Garrett Design | Maison de Pax
Designthusiam | The Leslie Style | Citrine Living | CC + Mike | So Much Better with Age