This is a blogger's real life house tour giving you "behind the scenes" access to what things are really like.
Have you ever wondered what a blogger's house really looks like behind all those pretty shots? Every photo of a blogger's house tour is always magazine perfect nowadays and while it's what readers like to look at, have you ever wondered what a blogger's home really looks like in real life?
I spent a day getting ready for my fall tours a couple of weeks ago and this is what my house looked like prepping for the tour. Juggling my crazy book deadline, my blog, my kids and my life has been crazy the last couple of months and so keeping up with my house has taken a back seat.
Should I be embarrassed showing you these photos? I probably should. But I embraced them. I even watermarked my photos! Because god forbid someone steals these photos from the internet. They'd better know that this mess belongs to me.
Let's get started on this tour. A blogger's real life house tour.
And there's an actual giveaway at the end of this tour! Weird, right? Don't worry, it's not a missing sock. It's good! So read to the end.

This is when you first walk into my house. I forgot I had been driving around with a mirror and a chair in the back of my trunk that I found the day before at a thrift shop (for book projects) so I brought those in after I dropped my kids off to school and left them in front of the door leading to the garage.
I also brought in the beach umbrella from the car and fresh roses that I just picked up for the fall photo shoot. A couple of days earlier my beautiful hook just randomly fell off the wall so all the hats that were on it are now stacked in my crock along with bike helmets.
I can't be sure if that's an actual bag of garbage or old clothes to send off for donation.
The potted herbs and bag of soil were just purchased from a nursery that morning as well and again found a spot on the floor. And yes they are for another book project.
On the chair above I have linen fabric I recently purchased, washed and dried waiting for book projects. Also my son's Star Wars coverlet from PB that he no longer wants so I guess it's new home is on my living room chair.
Here is that cozy spot in my living room that usually looks like the photo below (in case all this messiness has made you forget).
In the middle of my living room (below) you'll notice I've taken my kids table and used it as a photo shoot staging area for a book project.
Back now towards the kitchen, this is the area where the kids usually have their cute little table and chairs. It's in place now are bins. And fidget spinners.
This little area in front of the kitchen island is where I've been coming up with new paint colors for book projects.
In the kitchen, I think there are about 10 book projects laid out, some tap shoes that I need to sell/donate, boxes, cushions from the patio chairs and of course more bins.
The bins are how I collected everything away from my dining room for this tour today.
When I do the tour for my kitchen, I'll do the same thing by moving stuff into empty bins.
Now I have my dining room ready for styling!
And this is how my dining room looked after I styled it. Here is my fall dining room tour in case you missed it.
It looks so pretty, right?
Could you ever guess this is what was going on behind the camera??
I know, me neither!
Oh, and that's Crackers our hamster in that cage. The colors of his cage fit in so nicely with the rest of my house, right? lol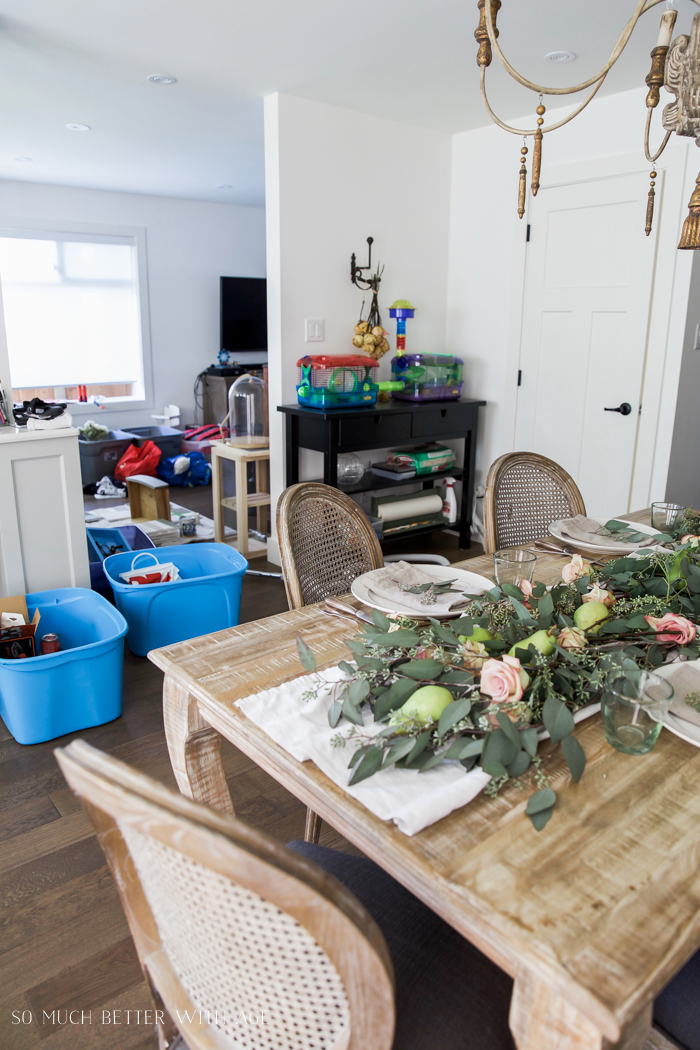 If you look closely, you'll see Crackers' tower in the mirror.
That was too difficult to Photoshop out so this photo didn't make the fall tour cut. 
Well I'm sure if this was brave or just dumb on my part showing you what my house really looks like sometimes. It's been looking like this more often than not for the past couple of months while I'm working on my book. Once the photos were taken for my fall dining room, the stuff in the bins and all the extra projects piled back up in the dining room again and some made it's way to my garage and basement.
Writing a book like this really isn't for the faint of heart. Just keeping up with life sometimes can have your house looking like this! And it's okay. I know and you know that you are doing your best. Life can be a real struggle at times. I hope this makes you feel a bit better if you're reading this post and looking around at your messy house. Because it happens to everyone. Even bloggers! So every time you see a beautifully staged photo, just think that you never know what is on the other side of that camera.
Giveaway Time!
What could I possibly be giving away? A book called So Close to Amazing (affiliate link) by my friend Karianne of Thistlewood Farms. If you related to this post just a little bit, you're going to love her book. She's an extremely talented writer and has the funniest stories about life. She also has some great DIY projects thrown in for good measure.
All you have to do is leave a comment about a time when your house has been it's messiest (and it could just because it was a random Tuesday!) and I'll pick a winner at random and mail you this book.
Good luck!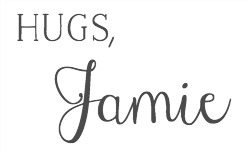 And the WINNER is…
# 9 – Liz S!
SaveSave
SaveSave
SaveSave