Does anyone ever say they love drywall? Well I do!
Never have I ever been so excited for drywall. Yes. I love drywall.
Three words I never thought I would say.
I've lived through many renovations growing up and owned four homes in adulthood all requiring renovations with drywall.
At the last house there was a forgotten hole in one of the closets that needed drywall repair and when it came time to sanding it I just said STOP. It's in the closet. I'll leave it with mud on the wall. Thank you very much.
The worst thing in the world is drywall dust.
But now that drywall has gone up at the Sweet Little Bungalow, I've never been more excited to see drywall, ever.
Sand away boys! Let the dust fall where it may.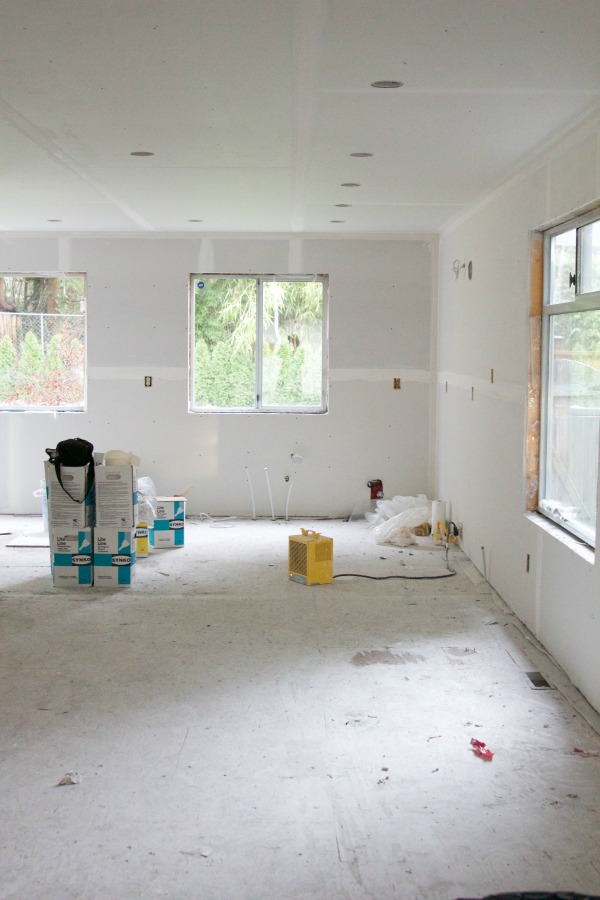 Opening up the wall has really made this space feel so open now.
And so bright!
At the last minute I decided on a new fireplace insert.
I was going to keep the old insert with the new mantel but I can see now I've made the right decision.
It's going to look stunning.
I found two vintage sconces that will go above the mantel.
There's a small vaulted ceiling in the living room in front of the window that I'm going to hang a chandelier from.
It doesn't look like much now but I know that little space will be so charming.
The post had been bothering me all last week.
It needs to stay or else another beam would have to be added and I would lose my large kitchen window.
We've incorporated it into the kitchen island and there are some neat ideas that I'll show you later that Donna helped come up with.
 The couch will go right where the scaffolding sits now.
Here's the wall in the kitchen that will house the range, fridge and pantry.
And under the window will be the sink.
This used to be where the other fireplace sat right in that corner.
It's going from family room to dining room.
And I love these new dining room French doors.
There's a little bit of wall that had to stay to house some plumbing.
And there's the staircase leading down to the basement.
The powder room will be getting a new toilet too.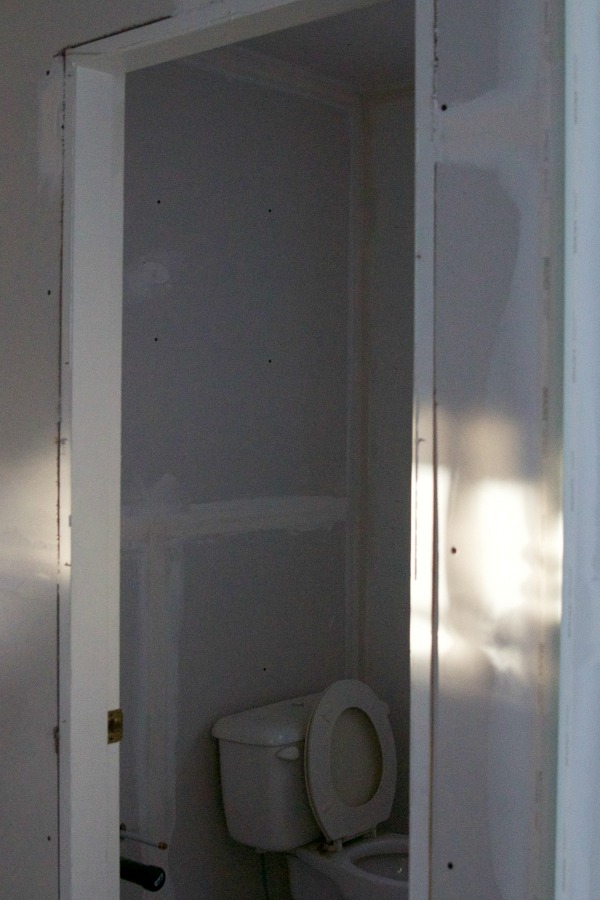 And a new railing is being made right now.
I'm going to love this laundry room. I think taking out the small hall closet and incorporating it into a mud room was the best way to go.
It's so exciting when you see your vision come together!
There's obviously still so much to do but going into week 4 in the renovation, we are on the right track.
Drywalling will continue all this week.
Next week painting will start so I'm going to share with you the colors I have chosen later this week!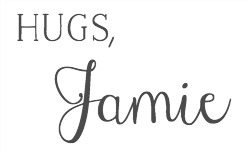 Click image below to read more posts: