DIY Heirloom Pumpkin Tutorial
Paint your own heirloom pumpkin this season!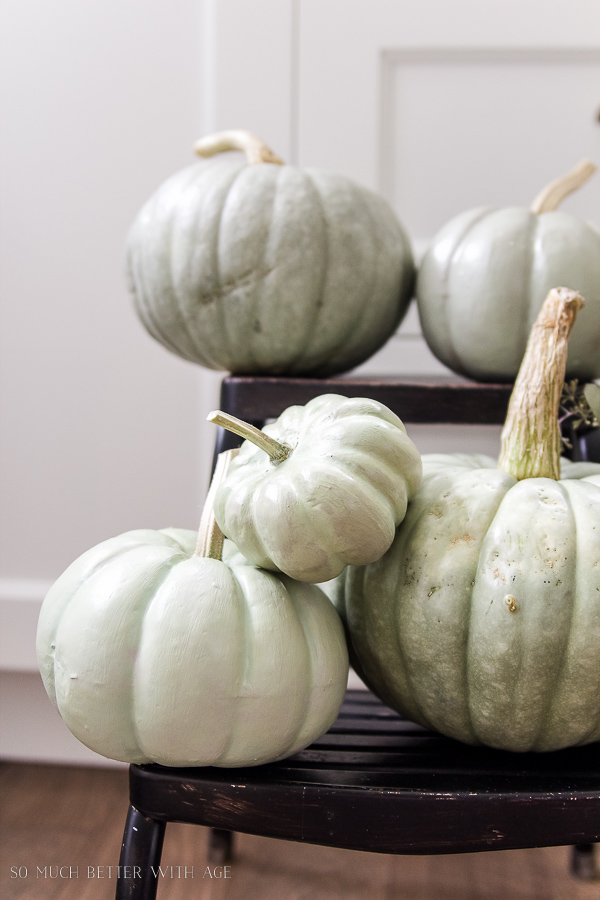 PLEASE NOTE: After painting so many pumpkins, I've updated this tutorial and created a new post (along with a free PDF) that shows you a more streamlined way on how to paint heirloom or muted color pumpkins. CLICK HERE TO READ.
Painting your own pumpkins to resemble those beautiful heirloom/muted color pumpkins will save you time and money when you save them for the fall season each year. These pumpkins are hard to find and often expensive so I thought why not paint my own!
I have never painted so many pumpkins before in my life! I tried numerous color combinations to find the right color match and I finally achieved it.
Get the directions on how to paint your own heirloom pumpkins below.
This post contains affiliate links for your shopping convenience. Click to read my full disclosure policy.
Here is a before shot of the dollar store pumpkin. I practiced a lot on these ones that looked more like gourds but stuck with the more round ones for the final product.
Some Color Combinations I Tried
I used Fusion Mineral Paint as they have the dreamiest colors for this project. I also had a ton of little sample pots from various conferences I've been to so it was the perfect time to try them out.
Here are just some of the color combinations I tried:
Heirloom + Ceramic = pretty but way too blue
Inglenook + Heirloom = too blue
Inglenook + Ceramic = too turquoise
Inglenook + Lilypond + Upper Canada dry brushed over top = too green
I practiced on mini pumpkins before testing them out on the big pumpkins but I still painted the big pumpkins many times over because they would dry so much differently.
But I finally came up with the best color combinations.
Check out my updated post on how to paint muted color pumpkins here!
Supplies:
Paint colors (see below for specific recipes)
Paint brushes or sponge brushes
Hot glue gun
Polyurethane semi-gloss spray (optional)
Directions:
Take the tops off the plastic pumpkins with pliers. Using a finger, fill holes with drywall filler before painting (I took the stems off after but I wish I took them off before!).
2. Paint a coat of primer or paint you have lying around for first coat. I used sample pots leftover from my house renovation.
Pumpkin #1 Recipe (Light sage green pumpkin)
Mix equal parts Inglenook + Upper Canada together and paint on pumpkin. May need two coats. Let dry.
Dry brush Upper Canada over the high parts of the pumpkin
Splatter a bit of Bedford on top (see tutorial below)
Pumpkin #2 Recipe (Dark sage green pumpkin)
Mix equal parts Inglenook + Algonquin together and paint 1-2 coats on plastic pumpkin
Paint Algonquin in grooves while paint still wait
Mix Inglenook + Upper Canada together with just a bit of Algonquin and paint over the high parts of the pumpkin while still wet
Splatter texture:
Many heirloom pumpkins have dots of lighter color on their surface.
To achieve this effect, splatter Bedford over top and with a wet paper towel or wipe, dab the paint spots all over while wet.
3. Once dry, spray entire pumpkin with a semi-gloss varathane. This step is optional as some pumpkins can give off a shine so if you'd like that effect, then you can spray them. If you'd like them to have a matte look, ignore this step.
4. Hot glue real pumpkin stems to plastic pumpkin.
Guess Which Pumpkins Are Real
Pumpkin #2 are on the top step and on the floor and pumpkin #1 are on middle step. The two largest pumpkins are real heirloom pumpkins.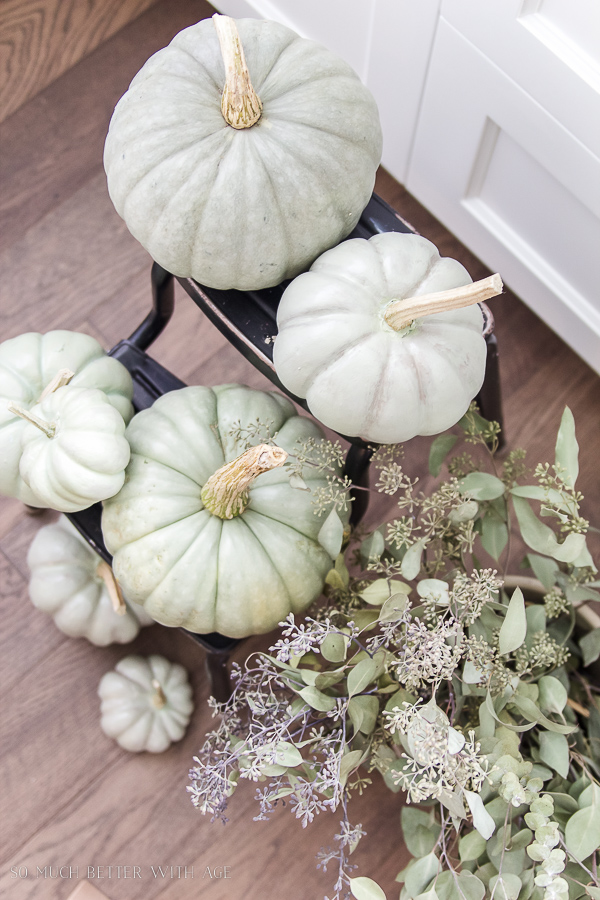 Adding real stems is the perfect touch to making them look real.
Here are just the painted ones together. My favourite green!
I hope you enjoyed this tutorial on how to paint your own heirloom pumpkins.
You can download a free PDF of my other pumpkin tutorial, Painting Pumpkins in Muted Colors, by subscribing to my newsletter below.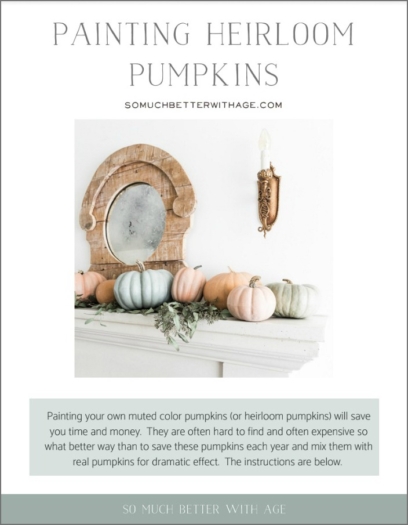 video:
Be sure to watch my YouTube video on how to paint heirloom or muted color pumpkins below!
Make sure to pin it for later!

Click in Case You Missed:
Painting Pumpkins in Muted Colors