Vintage Chalk Paint Pumpkins
These chalk paint pumpkins will add vintage charm to your fall decor this season.
I love neutral colors and traditional fall colors generally don't match the decor in my home so I took foam or faux pumpkins and made them into vintage pumpkins using the power of paint.
You might have noticed these pumpkins in my Fall Home Tour last week. I love the vintage look they create and they are so easy to paint.
Let me show you how.
This post contains affiliate links for your shopping convenience. Click to read my full disclosure policy.
Supplies:
white chalk paint (I used Annie Sloan Chalk Paint in Old White but any type of chalk paint will do)
clear wax (Annie Sloan and Fusion Mineral Paint are my favorite)
dark wax
rags
foam brushes
Directions:
1. Paint pumpkins with chalk paint. Let dry at least one hour. With chalk paint, you eliminate the primer step.
2. Apply clear furniture wax with a rag over entire pumpkin then apply the dark wax with a rag over top making sure to get into all the grooves. By adding the clear wax first, you're able to manipulate the dark wax where you want. If you just added dark wax, it would get very dark and you wouldn't be able to remove it. The clear wax allows you to take off the dark wax easily.
3. Buff off dark wax with a rag dipped in clear wax if you've added too much. If you want to have more dark wax removed, apply more. Continue to rub in and buff off to get the look you want.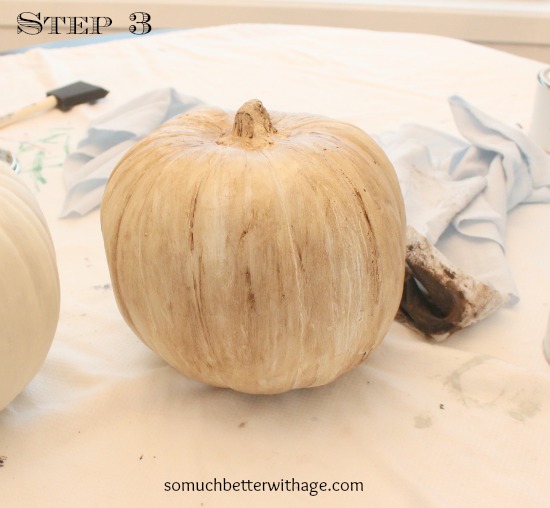 You can see I took off quite a bit of the Dark Wax so that it's mostly only left in the grooves and around the stem at the top of the pumpkin.
I love these vintage chalk paint pumpkins, don't you?
The best part is that you don't need to throw it away at the end of the season and can keep them around for many years to enjoy.
I hope you enjoyed this tutorial on how to paint your own vintage chalk paint pumpkins.
If you'd like to download my free PDF on Painting Pumpkins in Muted Colors, be sure to sign up for my newsletter below.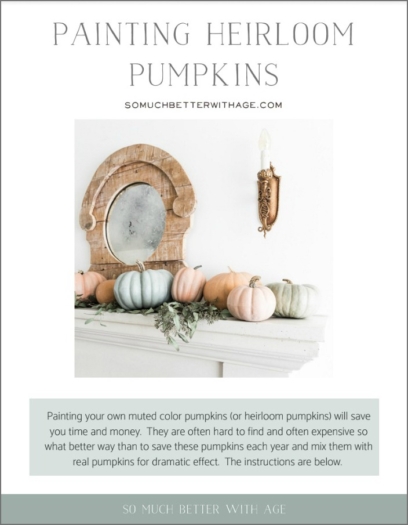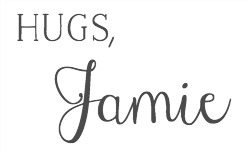 Click in Case You Missed:
Painting Pumpkins in Muted Colors
Click to Download My Free PDF Printable