Today I'm sharing 16 essential tools for DIY projects! If you are just putting together your own toolkit, this is the guide you need!
I recently shared with you why I do DIY projects and maybe you want to start doing them too.
Buying tools for DIY projects can be daunting if you are starting with nothing. You don't have to spend a lot or have a massive amount of tools to start doing DIY projects either.
This list of 16 essential tools will get you started on DIY projects right away and will also help you do odd jobs around the house. If you're a woman, you'll be very proud to have your own toolkit apart from your husband's toolkit.
This post contains affiliate links for your shopping convenience. Click to read my full disclosure policy.
1. Hammer
Most of my tools are old like this hammer (I think I took the rusty one from my dad but I can't remember!)
I like the small one but sometimes the job requires a big hammer! If you're just starting your toolbox, one hammer is fine.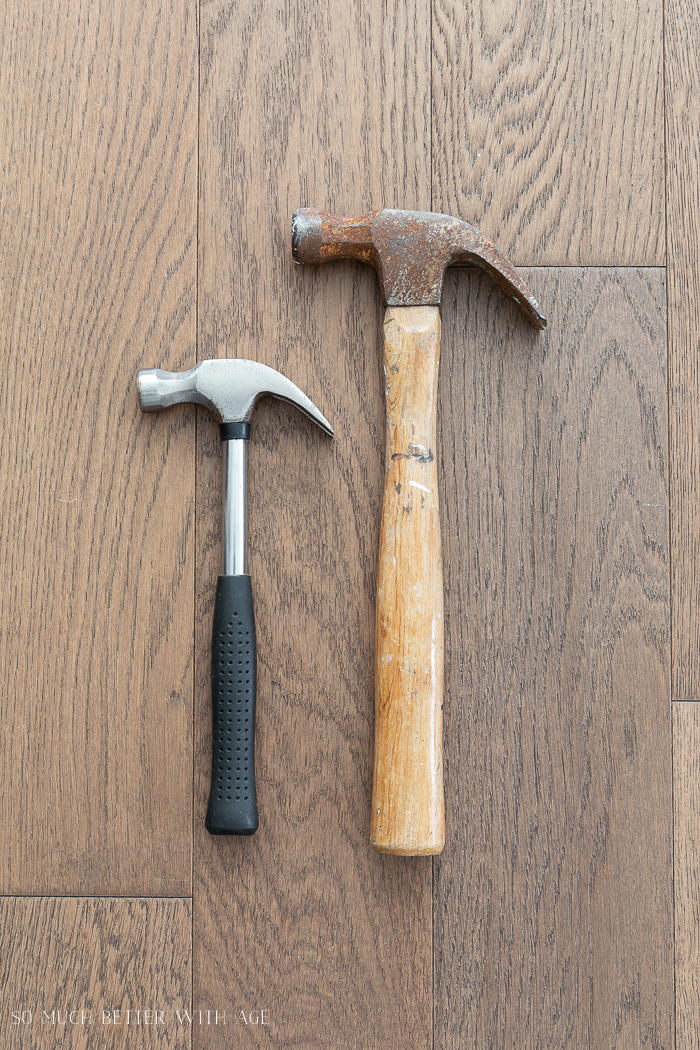 2. Tape Measure
I have many tape measures. One in my office, one near my kitchen, one in my purse and the heavy duty one (I love the mini one I have in my purse, it comes in so handy!).
3. Screwdrivers
Again, my screwdriver set is old but an assortment is good with different sizes. Especially for kids' battery-operated toys, you need a tiny Phillips screwdriver.
These are the most common screwdrivers:
Slotted screwdriver = flat shape
Phillips screwdriver = star shape
Robertson screwdriver = square shape
There are so many great screwdriver sets on the market that have magnetic tips and come in a variety of shapes.
Side note: apparently Robertson screwdrivers are common here in Canada but not so much in the US and don't usually come with a screwdriver set in the US.
4. Ratchet Screwdriver
A ratchet screwdriver is essential to have when you need some muscle or are just tired of taking the screwdriver in and out of the screw while turning.
The extra bits are screwed into the bottom of the handle.
5. Pliers
An assortment of pliers is good to have on hand. They come in handy for removing wall anchors and the like.
6. Cutters
Needlenose pliers are on the bottom of the photo, wire cutters (yellow handle) are great to have for cutting floral wire stems and the odd time I've had to use tin snips for cutting through bits of metal.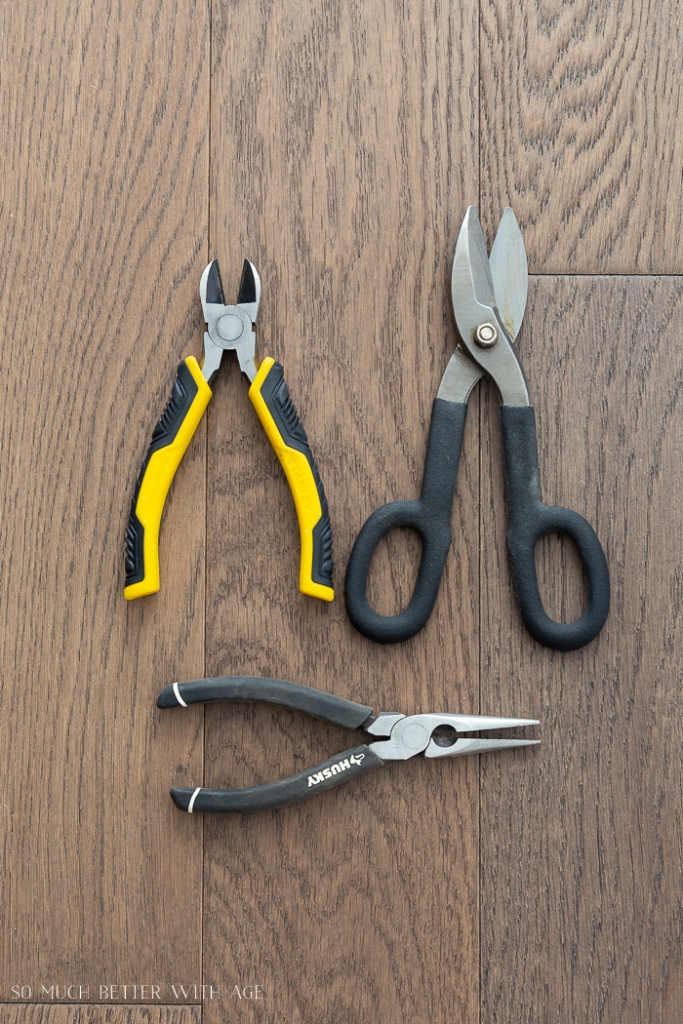 7. Allen / Hex Keys
Allen or hex keys are good to have on hand for building Ikea furniture and are usually used for bed frame hardware.
8. Level
A level is always good to have on hand especially when hanging curtains. This is a small one and magnetic on both sides.
9. Stud Finder
A stud finder is essential for screwing in just about anything in a wall.
10. Electric Screwdriver
I use my electric screwdriver instead of using a drill. I call it my mini drill. It's amazing what this little thing can accomplish. The magnetic screw holder is a great help too.
Note: mine comes with this charging base but I can't find the exact same online.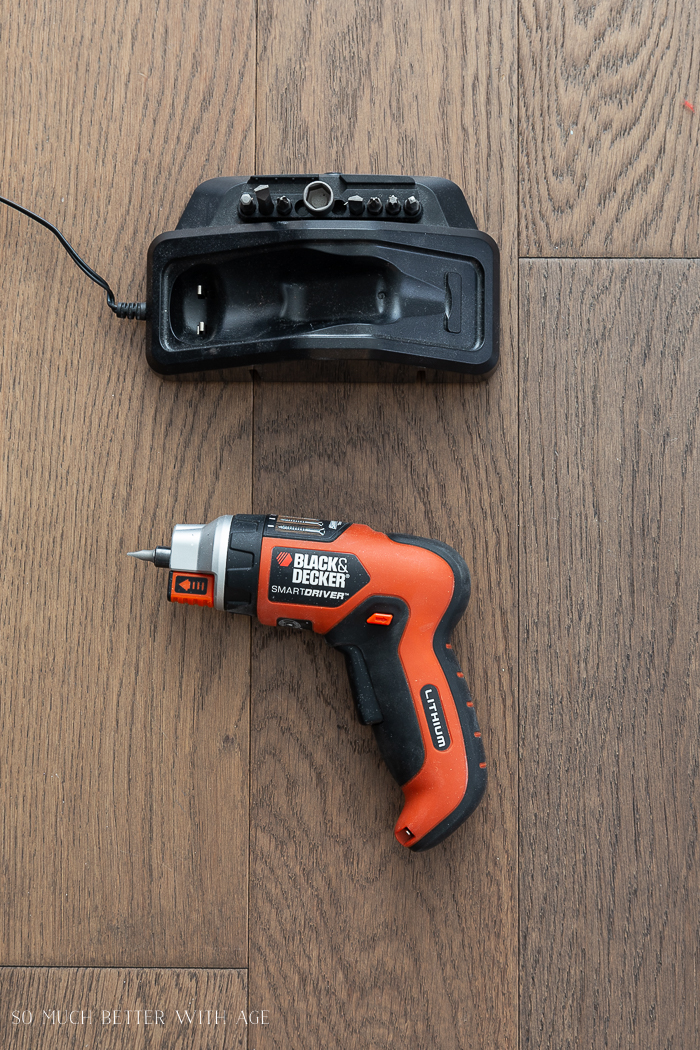 11. Sander
A sander is essential for refinishing/painting furniture or just giving wood a distressed look.
I love my mouse sander. The sanding pads can be difficult to find in store but I buy generic brand ones on Amazon.
This sander is good for big projects and uses quarter sheets.
12. Picture Hanging Kit
A picture hanging kit is always good to have on hand!
13. Scraper Tool
This scraper tool comes in handy when trying to get price tags off thrift store furniture and other gunky, sticky stuff.
14. Protective Eyewear
15. Contractor's Pencil
Last but not least, protective eyewear are good to have when you are sanding or cutting metal.
And a contractor's pencil is good for the toolbox too. (I love these mechanical pencils).
16. Putty Knife
A putty knife is needed for filling in dents with wood putty on furniture and patching drywall.
It's also useful for scraping off old paint. An assortment of sizes is good to have on hand.
Toolbox / Toolkits
I couldn't find any floral tool boxes/toolkits (I found mine at Walmart years ago) but I did find a selection of women's tool kits on Amazon.

I hope this list has helped you get started for your DIY toolkit!
Make sure to pin it for later!