French Laundry Bag + Giveaway
I adore my French laundry bag which imitates a French mail bag. I also have a giveaway at the end of my post.
I've been on a roll lately… I have another giveaway for you today!
It was my birthday yesterday so this month has been a great month for giveaways.
I still can't believe it's nearing the end of June.
Next month I'll be attending the Haven Conference in Atlanta for a third year in a row and rooming with my BBFF Jenna from Rain On A Tin Roof again!
I look forward to it every year, seeing Jenna plus the conference. This year I didn't think I was going to be able to go but I am!
21 more days, Jenna!
Before Haven, I still have lots of DIY projects to share with you.
This handmade project was given to me so read on to learn more about it and for your chance to win at the end of this post.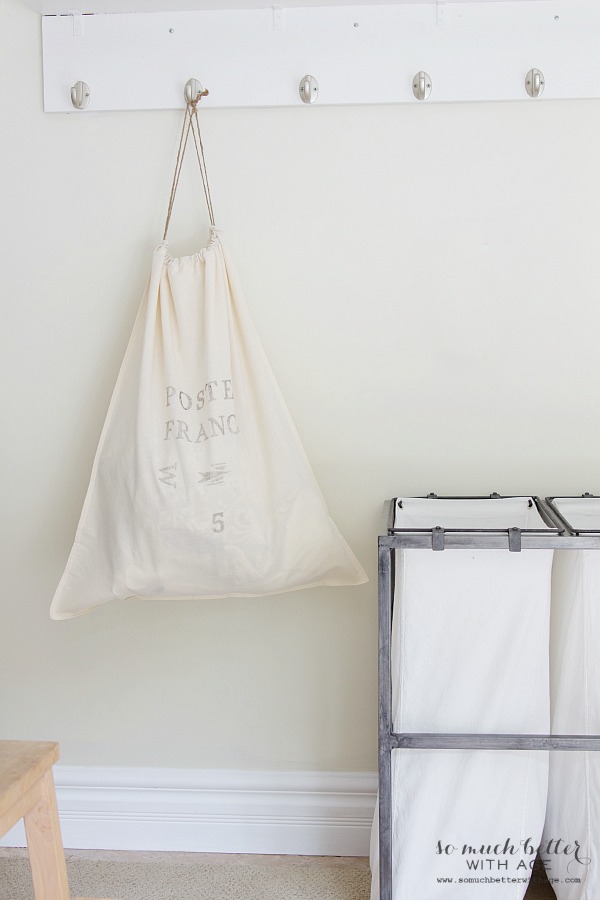 Shal from Spools and Bobbins sent me this gorgeous laundry bag.
I love that it imitates a French mail bag.
I'm all for promoting handmade items so I was happy to offer a giveaway of a similar pillow cover to my readers.
And Shal is the sweetest. Her new website is gorgeous with newly stocked items.
Doesn't this French bag look great in my laundry room?
I really love how the letters are worn looking.
It goes well in any room in my house.
I stuck it in this laundry cart and used it for stored blankets.
It even looks great in the living room piled with blankets inside it.

Giveaway
Okay, you can win a pillow cover that is just like this laundry bag.
Enter the Rafflecopter giveaway below.
Spools and Bobbins website

a Rafflecopter giveaway

Sharing at these link parties & Coastal Charm & Mod Vintage Life & The Scoop & The Shabby Nest