A list of Jamie's favorite designs, DIYs and anything that caught her eye from the past month!
It's time for another monthly edition of Jamie's List! I believe I missed last month but I have a good reason…I'm not sure if I've announced it officially here yet, but I am now working at California Closets in Vancouver! I feel like it's the perfect job for me and I have been BUSY since January training and seeing new clients. I feel like it's such a perfect fit with my eye for design and organization.
Okay, let me share my favorites for the past month!
Jamie's List
Did you know Leanne Ford has DIY tutorials on her website? I love her and her designs! She's THE coolest.
Check out how she whitewashed these butcher blocks countertops.
If you like vintage shopping online, you may want to learn how to ship the items to your home if you found a gem outside of your local area.
Alisa from Glass of Bovino gives you lots of ideas on how to ship!
This is such a cute tank dress for spring and summer. I also love it in my favorite green color!
Did you also know that Banana Republic sells pillows and throws? I had no idea!
My mentor (she laughs that I've named her that) Heather Bullard has a real eye for design, styling and photography. She photographed this antique dealers home in France and it's true to the title, Authentic French Living. Be sure to take a look!
I had the privilege of taking a photography workshop near Bordeaux organized by the talented Heather Bullard in 2016, the first year she put these French workshops together. I created many blog posts about my trip to France that you can read all about them here.
This is the stuff of my dreams!! The wooden doors, transom windows, marble everywhere and brass hardware and shelving. Wow! @artichoke_ltd.
I'm in love with this Swedish design studio, @refinedesignstudio.se. Isn't it gorgeous?
These barnacle planters have so much character! I'm looking for planters that don't look new for my back patio this spring.
Speaking of spring, I can't wait to use my insulated picnic basket this year. It's very similar to this one. The best part is that it's collapsible to save on storage space.
That about wraps it up for this month! What was your favorite part of this month's Jamie's List?! let me know in the comments below!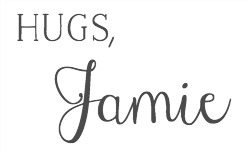 Be sure to check out all of Jamie's Lists: