Neutral Foyer – Before & After
I really love my newly redesigned neutral foyer with before and after pictures.
The other day I showed you how I redid the sign in our foyer. Well today I'm showing you my neutral foyer with before & after photos!
If you were to search waaaaay back in my blog, you can see what it was like after we renovated our house (actually, maybe you shouldn't look back at that embarrassing post).
I've been wanting to paint the wooden staircase like forever (okay five years when we bought this house).
When we first moved in, we had it painted by someone and that someone told us the staircase couldn't be painted – that the stain would just continually bleed through the paint, so he restained it.
I'm sorry but that's a load of crap!
And because of that I've held off painting it…until recently 😉
If you follow me on Instagram, you probably noticed the first couple of coats I painted.
I'm also trying to get the house ready for a magazine photo shoot (say whaaat? More on that later this week so stay tuned!)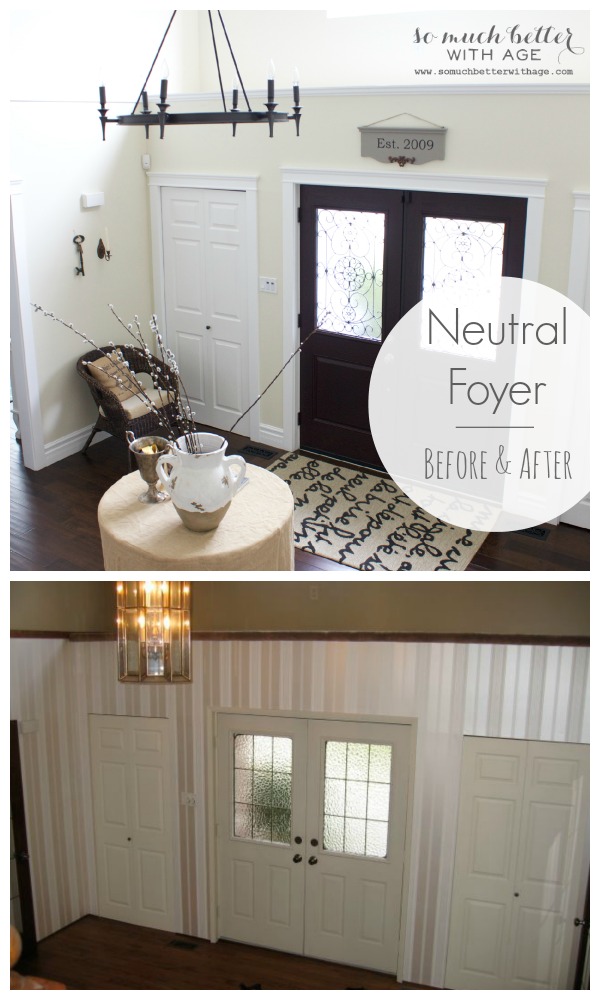 So let's start with the ugly before picture, shall we?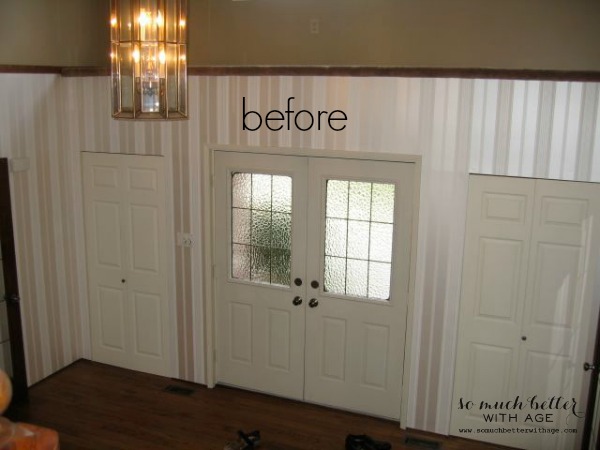 And now we see the light!
We changed all the flooring in our house, added beefier baseboards, crown moulding and doorway trim. It makes a world of difference.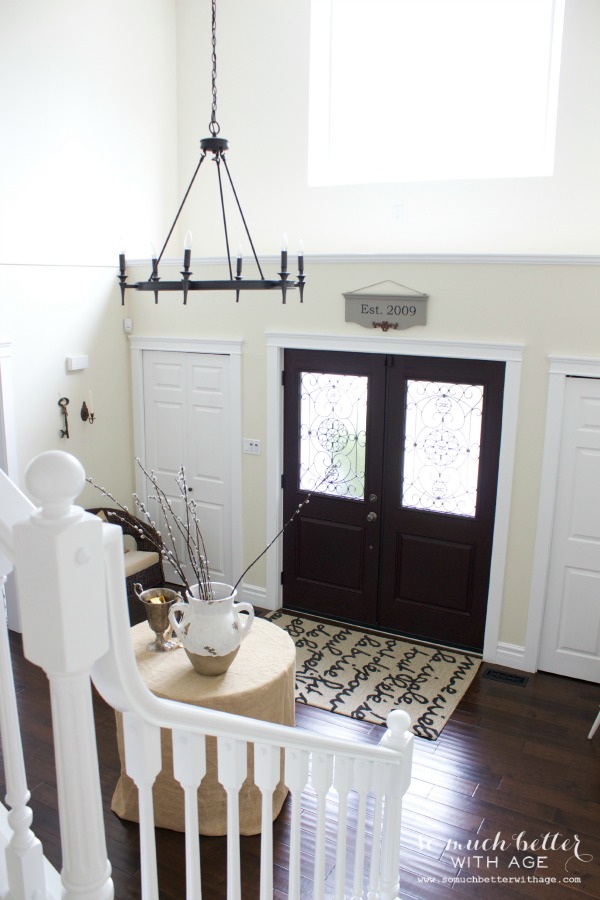 I'm sorry, but who would put carpet up on that second level? Do you notice there's even an electrical outlet??
I guess someone wanted a Christmas tree up there?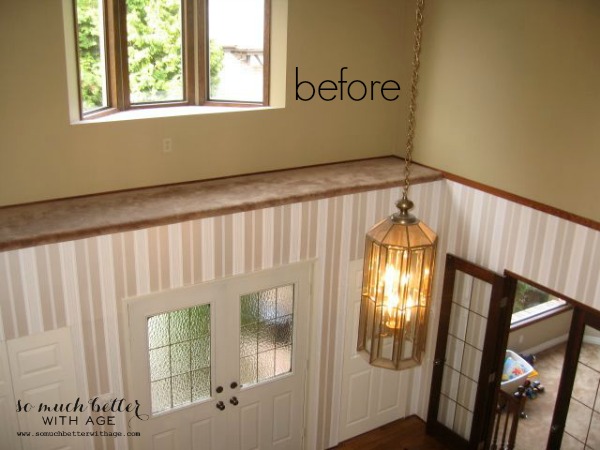 Ahhhh so much better.
A couple of years ago we added new front doors. I took the shades off my Restoration Hardware chandelier (thanks for the tip, Tanis, my bestie).
Our 80s house was definitely dark and dingy when we bought it.
I'm all about light and white neutral decor!
And I'm so excited about our newly painted staircase!!!
Just over a month ago my staircase was a dark stain when I showed you my gallery wall.
Now it's finally brighter!
So I managed to get two coats of paint on the staircase by myself that totalled about 12 hours.
Then when I went to Haven I guess my hubby was sick of looking at a half finished staircase for over a month and so he arranged for someone to come in and finish it for me (thanks boo)!
Oh yuck.
You might recall my painted junky trunk. It's still here!
The main floor is Country Beige by Behr and the upper floor is Seaside Sand by Behr.
I like the slight contrast in color. It's just a touch lighter on the upper floor.
So yeah, I love my neutral foyer now!
What about you? Do you love a good before and after? Don't you find paint makes a world of difference?
And here are my paint colors again:
Top walls:
Bottom walls: