I really love my wooden painted sign with my own silhouette cameo.
I've had this wooden painted sign for years that I found at Michael's but it had some painted mural on it that I didn't care for. It was in the clearance section and even though it was ugly, it was wood and came with a rusty ornate metal design on the bottom.
When we first moved in, I painted it blue and hand painted Est. 2009 on it for when we bought our house.
I always wanted to redo it when I got my Silhouette Cameo so I finally got around to doing it the way I envisioned.
Here is the sign before. It hangs above the front door in our foyer.
I wasn't into the blue anymore so I just took off the rusty metal thing and got to painting it.
I painted it with French Linen (Annie Sloan Chalk Paint).
You can paint over any thrift store sign or a new wooden one from a craft store.
Supplies:
painted wooden sign
Mod Podge or white glue
foam brush
Tutorial
I used my Silhouette Cameo to print and cut out 'Est. 2009' in adhesive vinyl. Once it was cut out, I weeded away the areas that I wanted to be painted. (The adhesive vinyl I used was white, the backing is blue.)
Click HERE or HERE for more detailed Silhouette vinyl tutorials
2. Then I transferred it over onto transfer paper.
3. (#1 image photo)I pulled away the backing,
(#2) pressed down on the sign and peeled away the transfer paper.
(#3) Then coated the area to paint with Mod Podge first to ensure it doesn't bleed underneath.
(#4) Paint over stencilled area.
5) I peeled away the stencil carefully when it was still wet.
And voila!
I love the difference it makes in my neutral foyer.
I hope you find a great sign to paint for your home!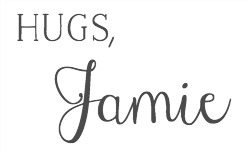 *Affiliate links added. Please read more on my disclosure policy page.