Crock-mas Tree (Vintage Crocks Christmas Tree)
Why not try something different this Christmas and make a Crock-Mas Christmas Tree!
Making this Christmas tree with vintage crocks was so much fun! I honestly didn't know if it would work out or if it would even look good but I'm so excited with the results!
On Friday I posted my Holiday Housewalk that I was a part of with Jennifer Rizzo and more than 30 other fabulous big-time bloggers. Because of the tour, I pushed myself to do something a little creative for Christmas this year.
In no way is it meant to make you feel you have to do the same. If you feel inspired to do a little something extra or try something that maybe you were afraid to do, then just do it! But you can also just sit back and enjoy the inspiration.
Disclosure: This post may contain affiliate links. Please read my disclosure policy.
How to build a crock-mas tree
To build a Crock-mas tree, you'll need an assortment of old vintage crocks (or new pottery will do the same too!). Whatever you have in your collection!
I had one large 10 gallon crock that I used for the base then added a piece of barn wood.
Then I put three 3 gallon crocks on that board. You can see that every crock is not made the exact same size! The middle one is the one that is really holding up the top board.
Then I placed another board, two 2 gallon crocks, another board and a small chicken feeder crock.
I strung up some handmade garland and added a few sprigs of evergreen around them.
The beautiful Fraser Fir wreath is from Balsam Hill.
You can see my glittery vintage postcards I made that are hanging on that little ladder.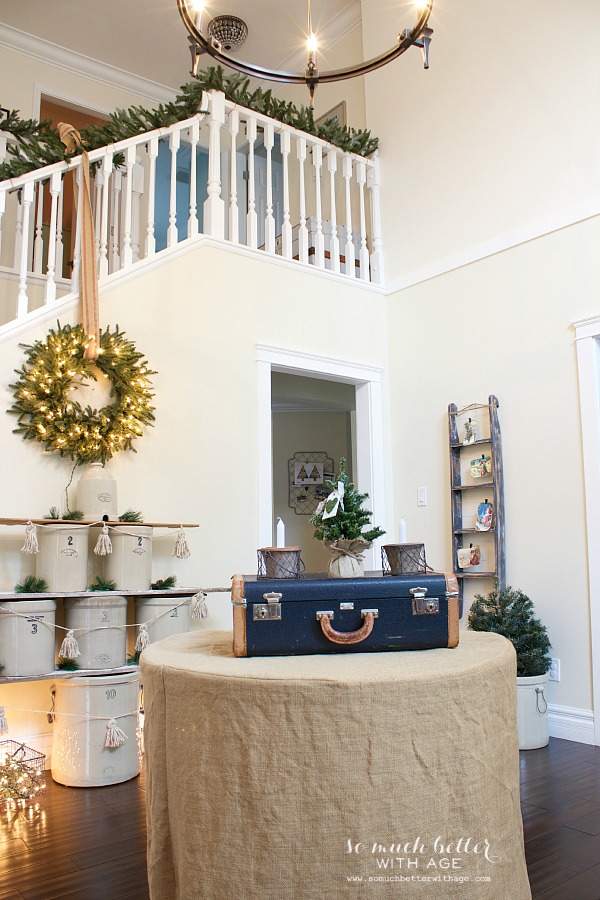 I used three of these garlands for all the bannisters in the foyer.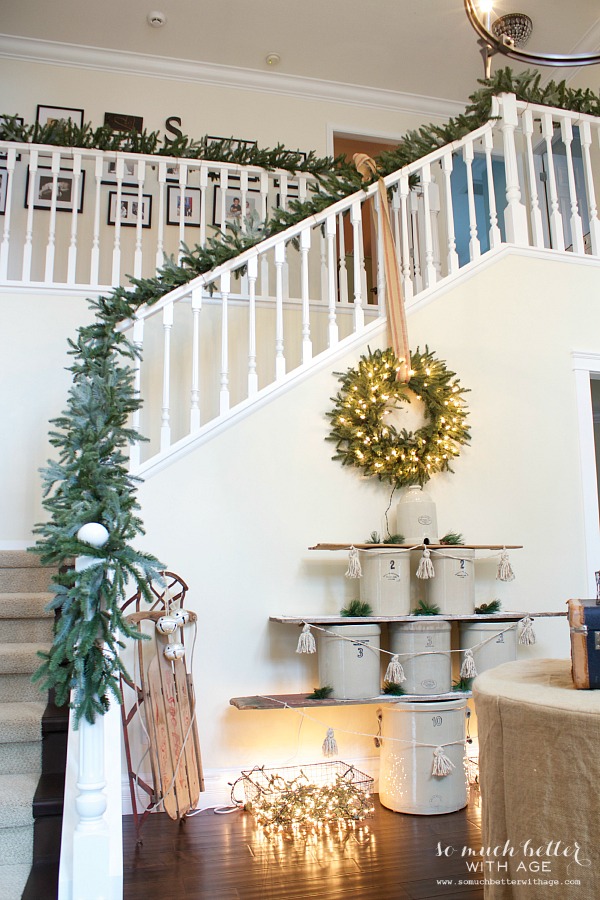 For more fun, I added a bunch of mini white Christmas lights to two French wire baskets underneath the tree.
This was by far the funnest DIY project I've ever done. It was easy and will be no problem to dismantle. But I'm going to enjoy every minute it's up for Christmas.
Shop Crocks

Make sure to pin it for later!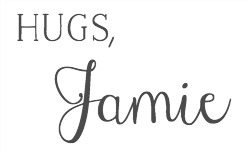 click in case you missed:
How to Hang Lighted GarlandSaveSave