15 Pretty Pantry Projects
Here are 15 very pretty pantry projects that you can do in your own home.
It's time to get organized!
I've curated a collection for Hometalk all about pantry organization today.
I found such great inspiration for getting spices, jars and cans in order.
Kitchens can be the hardest to organize as we need so much stuff in there and then the clutter starts.
I've made it convenient with direct links to the blogs.
My pantry reveal shows a ton of handy tips for getting everything from food and appliances and small little items like cookie cutters in order.
I like to utilize the space on the wall as well and found some great products to hang.

Love this open shelving unit from DIY Design Fanatic.
Chalkboard tags are practical and pretty! And if you need to change the label, you just wipe it off and start again.
A lazy susan in the fridge is a perfect idea! I've adopted this idea myself. Perfect for those small jars that always get lost in the back of the fridge.
Atta Girl Says has a great idea for using vertical space.
The Quaint Cottage has a brilliant idea by using the space above her washer and dryer for pantry storage.
Perfect if you don't have a pantry.
Pondered Primed Perfected has pretty storage ideas.
Love these jars from A Pretty Life.
Gorgeous spice rack built by Shanty 2 Chic.
Isn't this room gorgeous by The Blooming Hydrangea?
Love wallpaper in the pantry!
The DIY Village built a beautiful wall pantry with cupboards and open shelving.
Fancy Frugal Life made a colourful pretty storage area.
How cool is this idea??
Domestic Imperfection has a fabulous area for all those cans.
Shanty 2 Chic built another awesome storage area for cans and cereals.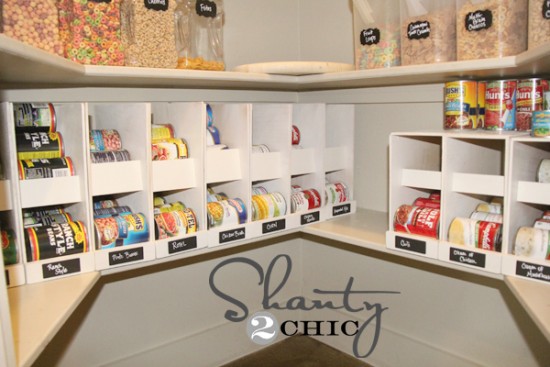 I'm really loving this little round-up. Happy organizing!