So Much Better With Age Vintage Gold + Flash Book Sale
I have a paint called Vintage Gold in collaboration with Fusion Mineral Paint! Read all about it along with my flash book sale this week!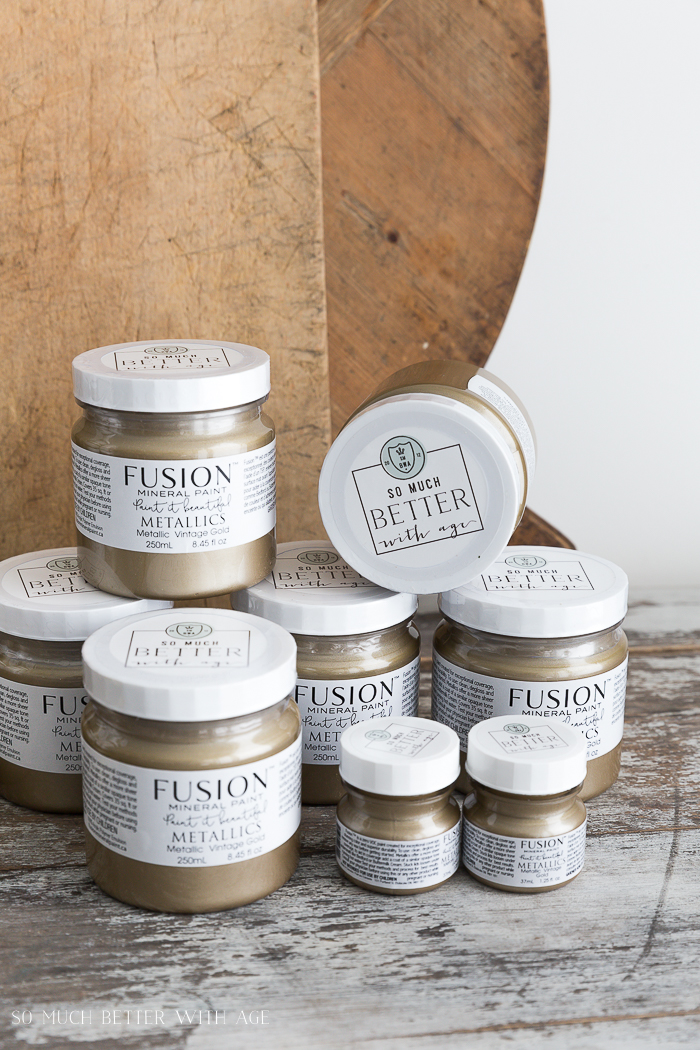 Vintage Gold Metallic Paint
I've mentioned a bit on social media about this beautiful new gold paint that me and Fusion Mineral Paint came up with and I'm so excited to officially share it with you today!
I was able to sell it at the Olde Farmhouse Vintage Market a couple of weekends ago and it was a big hit. It's so hard to find the right shade of gold so this gold that we named Vintage Gold is the perfect tone of gold, in my opinion. It's amazing for painting an entire piece with or just highlighting a few areas with dry brushing.
Vintage Gold along with two other metallic paints are only available for a limited time!!
You can find out more about the 3 Limited Edition Vintage, Champagne and Rose Gold Metallics on the Fusion Mineral Paint website.
To find retailers that sell it, click here. Many retailers also sell online!
Update: click here to purchase Vintage Gold
Paint Kit
In combination with my book, French Vintage Decor, Fusion Mineral Paint has put together this amazing paint kit that you can purchase directly from them online!
The kit is complete with many of the products that I used in my book so you can create so many projects just with this one kit!! How awesome is that?!
The kit includes:
Vintage Gold tester
Raw Silk tester
Sterling tester
Champlain tester
Putty tester
pot of liming wax
small bag of Fresco
Decoupage & Transfer Gel tester
two 1″ paintbrushes
The kit costs $54.99 CDN.
Signed Copy of Book + Paint Flash Sale!
And now for a flash sale just in time for Christmas!
I'm selling a signed copy of my book, French Vintage Decor, wrapped with a shiny green ribbon along with 1 tester of Vintage Gold!!
I only have a limited supply on hand so I'm only selling this gift set until Sunday, December 16th so don't miss out.
*The flash sale has ended*
Happy Holidays!