I've been on a project spree around the house lately. Once a can of paint gets opened, it's so easy to keep on painting.
I've had some things lying around in the garage for awhile and a few curb side finds were picked up.
Like this beauty.
The 'bird dresser'.
I started painting it this weekend and it's looking fabulous.
But you're going to have to wait for those after photos. Hopefully next week.
I got lots of projects to show you!!
***Updated*** Click HERE to see the amazing after photos.
Everyone has seen chairs like this at a rec centre or gymnasium.
I picked these up for a dollar each when I had my junking day with blogger friends in the fall and they've been sitting in the garage ever since.
I love that they are stackable. On the weekend I spray painted the legs and this week I'll paint the wood and perhaps add a stencil.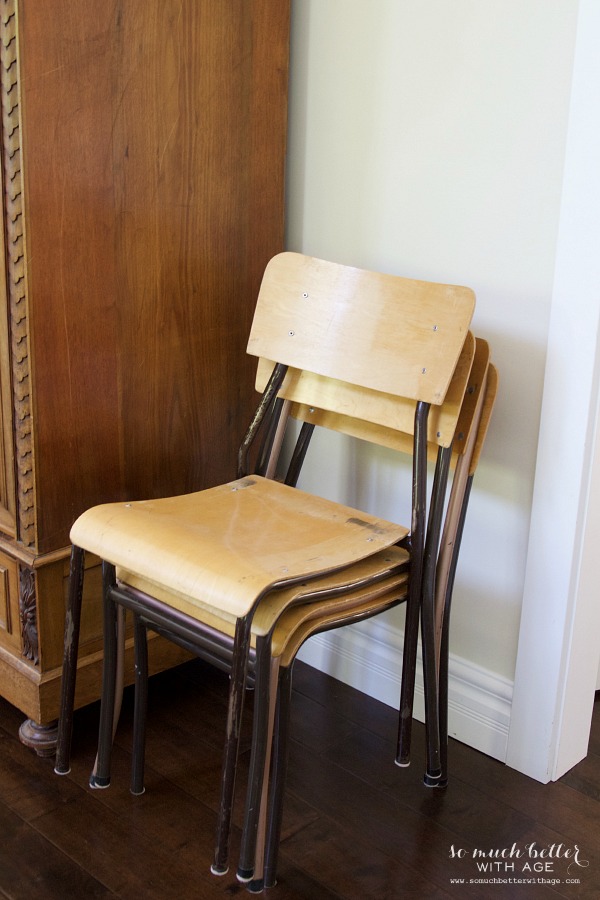 Most people would barely notice this chair on the side of the road, they would just pass on by.
But I have lots of hope for this 3-legged chair.
I'm going to get two new front legs so they match, paint it and reupholster the cushions.
The other day there was this antique table on the side of the road. The legs were all wobbly so I quickly unscrewed them and pushed it in the back of my car.
By myself.
I was on my way to get groceries so that was a challenge getting groceries in with this table.
But totally worth it.
I finally got a chance to head out to the RH outlet store with my friend Tanya last week.
We could have moved right in.
I'll leave you with some pretty photos instead of ugly before photos.
Like my two favourite things: crocks & peonies. And my Instagram friends also added:  subway tile!
Hope you have a great week!
 I have lots of projects to get done.