Vintage Circus Birthday Party
Here are some great ideas to throw your own vintage circus birthday party!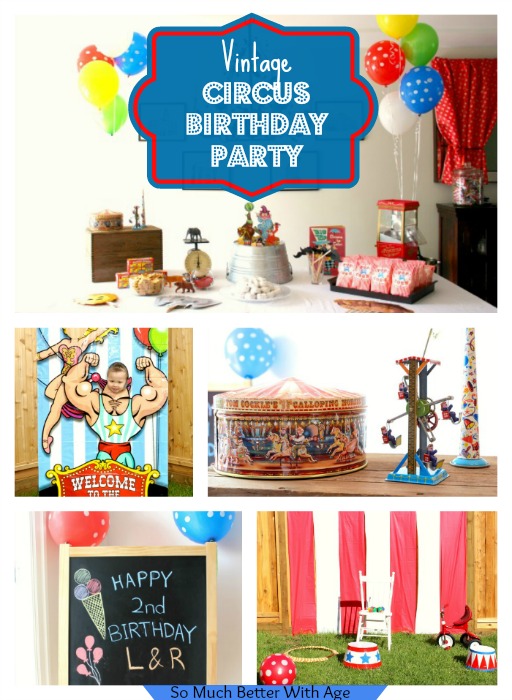 My friend, Candice, threw her twins this amazing vintage circus birthday party. In fact, one of our treasure hunts together was to find some vintage items for the party. She did such a great job!
We found this old crate at a flea market. I love how she's incorporated it with all the fun decor. Candice already had that amazing vintage scale. I think it's awesome when you can incorporate items from around your home too. And the elephant on top is adorable and quirky.
She borrowed this adorable mini popcorn machine. What a great idea to have the popcorn already popped and in cute bags ready for guests! The vintage clowns on top of a galvanized tub? Stop, it's too cute for words!
And look at this old gumball machine and vintage clowns! I love how she displayed little pieces around a big vintage piece.
 Candice's dining room is already gorgeous but with all the vintage circus items it just looks out of this world!
She made this red and gold curtain and draped it over her mirror so that it look like a window. What a great idea.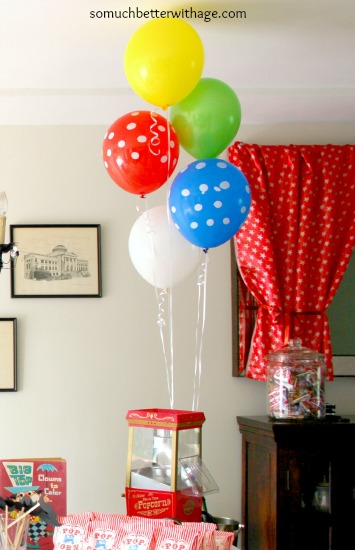 How adorable is her muscle-man son?
And her daughter with the mustache and dumbbell? Stop! It's just too cute!
Look how strong this party-goer is!
This outfit is to die for!! And gotta love this painted pedestal.
Hello! Great family photo opportunity! This is such a great idea for snapping cute shots with these props.
Of course no circus-themed party would be complete without Barnum's Animal Crackers and Cracker Jacks! And a cute monkey, naturally.
I love how she used simple white paper bags and just stamped them with a cute vintage circus stamp from Michael's.
Candice, you did an AH-MAZING job and I think your twins had a blast too 😉
So this rock star mama made almost everything for this party.
I'm hoping one day soon Candice can tell us how she made these amazing props like the pedestals, ring of fire, dumbbell, adorable mustaches, and curtains.
Happy birthday twins!!!