Take the stress out of decorating for Christmas with this easy Christmas garland!   I also have a preview of my upcoming Christmas tour.
Here's a super quick and easy Christmas DIY project to spruce up your house with.
The supplies are stuff you will probably have on hand and it should only take a few minutes to put together.
Like I said, quick and easy!
 Okay, here's what you need…
SUPPLIES:
TUTORIAL:
1. Measure the length of rope you need for your window. You want enough so it swags.
2. Tie some smaller twine around the ends of the larger rope or twine. This is what I had on hand but you can be creative and use clips or tape, etc.
3. I tied mine on curtain rods but you can hammer a small nail above your window trim and tie it there or use something like Command Strips.
4. Hang ornaments from the rope with ornament hooks! That's it!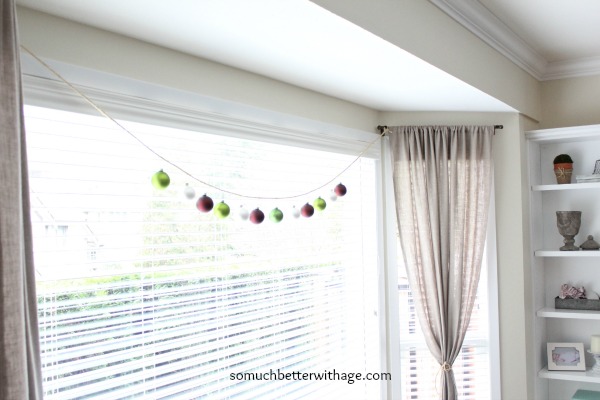 I love how simple and elegant it looks.
Don't you love a super quick and easy DIY before Christmas?
And speaking of Christmas…be sure to check out this amazing Christmas tour I'm involved in starting tomorrow.
I'll be showing you my Christmas home tour Wednesday December 4th so be sure to check back!!