Christmas Mantel and Tree Tour, An Evening Tour
Welcome to my Christmas mantel and tree tour, all in my vintage style!
Welcome to my Vintage Christmas Tour!
I love Christmas. My daughter is almost 2 and my son is almost 5 so it's such a wonderful age to celebrate Christmas!
You'll notice I have two Christmas trees ornately decorated and a lot of red. If anyone knows me, they know I don't like red except at Christmastime!! Okay, and Valentine's Day. But normally I don't like red. But Christmas, to me, needs red!
I wanted to keep my decor vintage rustic and simple this year. I have all my Christmas decor from previous years but I like to change it up a little bit with each Christmas.

I'm in LOVE with these fresh rosemary topiaries I found at a local nursery. They also smell divine!
I love this red jingle bell wreath I've had for years now. And I just stuck a birch log under some red berries for a rustic look.
We decorated our trees early this year but I wanted to get a head start on the chaos and enjoy our decor for awhile. So I've been decorating the house here and there every day and savoring the moments. Watching my kids decorate their Christmas tree was very special. Each year I collect a few different ornaments for them and let them put all the wooden and unbreakable ornaments on their little tree. There are no lights on it either so it's safe.
This little tree I decorated with white bows. I love that green sap bucket! I wish I could find more with that color.
My kids love their little radio flyer trike. It was my son's, now it's my daughter's. She calls it her 'bike'. My bike, my bike!
So now onto my foyer. Yep, I put my tree on a table! Crazy, I know. Our foyer is huge, if you haven't noticed, and two stories high. I thought, why not take advantage of all that space? We've been decorating like this since we moved in four years ago. The 7′ tall tree goes right through the middle of the chandelier! I find it less to worry about during the holiday season. I have too many breakable ornaments! Hence, the reason for the kids' having their own tree 😉
That 'merry' banner and no-sew JOY pillow are DIY projects.
My tree ornaments are so eclectic. I have mercury ornaments, rustic wooden snowflakes, lots of silver, red and green balls and jute webbing. I think it all works because it's everything I love and I buy multiples of each so that it's spread evenly throughout the tree. My new addition are the ceramic deer. Love them.
This year I decorated my own wrapping paper and it's so easy! I stamped Christmas stamps on kraft paper.
So there you have it! Thank you for coming to my house!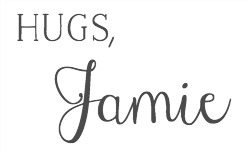 click in case you missed:
French Vintage Holiday Housewalk