How to Line Up Alphabet Rubber Stamps and Use In Place of Hand Lettering
How to line up alphabet rubber stamps (in place of hand writing) for a gorgeous vintage look.
I have the world's worst printing and handwriting. Seriously. I think it's all those years working for doctors.
I'd really love to learn hand lettering or calligraphy one day but I just don't have the time right now. If you love the look of hand lettering but don't know how and don't have the time and need another option (like me), then this post is for you!
I love to use alphabet craft rubber stamps as an alternative and today I'll show you how to stamp alphabet rubber stamps on both wooden blocks and acrylic blocks. Lining up the letters can be tricky but I've learned some tricks along the way.
One set is definitely easier than the other but I'll show you how I stamp using both wooden and acrylic blocks.
Let's get started on how I 'fake' hand lettering by using alphabet stamps and how to properly line them up.

One thing before I show you the tutorial, you can use any ink stamp for your stamps but I prefer Staz On. It's truly amazing and this is not a sponsored post. You can even stamp on tile and it doesn't need time to dry, it dries immediately with no smudging. You won't be able to fix your mistake if it smudges either so just something to keep in mind.
How to line up alphabet stamps on wooden blocks
Alphabet stamps on wooden blocks are definitely the most difficult to use. It's difficult to see where they line up because well, they are wooden and you can see through them. I've seen techniques where the blocks are taped together or held together with a rubber band to form a word but unfortunately most blocks don't line up perfectly (like these script blocks). What about the letters that dip below the line like a lower case Y or P? Here are some tips on how I properly line up alphabet stamps on wooden blocks.
Supplies:
Directions:
I used these blanks cards to practice my stamping on. Determine what you are going to say with your stamps and write it out on a piece of paper and keep it next to you so you know exactly what letter is coming up and how much space you need approximately for each word. I wanted to stamp You Are So Much Better With Age and planned out three lines. Draw the lines with pencil and a ruler (I didn't have a ruler so instead I used my yard stick!).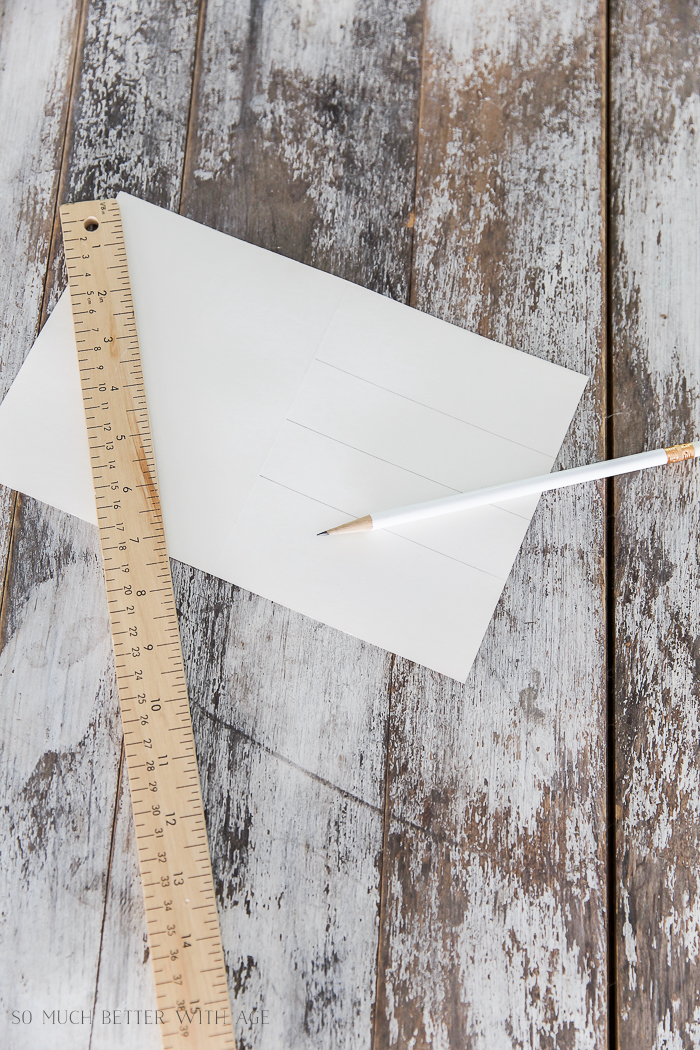 2. Here is the most important step of stamping with wooden alphabet stamps – take your stamp pad and ever so gently rub it just over the raised letter of your stamp being careful not to touch the edges of the rubber stamp with the ink pad. You can also write directly onto the stamp with a black pen but I prefer the method I'm showing you.
3. Hold your stamp to its right side to line up where you're going to stamp it. Flip the stamp over and press down on the card. Press firmly and bring straight up. You don't have to worry about the sides smudging with ink because there is no ink anywhere but the letter itself.
4. Once you stamp your first letter, move your head down to paper level so you can eyeball how much space there is between letters before stamping your next letter. These two tricks have helped me the most when using wooden blocks.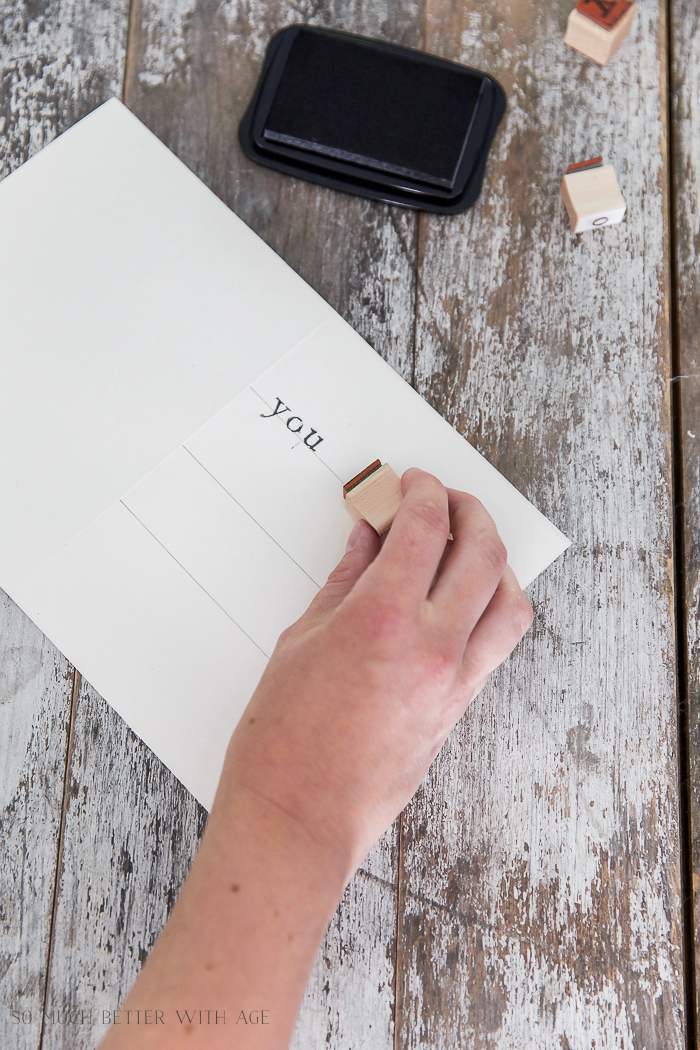 5. Once you are finished with your stamping, erase the lines and your card is complete!
How to line up alphabet stamps using acrylic blocks
Supplies: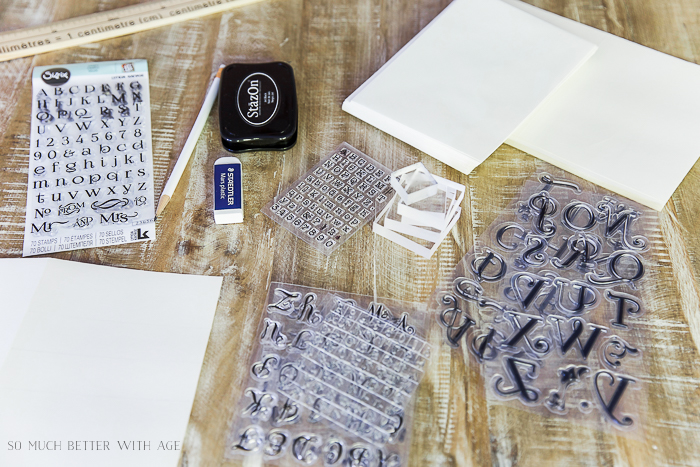 Draw lines on your card just like the tutorial above.
2. Take your first polymer letter and press it onto an acrylic block. The letter will automatically cling to the block.
3. Practice pressing the letter into the stamp pad and onto scrap paper first. The polymer letter tends to pick up different groove patterns in the stamp pad so it's good to practice a few before pressing down. Also the stamp will be dry so it's good to get it wet in the stamp pad.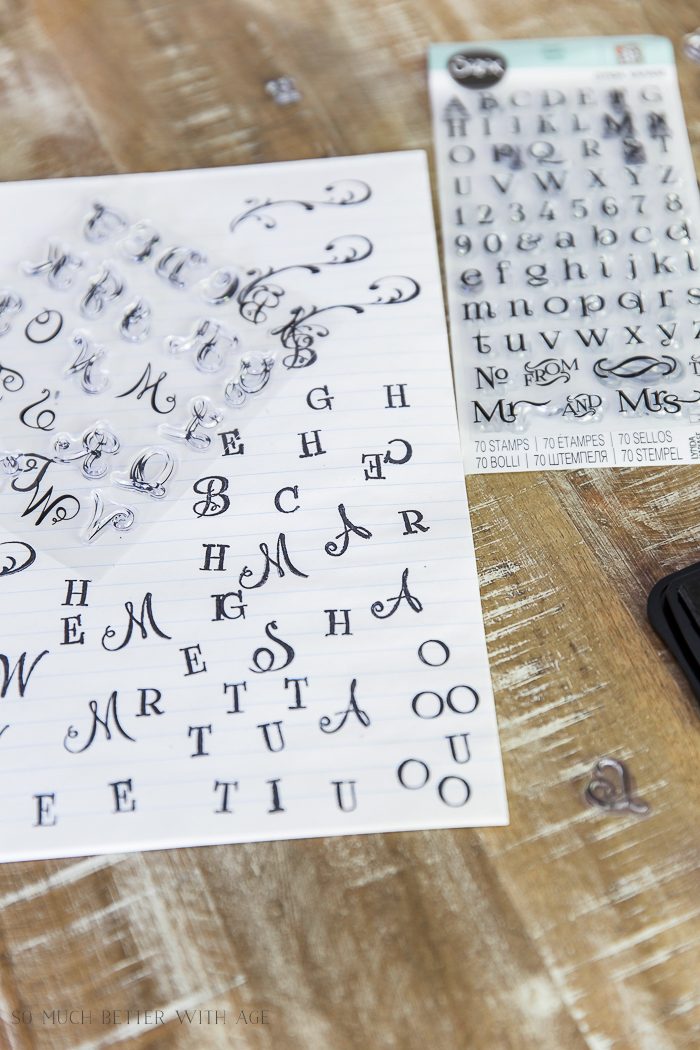 4. You can line up the letter easily by viewing through clear acrylic block.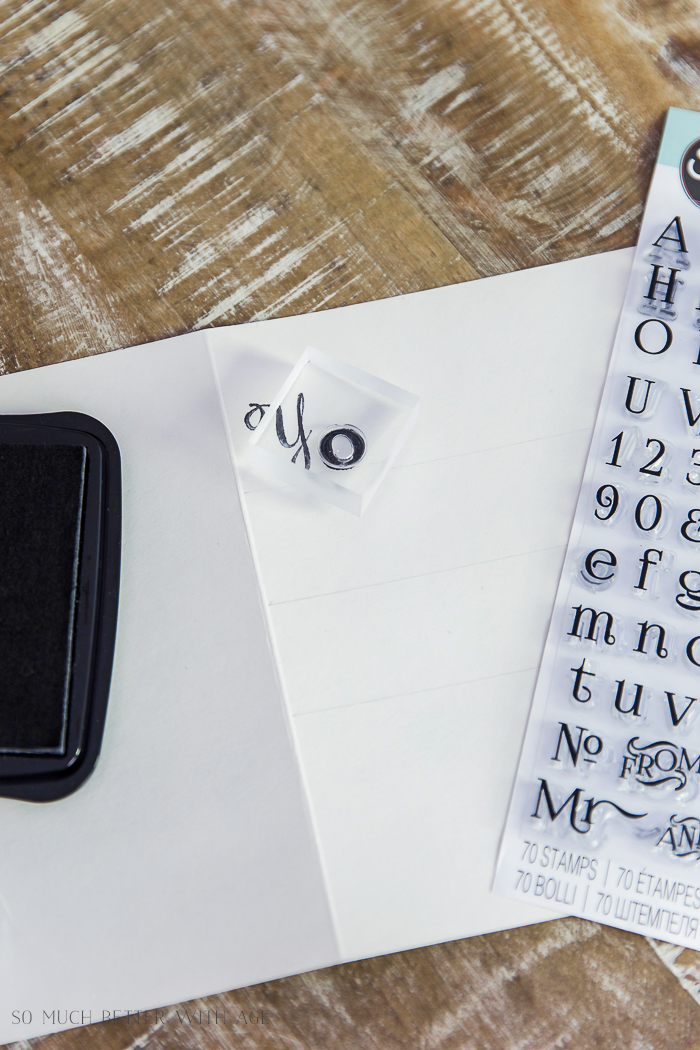 5. Once your words are complete, erase the lines on the card with an eraser.
You can see that both ways produced beautiful cards. The alphabet stamps on wooden blocks were definitely more difficult but not impossible and if you have a set like this, I would practice the tips I gave above.
One of my polymer alphabet sets came with a swirly 'to' and a 'from' so I stamped the inside of the card as well as the envelope.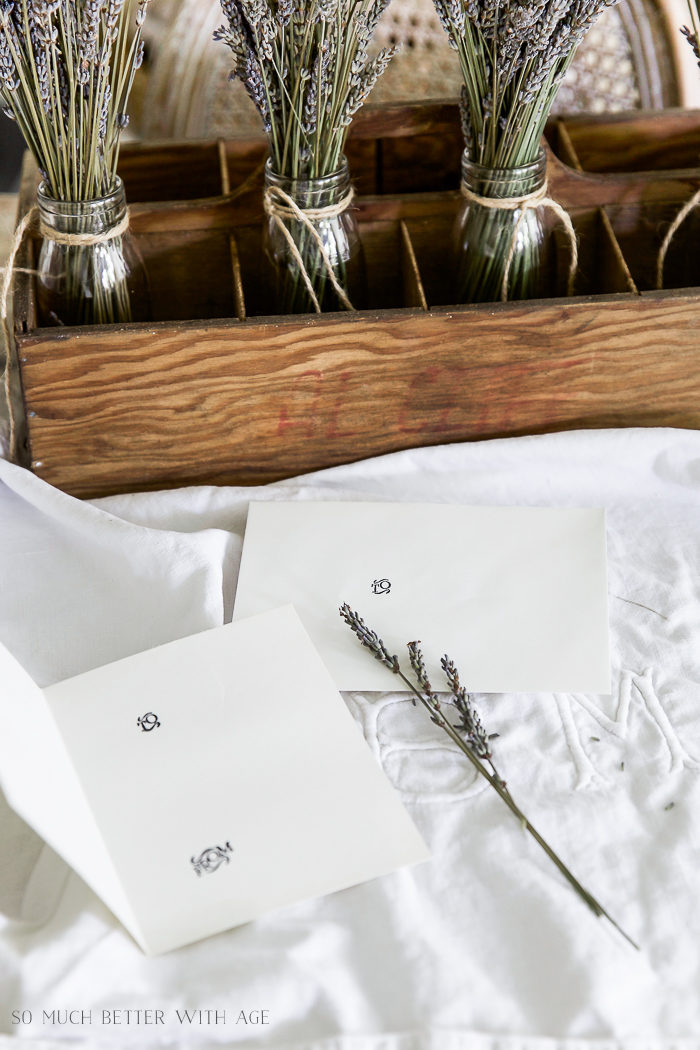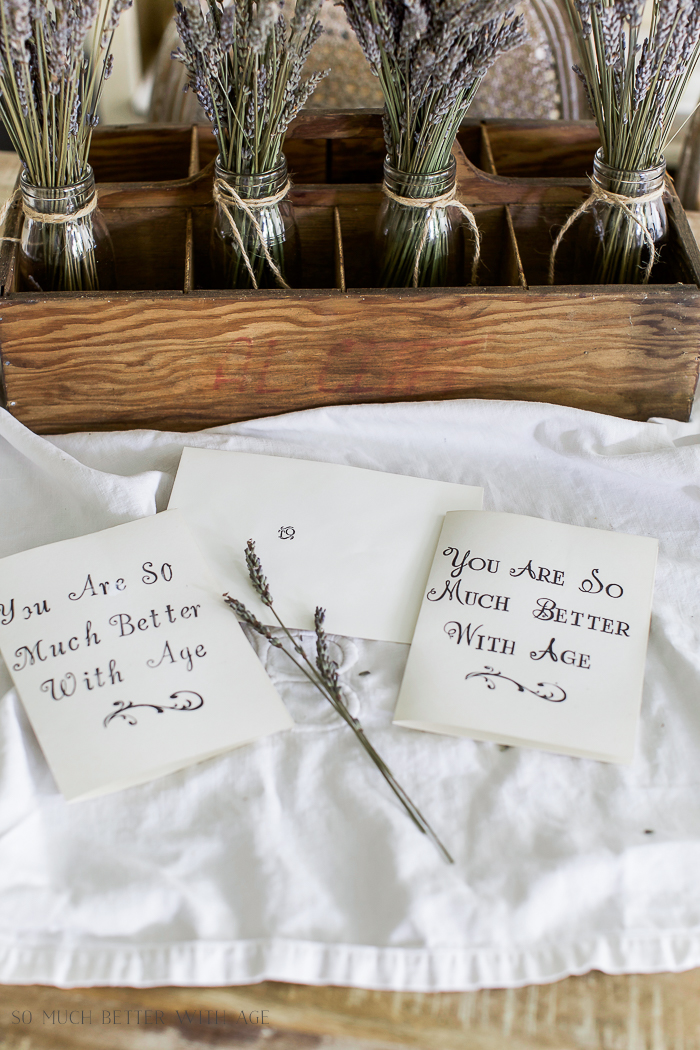 I love how they turned out and love that it's a hand lettering look without actually doing the hand lettering.
Do you think you'll try stamping some alphabet stamps?
If you'd like your own free 'You Are So Much Better With Age' card without all the work, feel free to download my free cards below!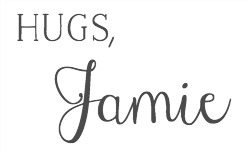 Click in Case You Missed:
4 Free Mini Cards with Matching Envelopes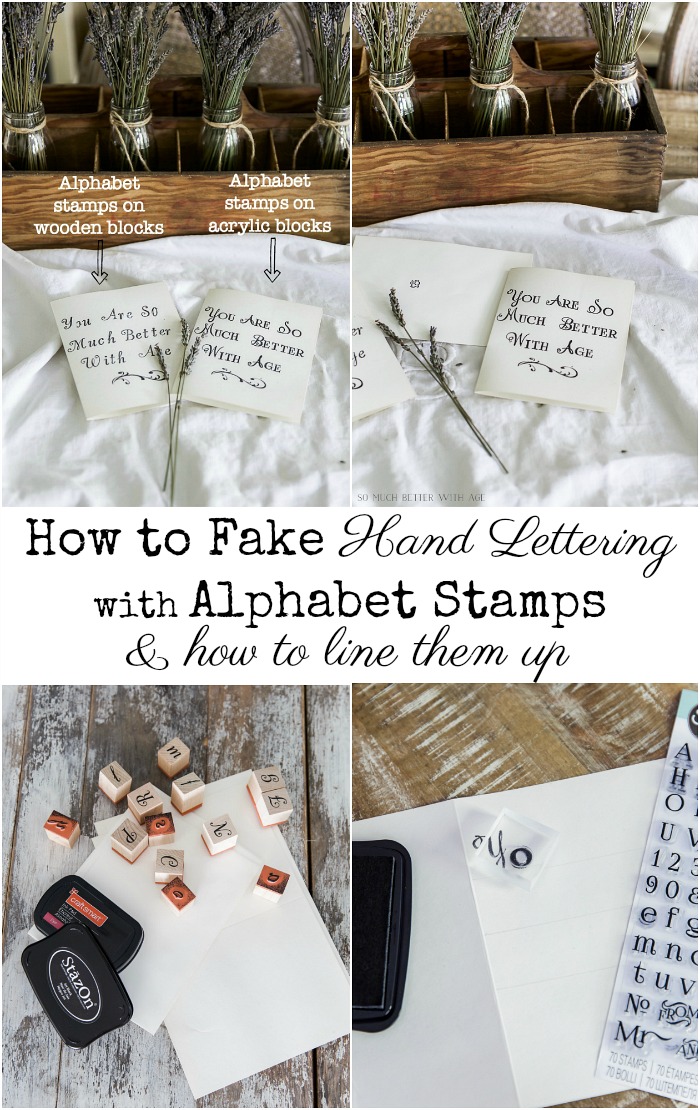 SaveSave
SaveSave
SaveSave
SaveSave
SaveSave
SaveSave