Distressed Key Holder from Wine Crate
How to make a distressed key holder from a wine crate.
Clearly I like my wine because I have another project that involves a wine crate!
You might recall the time I turned a wine crate into a serving tray.
Anyhoo, it's not good to waste a precious wine crate so I took the lid from that crate and used it to make this little number.
Let me show you how I made this distressed key holder from a wine create lid.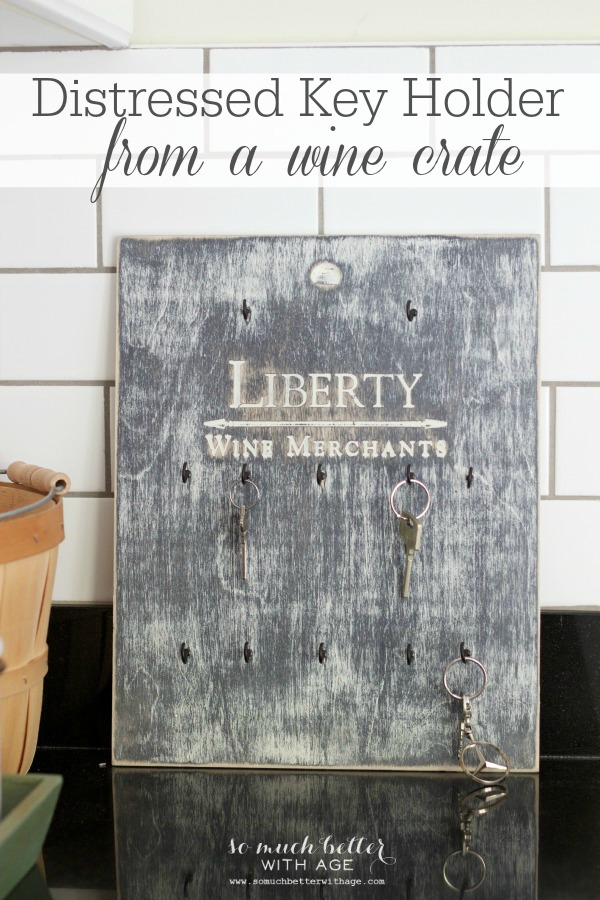 Here is what you'll need for this project:
Supplies:
wine crate, more specifically the lid from a wine crate
charcoal grey paint (I used Annie Sloan chalk paint in Graphite)
creamy white paint (I used Annie Sloan Old White)
2 foam brushes
oil-rubbed bronze spray paint (I can't live without this stuff!)
foam board or cardboard
drill or screwdriver
Tutorial:
Here is exhibit A. I had this wine crate for awhile now. It held 3 wine bottles if that is helpful to you in trying to find this exact size.
I love the stamped branding on the front of the lid so I knew I wanted to create something with it.
I could only find gold hooks and I wanted oil-rubbed bronze so I screwed them into a piece of foam board and went crazy with the spray paint.
Then I marked out the areas I wanted the hooks and pre-drilled the holes.
Feel free to use pencil marks because you'll be painting over them.
I painted two coats of paint in the charcoal grey then one good coat of the creamy white paint letting dry in between coats.
Then I distressed it like crazy with a sander using 220 fine grit sandpaper.
Screw the screws into the pre-drilled holes and hang up some keys!
I love it! Doesn't the branding look cool with the crate all distressed?
Here it is displayed in my laundry room.
It also looks beautiful in my office hanging on the wall.
It's such a great way to use wood without any cutting!
I think it's a keeper!
I promise it's a very easy DIY project, try it!