Paint the Interior of this Cabinet Like Ballard Designs Cabinets?
Paint the Interior of this Cabinet like Ballard Designs Cabinets?
 Today I have a design question to ask you and need your help!
Remember when my dining room had decor goals? We've sort of come to a standstill in the house with this room. We had our kitchen renovation in the spring and then many other DIY projects got in the way like the start of  my office goals.
There's a chippy piece of furniture I'm working on, the chandelier still needs to move over the middle of the table and I'd still like to sand the chair legs. But here's one that wasn't on my list of goals for my dining room. It's this wooden cabinet. For some reason, it just doesn't seem right to me in this room. So here's the question I have to you, lovely reader..
Should I paint the interior of this cabinet like Ballard Designs cabinets?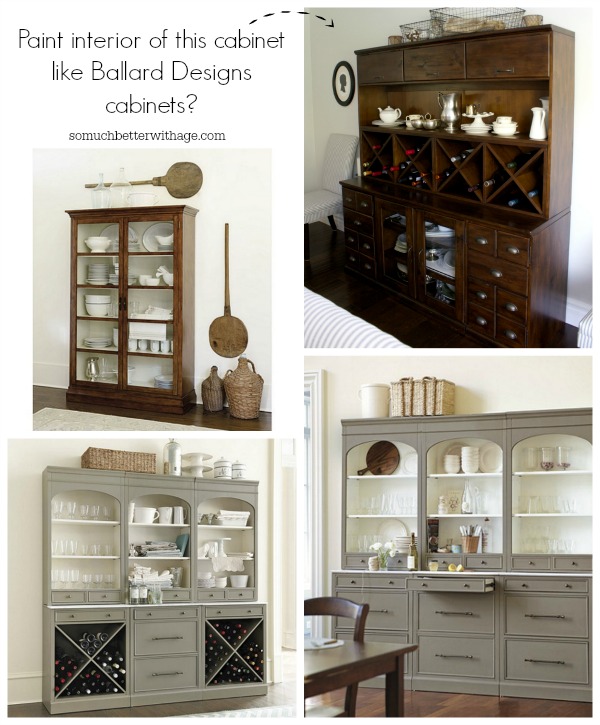 Here is my dining room in its current state. (Well, that's only partially true. Right now I have 49 items sitting on top of the table, don't ask!)
And here's that large wooden cabinet.
Would it be better with the interior painted a white or cream white like these ones from Ballard Designs?
I love this one. It has a dark wood exterior and white interior. My cabinet could look very similar.
Ballard Design Seneca Display Cabinet
And these two I just swoon over. The color is gorgeous with the white interior but I'm not sure I'm that brave to paint my entire cabinet (actually, I'm not sure my hubby would let me!)
Ballard Designs Paulette Servers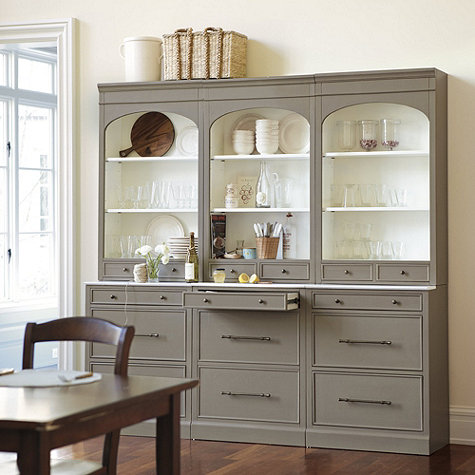 So what do you think? Should I paint the interior of my cabinet white?
Check out more dining room posts:
[catablog_gallery id="9875″ template= "gallery"]