I framed some beautiful Paris artwork which matched my French decor my house!
I've been busy changing around stuff at home to keep busy.
This corner in my bedroom never seemed right. The master bedroom is so large but with lots of doors (two entrances) so it's a bit of a challenge to hang artwork.
I added some new Paris artwork from my friend Rachel's Etsy shop.
Her photography is gorgeous and creative.
Be sure to enter the giveaway at the end for your own print!
Rachel from Maison de Pax has a beautiful little French blog and now a beautiful little Etsy shop.
I love the images she took while she lived in Paris.
Matches my French decor perfectly.
I had this print from Venice framed years ago and recently I found the little black and white photo at an antique store.
I love this one of the rooftops in Paris with the Eiffel Tower off in the distance.
I'm a bit obsessed.
I created a little nook by moving the footstool over here and adding pillows.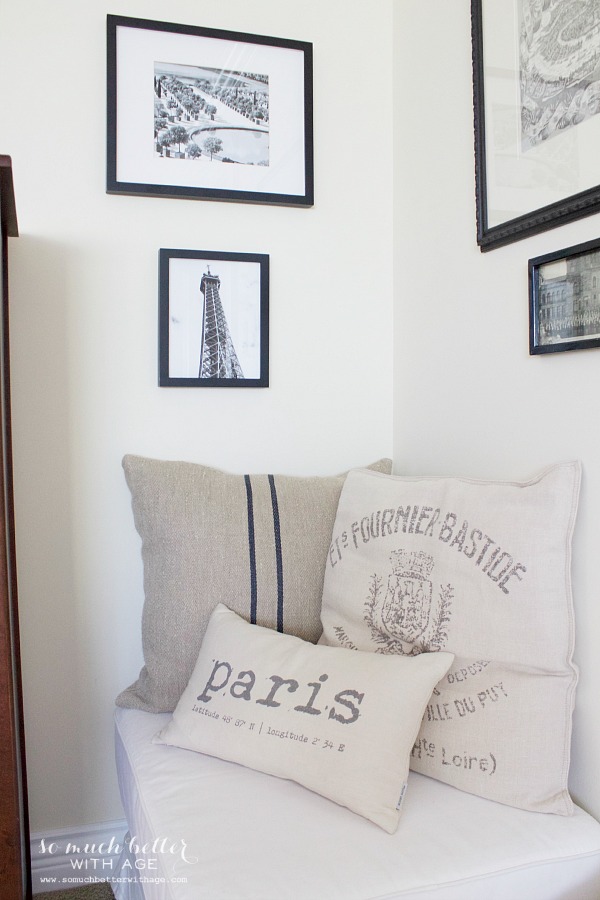 This is where the stool used to reside, in the other corner of my bedroom.
And this is a print Jenna gave me from Christmas. I still haven't gotten it framed yet, Jenna, but the gold washi tape looks good, right?
I love Audrey Hepburn.
Okay, so now is your chance to win your own creative print from Boutique Maison de Pax!
All you need to do is visit the shop and leave a comment below saying which print is your favorite.
(Contest ends Feb 25/15 midnight)