Learning how to make style and photograph making jam at the Academy.

What? Did that say jam? Why yes it did. When I first went over the itinerary for The Academy I was reading the list of class titles aloud – yes, yes, yes, yes, Jam? yes, yes.
Heather loves making jam. She even took a preserve/canning course through a university as she is that serious about it.
It's not like I'm opposed to making jam, I've made jam plenty of times. It was just not what I expected in a photography styling workshop, that's all.
But the jam making day was so much fun. And I shouldn't even say 'day'. We packed in so much to each day that we made jam after a day of shopping and photography!
I should say we jam packed each day (wasn't that great?).
But of course Heather had a vision for this jam and it turned out beautifully.
So really we made jam but we were also styling jam….okay not really jam but strawberries. Styling strawberries. Okay modelling with strawberries.
This was the vision you saw any minute of the week during the workshop.
Heather is far right directing things and we are shooting like crazy.
Bronwyn was the perfect strawberry model, just look at her cute red shoes!
And no that was not planned. A perfect model.
We each had a turn modelling and we also had to direct the model.
For instance, we had to tell Gina that the crate of strawberries was being held too high.
How would you know when you are modelling a crate of strawberries?
So much better and so cute with the door in the shot.
Denise was the sweetest strawberry model. I just love this girl.
And Genevieve was super excited to model. Genevieve was so sweet and so funny. She kept us in stitches the whole week.
Heather is directing us on how to walk and hold the crate so we can get movement shots.
We also needed to unnaturally laugh and smile a lot. It felt unnatural doing it but made for perfect shots.
Here's my roomie Stacie!
We were such dedicated students.
More movement modelling from Teresa.
LOVE this shot with the red trailer.
Then it was my turn. It felt so weird to be on the other side of the camera.
My hand was in an unnatural position so the girls had to tell me what to do with it.
I do what with it now?
Ahhh, that's better.
After modelling we got busy making jam!
It was so much fun to all be in the kitchen together making something. So many great memories on this trip.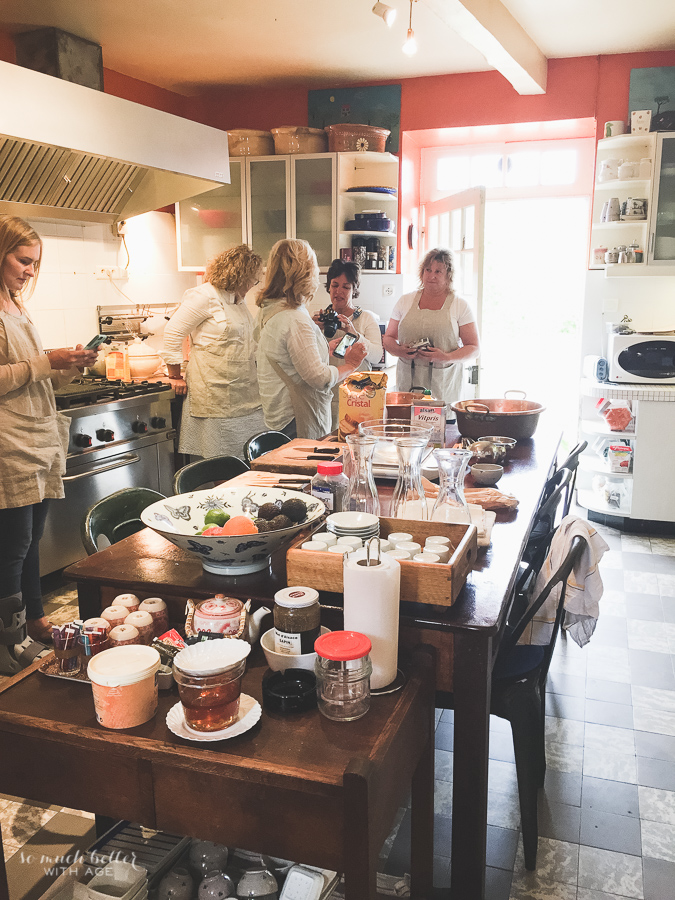 Lynda, you did a great job stirring!
After making the jam, the jam became our model.
I just love this copper bowl!
Then we had Heather be our model.
Then Heather was like YOU GUYS! as her iPhone was in her apron pocket and weighed down one side of her apron.
Sorry, Heather, we should be fired from giving direction.
We thought it was funny though, especially Stacie 😉
Then we played around with taking shots with lots of negative space and composition.
This is how I was first took Heather's photo.
So then she took my photo.
See how I'm more in the bottom corner?
Such a huge difference.
Love it. It makes such a difference just to take your camera and play around with it.
Heather had so many great tips during the week. I feel like my photography has changed just from that one week.
Photography is definitely something that I'll keep improving on. There is always something new to learn.
Thanks for the photo Genevieve!
There are still way more posts on my trip to France to come.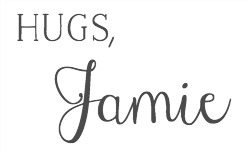 Click to See All My France Posts:
My Trip to France – Heather Bullard's The Academy – Creative Styling & Photography Workshop