We've been wanting to make a few changes in our house lately. Check out which rooms we're thinking of giving some minor renovations!
Lately, I've been thinking of ways I want to change things up around the house. Some are things that have been bothering me for some time, some are more 'dreams' and not necessary to change but just things that I want to do and might not ever get done. I thought this could be helpful sharing with you if you are in the process of renovating or wanting new design ideas.
Let me show you the rooms that we are wanting some changes in.
This post contains affiliate links for your shopping convenience. Click to read my full disclosure policy.
Garage Transformation to Workshop/Studio
We're in the process of converting our one car garage into a workshop/studio space which means all my paints and tools will soon be able to go from the basement to the new studio space. We cannot wait!
Currently this is what it looks like:
Our garage is very small and even when I've parked my vehicle in here, the doors hit the walls each time. I really love having a garage for parking cars but it's just not big enough. A two car garage plus workshop/studio space would be ideal! We're finally letting go of needing to park our car here and using this space for:
tool storage
paint storage
shoe storage
workbench
studio for filming YouTube videos
video equipment storage (light boxes and boom mic)
place to do DIY projects
I've always painted furniture and done all my DIY projects in the space between the dining room and kitchen (not ideal) and tools are always laying around on the dining room table. It will be so nice to have dedicated space for tools, paints and projects!
Dining Room
1. I'd like to remove this bookshelf/cabinet (it was left in this house when I moved in!) and move down in the basement for prop storage now that I'll have more space down there! With the paint and tools moved to the new workshop/studio space, there will be a whole new area for prop storage! Right now it's a horrible mess of stuff stacked on more stuff. I don't have a ton of prop items but I do need to have some for styling photo shoots.
2. We're going to put the updated trumeau mirror where the bookshelf is and then add picture frame moulding to the wall in three large rectangles.
We'll even add picture frame moulding to the wall behind the mora clock.
I considered changing this light fixture too but I think I love it too much still.
(Similar Aidan Gray light fixtures here)
3. I've been thinking it would be nice to change out our dining table to something a bit more modern. I bought this table and chairs as a set from a local shop (I found a similar table at Wayfair along with similar chairs here) and I still love the chairs but the table is a bit wonky. It's made to look distressed and so the boards on the top or a bit bumpy. When you are eating dinner, a plate doesn't sit completely flat on it so it kinda rocks back and forth when you are cutting food. It's a bit annoying.
I would love one of these tables: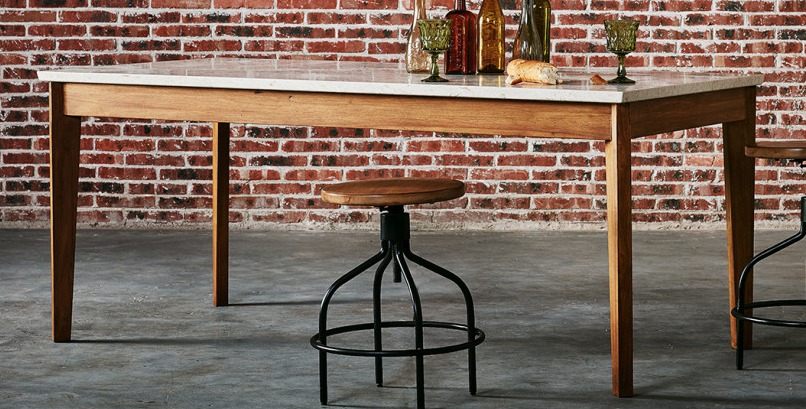 Kitchen
1.I still love my kitchen but this dishwasher has always bothered me. I initially wanted two cabinets flanking either side of the sink because it would look so pretty aesthetically speaking but not practical. I replaced the stove and fridge but this Bosch dishwasher came with the house and it's still in good shape. What I would love is a white panelled dishwasher so I'm trying to think of ways that would look nice to DIY it white.
Wouldn't this white matte one from Cafe Appliances be amazing? I love how the dishwasher would just blend in and the brass hardware would match the light fixtures.
2. I have a mug rack on the far left corner of the counter that I'd love to get rid of. If we could add another shelf to the middle wall then it would give us more space for cups and mugs. That's the only problem with all these beautiful windows in the kitchen – not enough cupboard/shelf space!
3. Another crazy idea I had was to paint the island black. Crazy because I'd want to spray it so there would be a huge amount of prep work involved.
4. Also, I'd love to paint this range hood black too. Wouldn't it look gorgeous?
5. We've also been thinking of changing the cabinet in this corner too. We usually have a toaster oven on the counter in the left corner and it would be amazing to have a cabinet that came all the way down to the countertop to hide the appliance. We also might have to move it or have a new one installed that goes on the same wall as the range hood.
Again, this one is not something that is necessary but more of a storage issue.
Hamster Cage
I don't think I've shown this area on my blog before, the hamster cage. Meet Crackers the hamster!
Crackers has an excessively large cage because after we brought him home we thought it would be nice for him to have a buddy so we bought another cage then went back to adopt another hamster and that's when they informed us that once they are removed from their litter, they need to live alone or they will fight. So Crackers has a sleeping cage with a tunnel over to his exercise cage. What a lucky hamster!
Crackers is three years old which is old in hamster years. When Crackers is no longer with us, I'd like to put my laptop at this desk as it's always on the kitchen island along with all my papers.
I know the two things we want to do right away is the garage transformation and picture frame moulding in the dining room. I can't wait to show you the process!
After those are done, we will see if we should tackle the kitchen projects.
As for Crackers, we'll enjoy his sweet, cuddly company for as long as possible!
Make sure to pin it for later!