14 French Wood and Upholstered Beds
Today I'm sharing 14 French beautiful wood and upholstered beds that are similar to mine.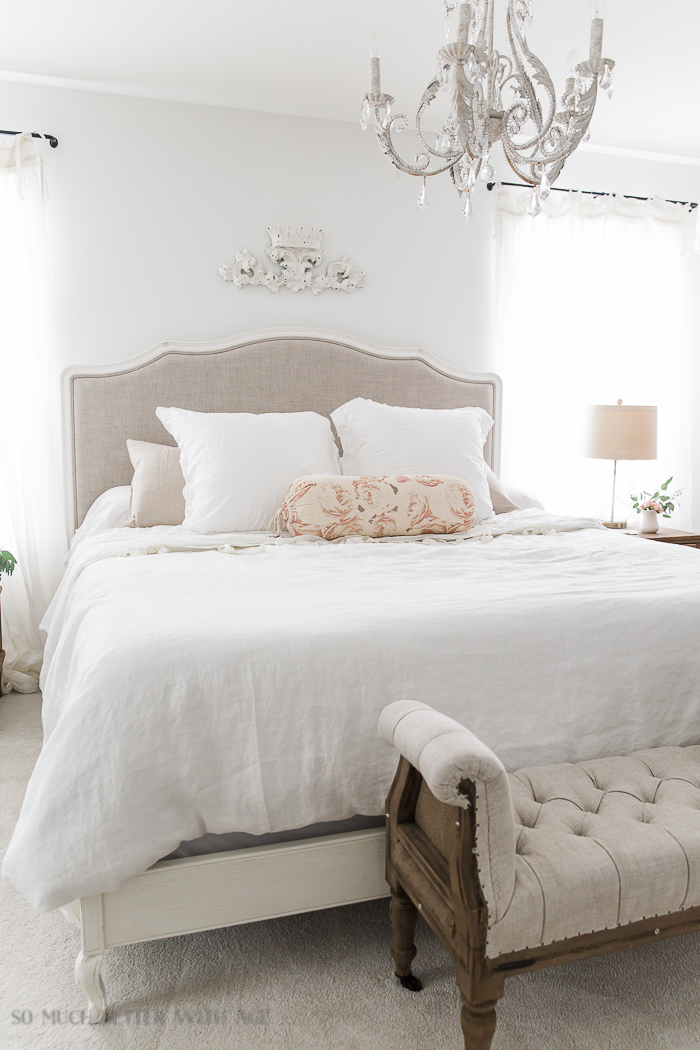 I get so many questions about where I got my upholstered bed. I bought it just before I moved in this house over two years ago at Restoration Hardware online and unfortunately they no longer carry it. Isn't that always the case? If I have an item that's vintage, I don't have a source for you and then when I buy something new, they stop selling it. Very frustrating.
But today I'm sharing 14 French wooden and upholstered beds and that are similar to the bed frame I have.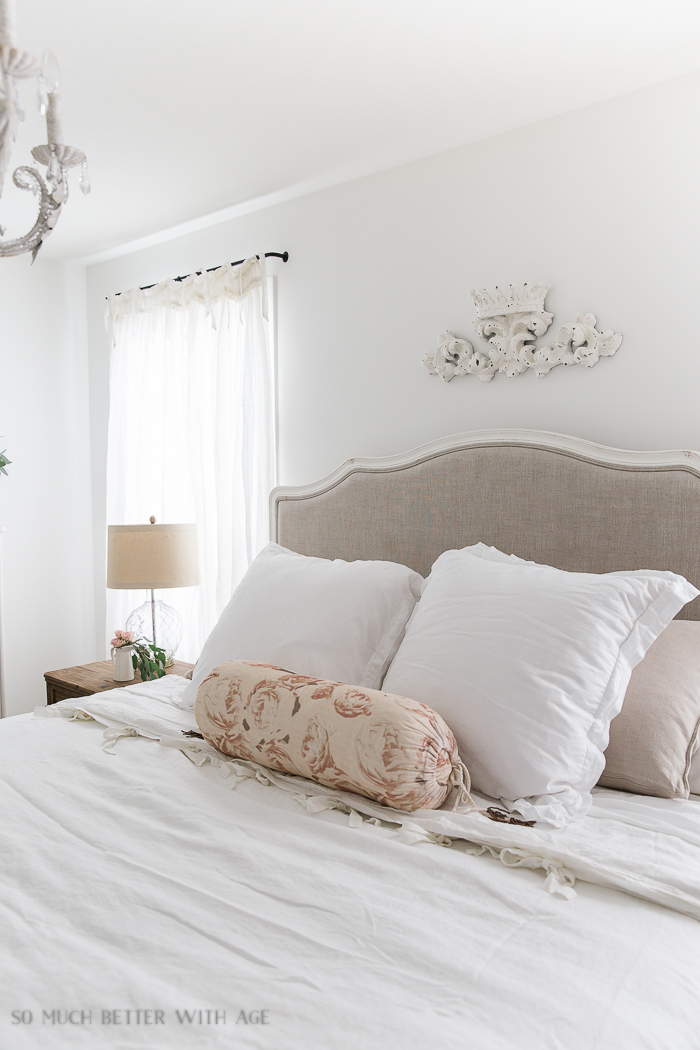 French bed Details
My French bed has curved feet and white distressed wood and a soft linen upholstered headboard. I do not have a footboard as it's nice to be able to sit on the end of it and have the duvet hang over the end of the bed. The ones I found had either no footboard or a short footboard.
So these are the features that I kept in my mind while searching for beds that were similar to mine:
Wooden frame
Upholstered linen headboard
Wooden feet
These type of beds are getting harder to find. Every year I have to update this post and have to change out beds that are no longer sold. I've added some more French-looking beds that are equally if not more gorgeous!
14 French style beds
This post contains affiliate links for your shopping convenience. Click to read my full disclosure policy.
1. Toulouse wood and upholstered bed
Although this bed isn't curved like my headboard, I really love the natural wood finish with the linen fabric and nail heads. And it's a bestseller!
This bed is stunning! I love the subtle curve of the headboard and the extra feet in the front.
This one is very similar to my bed. I love the subtle curves and color of wood.
4. Canyon Ridge upholstered tufted bed
I love the tufting on this bed and it's even on the footboard! The tufting makes it so French, doesn't it? I like how the tufting is outlined by the wood features rather than an entirely upholstered tufted bed.
I love the masculinity of this bed but with the touch of linen. A great compromise for a spouse that is opposed to the curved lines of a French style bed.
I love the mix of the slight curvature of the headboard and the straight lines. Such a beautiful stately bed!
This is a classic beauty. This is very similar my bed with the same fabric and wood tone without the curves. It is nearly exact because it's from the same store!
8. Antique Linen Bed Cassia Dove Velvet Bed
This velvet upholstered beauty is fit for a king! Or queen 😉 It's regal and I love the stately legs on it.
Okay, this is where we branch out a bit from strictly wood and upholstered to a few more beautiful additions like iron and fully upholstered with a bit of French flair (like in the curves).
9. Erika metal and upholstered bed
I love the iron mixed with linen! Isn't she a beauty? It also has great reviews which is a plus.
I love this bed and recently featured it here in this neutral bedroom design. It's the perfect mix between modern and French style, the slight curve of the headboard is just the right amount.
This bed has nice clean lines with just a subtle curve on the headboard and legs. It is fully upholstered so it's extra cozy.
12. Edo grey linen upholstered bed
I love the low profile on this linen upholstered bed and the unique shape of the headboard. Gorgeous!
13. Figure ivory metal and linen bed
I love an iron bed and this one is simply beautiful! The minimal amount of iron used along with the linen upholstered base is so pretty!
14. Julia upholstered bed
There is a subtle curve that can be seen on the side view that is gorgeous! I love the velvet fabric as well!
I hope this helps with your search for a French wooden and upholstered bed!

Make sure to pin it for later!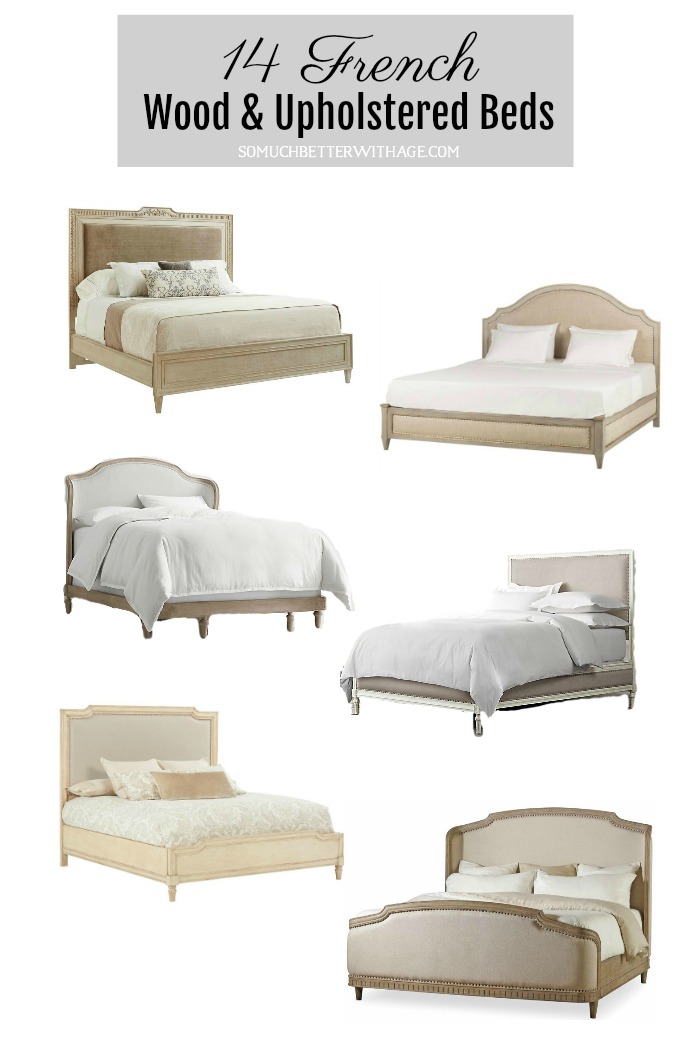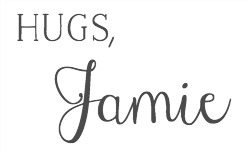 Click in Case You Missed:
The Most Gorgeous French Chandeliers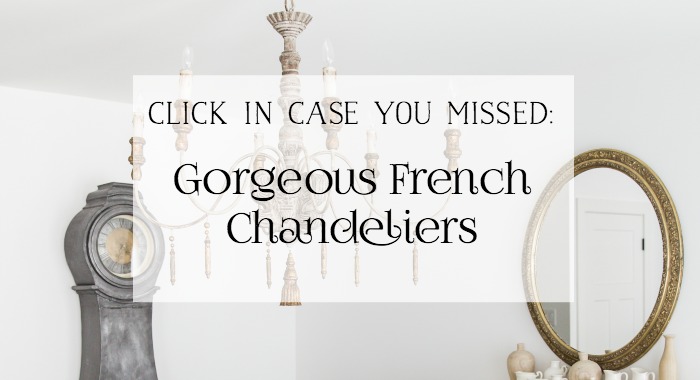 SaveSave
SaveSave
SaveSaveSaveSaveSaveSaveSaveSaveSaveSaveSaveSaveSaveSaveSaveSaveSaveSave
SaveSave
SaveSave
SaveSave
SaveSave
SaveSave
SaveSave
SaveSave
SaveSave
SaveSave