I'll show you in this post step by step how to purge through all your clothes and declutter your closet. You'll also be surprised that you can keep some clothes that don't fit you right now!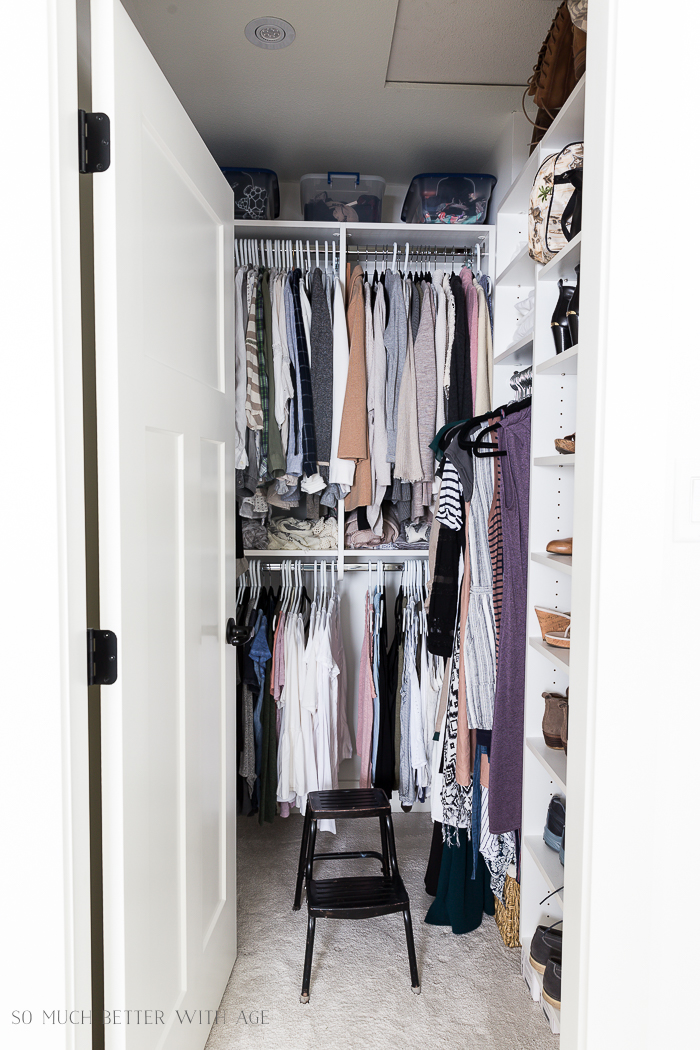 This post contains affiliate links for your shopping convenience. Click to read my full disclosure policy.
Decluttering your bedroom closet and purging your clothes has got to be one of the hardest jobs to do (purging the kitchen would be a close second).
I used to be so good with only keeping exactly the clothes that I wear and donate the clothes that I don't but my weight has fluctuated for the last couple of years for the first time (thanks 40s!) and it has been so hard to know what to keep and what to toss. Have you had this same issue?
I was tired of always looking at my closet and always picking the same few items to wear so one evening when I was home alone, I decided to completely tackle it. I mean sometimes you can schedule these things and sometimes you just have to strike when the mood hits!
I've read Marie Kondo's book: Then Life-Changing Magic of Tidying Up and I knew that each item had to spark some joy in me in order to keep it. It was a good reference to keep in mind.
Step 1
Try on every one of your clothing items from your closet and dresser(s).
Trust me, I know how painful this is. Even clothes that I thought fit me, did not!
Step 2
Ask yourself the following questions once the item is on:
Do you love it?
Is it flattering and does it fit properly right now (not 10 lbs. lighter)?
Would you wear it out tomorrow?
I found those 3 questions really helpful for me. Sometimes an item is cute, looks great on me but I've never worn it out! I don't know why. There is no point in keeping items because you think you 'should' have them.
Step 3
Make a pile for donation.
Make a pile for alterations and cleaning.
Make a pile for items that you want to sell.
I don't sell my clothing. I have a family that I donate everything to that makes me feel good about giving it away. I've tried selling my clothes through consignment years ago but the time it took to make appointments and collect the small amount of money each month just wasn't worth it to me. If you have a family or a certain donation place that you love, feel good that it's all going to a good cause!
How to Purge Your Clothes You Love But They Don't Fit
This leads me into the next problem I encountered. The first three steps were easy peasy. But then I came across some cute dresses and expensive jeans that I knew I could fit into (without feeling completely sucked into them!) about 5-10 lbs. lighter than I am today. Because it's not much of a difference and I want everything in my closet to be everything that I can fit in to today, I decided to allow myself ONE BIN for the items that I know I'd love to fit in again soon.
Make a promise to yourself that you'll do everything you can to fit into these clothes so you're not hoarding more clothes.
If you haven't fit into them in 6 months to a year's time, donate or sell.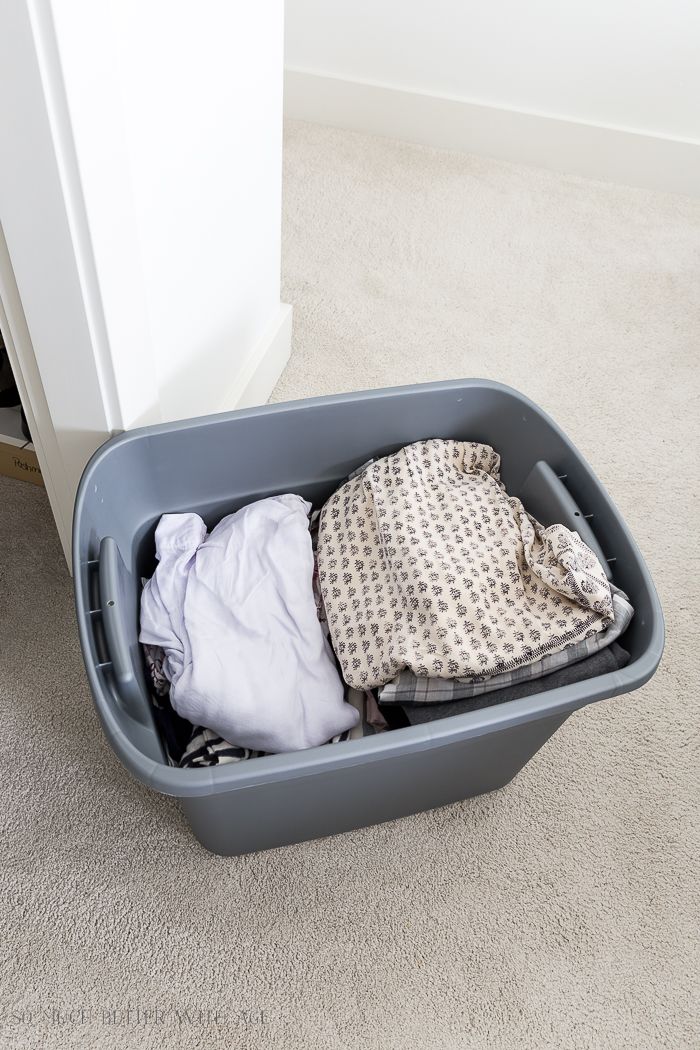 Organize Your Closet
Now that you have everything sorted, let's make sure your closet gets organized and not just put back wherever.
I had this closet organizer custom-made for my small walk-in closet when I first moved in so there is enough space for my shoes, my dresses, my cardigans and sweaters (I'm a bit obsessed), button-down shirts, tanks/camis and shirts.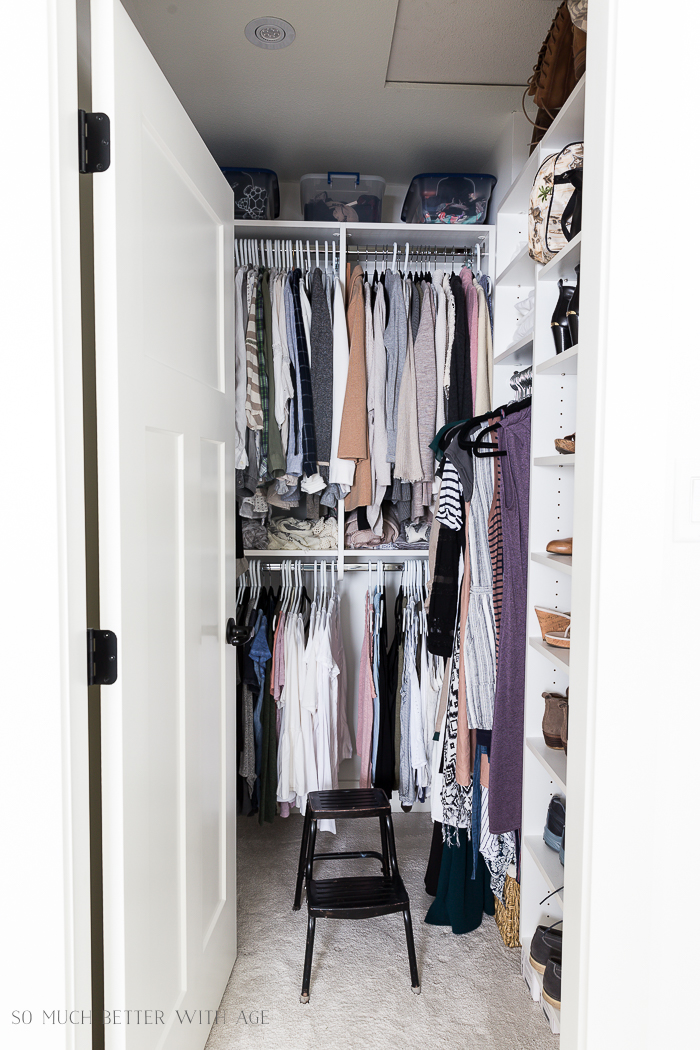 My dresser holds my bras, underwear, socks, PJs, loungewear, jeans and shorts.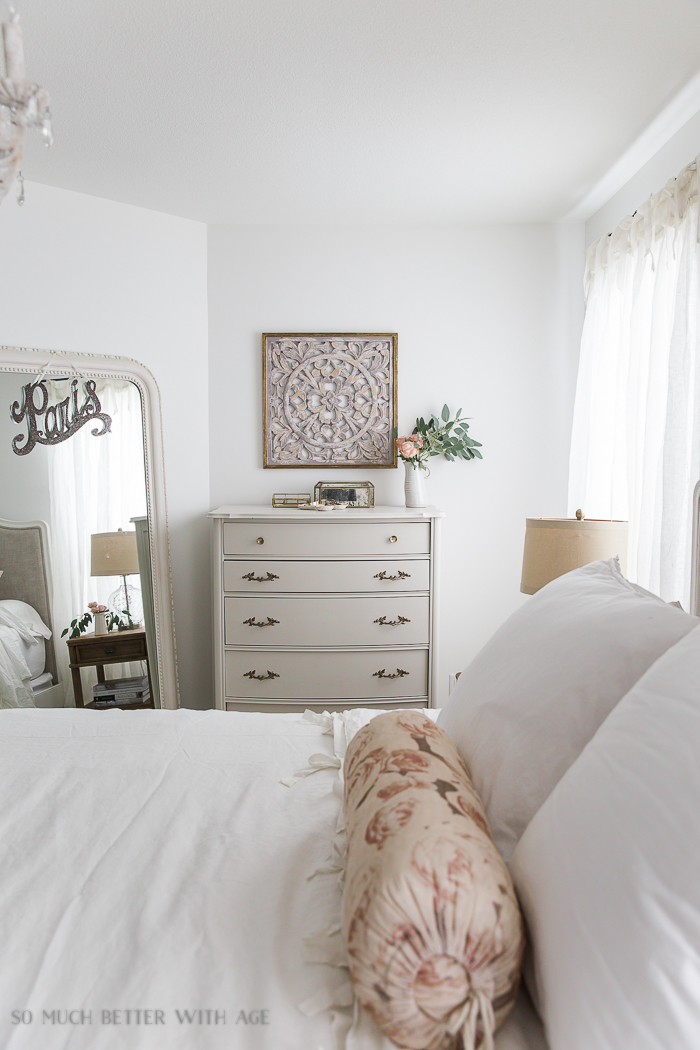 For rarely used items like swimsuits, swimsuit cover-ups and lingerie, I added them to three plastic bins and put them on the top of the closet.
I have space for one extra set of sheets and keep my flip flops and sandals in a basket under my dresses.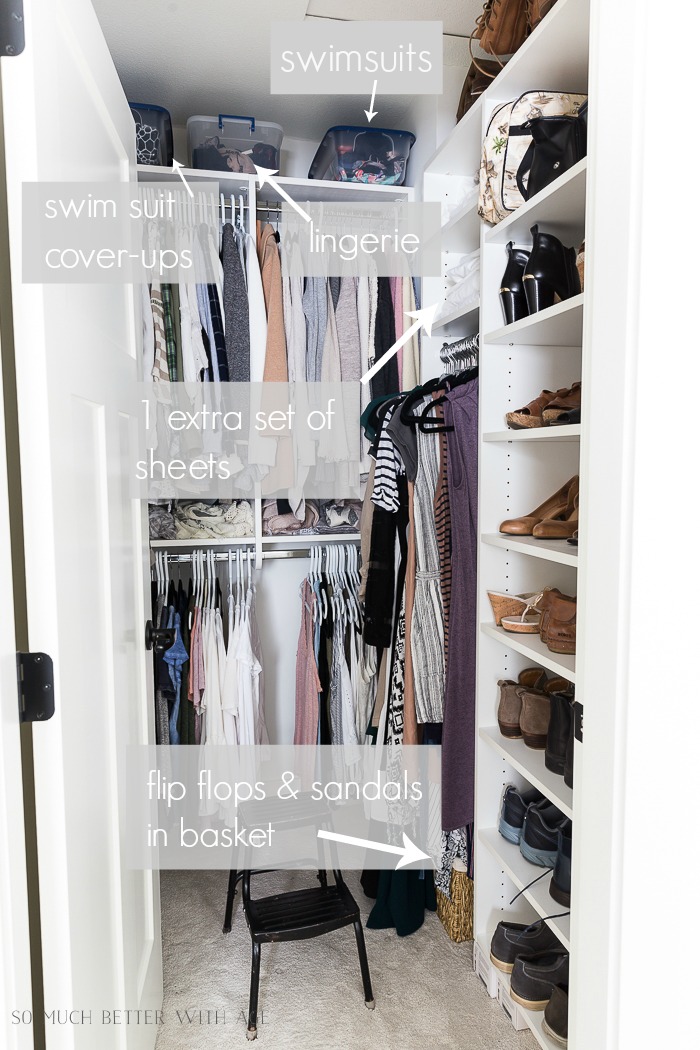 Bathroom travel accessories go on the top shelf.
The very top has some purses and boots (I know the boots should not be bent like that but I'm fine with the worn/wrinkled look).
At the very bottom I keep a box with pashminas in it.
I have hooks behind the closet door for a few small bags and our robes.
A stool is necessary as I'm only 5'3″.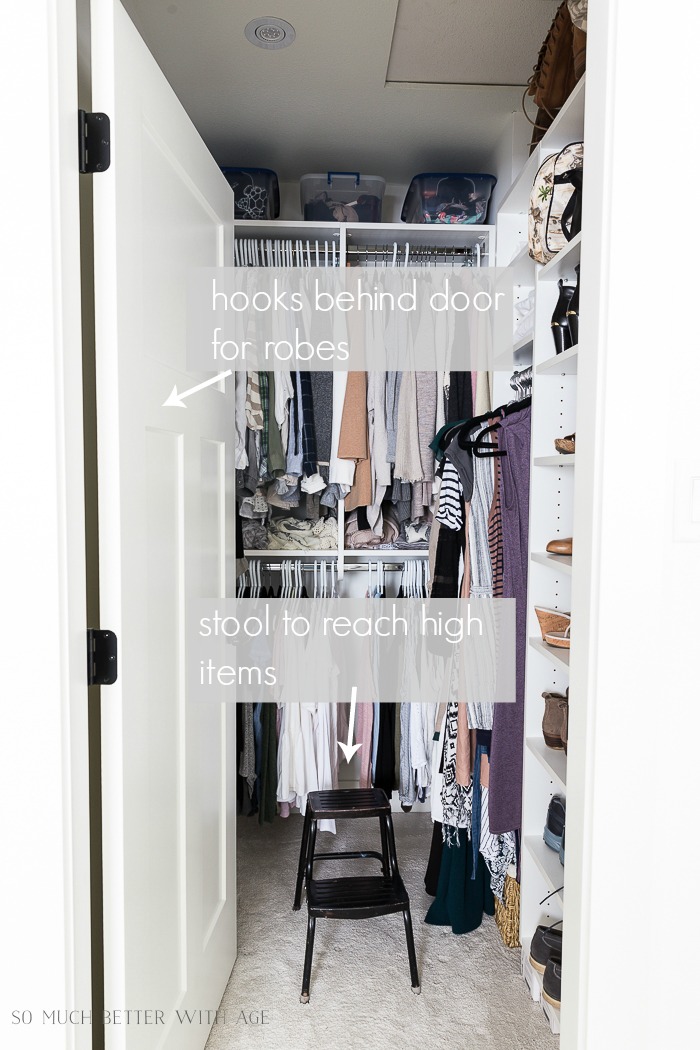 Did you notice something that was missing?
All of Aaron's clothes are all in the antique armoire which was part of the reason why he completely sanded it down last summer (because the poor guy needed a place for his clothes!).
One side holds all his suits and the other side holds his button-down shirts with some bottom organizers for folded shirts, shorts and jeans. He even has space for a shoe caddy underneath his suits as that armoire is so huge!
The two bottom drawers are for his socks and underwear.
With everything in its place, it makes us not buy too much and we know exactly what to wear each day knowing that it fits.
A decluttered closet reduces stress and it feels so good to go to sleep at night knowing that our bedroom is cozy and organized.
Make sure to pin it for later!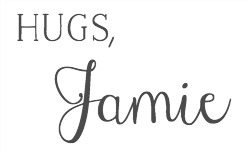 Click in Case You Missed:
Kid's Closet Organization with Dollar Store Bins