Organize Leftover House Paints in Mason Jars
How to organize your leftover house paints in glass mason jars.
Part of my spring cleaning this year has been to go through all the leftover house paint. I seem to have a collection of big gallon paint cans with only a little bit left in each can. I don't want to dispose of any of the paint to keep around for any wall touch ups but I don't want to keep these rusty cans. So what's the best way to store them?
I came up with this convenient and pretty solution for storing leftover house paints.
Organize House Paints
This post contains affiliate links for your shopping convenience. Click to read my full disclosure policy.
I picked up these mason jars in two different sizes. Some of the paint cans had quite a bit of paint left in them and some had only a little bit.
Once you determine which paints you want to save, simply pour them into a jar.
Immediately after you pour one into a jar, put a temporary label on it. I just used a piece of masking tape to write the name on each one as my neutral paints colors all look the same.
I picked up some pretty labels and stuck one on each jar.
Don't they look pretty?
What was surprising to me was that I had to (properly) dispose of a LOT of my old paint. I thought for sure all or most would be salvagable but most were all rusty or too goopy to even pour.
So I'm glad I'm starting to store my paint this way so now I can see them and be more inclined to paint a project with them or touch up a wall.
While I was at it, I decided to dip a large popsicle stick into each jar and set it to dry.
Then I just wrote the paint name on the stick.
I have the paint color sticks in my office for quick reference.
I also store my house paint colors also with other house reference stuff in a pretty binder.
I just taped the paint chip to a piece of paper and stuck it in a clear plastic sheet protector for easy reference.
So here is a break down all of the paints used in my house.
I hope this has inspired you to get your leftover house paints organized. You'll be so glad you did!
Make sure to pin it for later!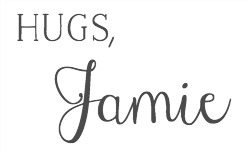 Click in Case You Missed:
Organize Loose Tea in Weck Jars