Let me show you how easy it is to workout from home. I even have a free printable for you – a workout and hair washing schedule!
I have an easy way for you to workout from home and an even easier set up with minimal equipment! And the best part? A free printable for you to download to keep track of your workout schedules along with hair washing schedule!
Workout Struggle
This last year I've struggled with getting to the gym. I started to take some classes which really motivated me but it took so long. I would drop off the kids to school, then there was about 30 min to kill before the class started, an intensive workout for 1 hour, then friends would want to grab a smoothie after. If I declined the smoothie request, I'd end up chatting after the workout. I loved it and I loved catching up with my friends but I started to realize this one workout at the gym was eating up about 3 hours of my morning after I showered and got ready for the day. I just couldn't do this several times a week. So I ended up only going once a week and then it seemed pointless just going once a week so I just stopped going altogether.
I knew the most convenient way to work out would be at home but I didn't have any equipment. I thought about buying some used exercise machines but we just don't have the space in our house.
So a friend told me about an app she was doing workouts from and I've been hooked ever since. I even made a workout area in my home where you would never guess is hiding so I have no excuse to not workout.
I use the Tone It Up app at home that you can download for free from the app store or Google play.
Where I Work Out
This cabinet behind my living room couch holds my china. It's also the area where I have a bit of room to do my workouts.
Here is where I store my workout gear:
Perfect, right?
I'm really trying to cut down on extra 'things' in my house and I got rid of some stuff to make room for my weights and exercise bands for the bottom of this shelf.
I even have a phone stand that I can rest on top of the cabinet to watch my workout circuits from.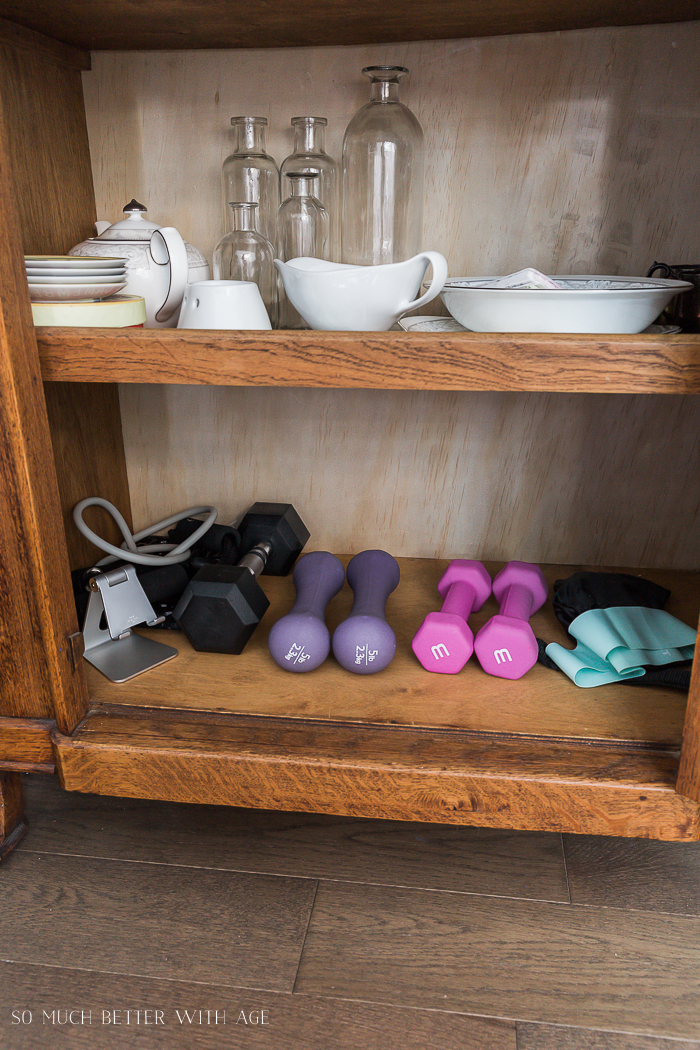 Behind the couch there's a big metal basket to store extra blankets and I've just put my yoga mat in it.
I usually keep my runners next to the basket during the week too.
It's so motivating to have everything right there to work out!
Workout / Hair Washing Schedule
What is a hair and workout schedule? Well I'm always trying to figure out the days I need to wash my hair and the days I work out.
Generally with this workout app it suggests working out for 20 minutes each day which I try to do but life doesn't always cooperate.
I also only wash my every 2-3 days so it's nice to make a schedule of when to work out and when to wash your hair after.
Because there is nothing worse than spending all that time blow drying your hair to just put it in a ponytail for exercising! There will be a big kink in my hair until I wash it again. So now I can make a schedule that will work with hair washing days and working out.
I hope I've motivated you to work out at home if you can't get to the gym and coordinated your hair washing days along with your workouts!
Printable:
To download this printable, subscribe to my newsletter.
If you are already a subscriber, you'll have access to the printable in your inbox.
Make sure to pin it for later!