How To Make A Ruffled Tablecloth {Trash To Treasure Series}
How To Make A Ruffled Tablecloth
We're back with our Trash to Treasure Series!
Has anyone ever bought something expensive, you wash it, then it shrinks? I hate it when that happens. But I'm not talking about clothing. I'm talking about a linen tablecloth.
I bought a beautiful linen tablecloth  that has light coloured stripes down it that mimicked grain sack stripes.
You know how much I love my grain sacks!
So when I used it for a party then washed it on COLD on DELICATE in my washer and HUNG it up to dry, I was shocked that it still shrunk!
I knew I was going to turn that trash into treasure one day so I set the shrunken tablecloth aside.
Then my daughter's first birthday came up and I decided that it would be a fabulous idea to add ruffles to the sides to it to make it into a ruffled tablecloth.
Okay, this story actually starts back a year ago for my daughter's first birthday when I made the tablecloth from my bedskirt.
Here is the bedskirt that I made.
When we bought our new upholstered bed, the bedskirt looked funny with it so I decided to upcycle my bedskirt and make it into a tablecloth.
Funny thing is, a bedskirt only has three sides to it, right?
So I sewed the three sides to the shrunken tablecloth and left the one edge facing the back wall and no one seemed to notice.
Yep, that arrow shows where there were no ruffles! I just didn't have time to make more ruffles.
Well it bothered me so I knew I would eventually need to finish the tablecloth.
Exactly one year later she has another birthday party (funny how that works out, huh?) and it was time for me to finish that last edge.
Which really helps you because this time I took photos!
So here is what you need:
SUPPLIES:
fabric for tablecloth, existing tablecloth or shrunken tablecloth
linen fabric
sewing machine
iron & ironing board
pins
scissors
seam ripper
TUTORIAL:
1. Wash and dry tablecloth and linen fabric at least once. Make sure that your tablecloth is hemmed on all sides. If not, you will need to do a quick hem job. To hem, fold over one inch and iron into place then stitch down (see image below).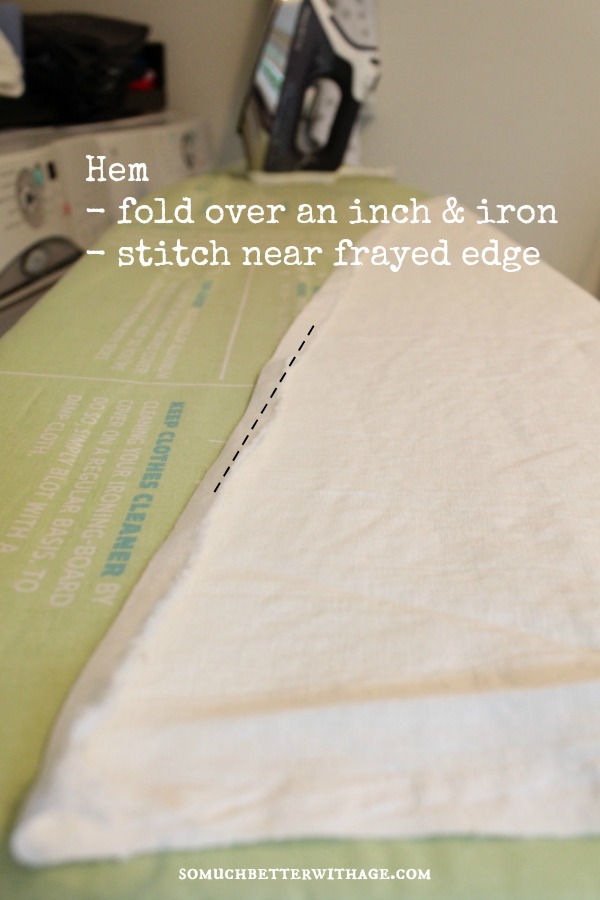 2. Take your linen fabric and pin it into the corner.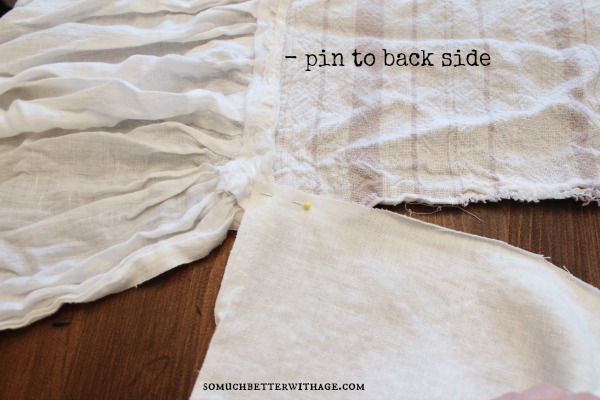 3. Next you want to pinch the fabric about an inch or more, fold over, and pin into place.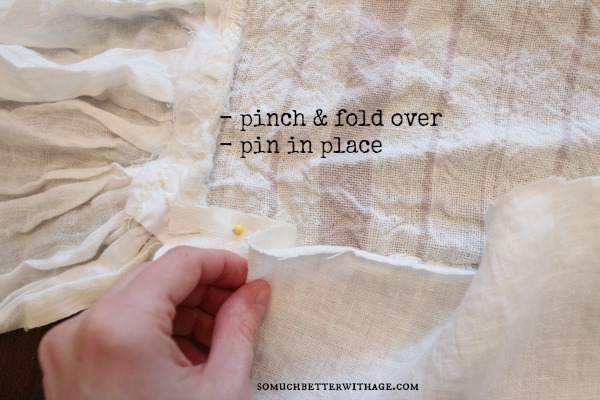 4. Continue doing this for the entire length.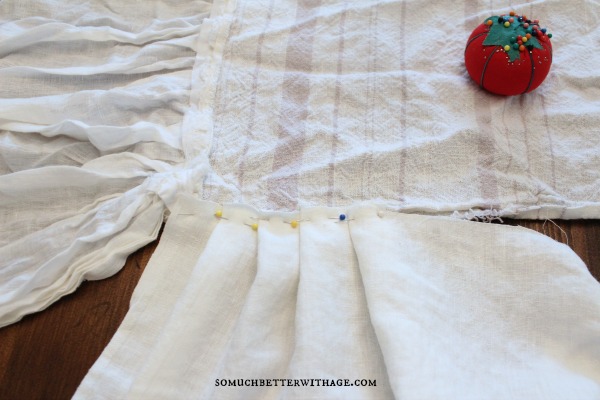 5. I chose to hem it after I sewed the ruffle on.
6. If your fabric ends before you get to the edge of your shrunken tablecloth, don't panic! Grab another piece of linen and continue pinning.
7. Just make sure to leave one inch of fabric on either side free. You will stitch those up later.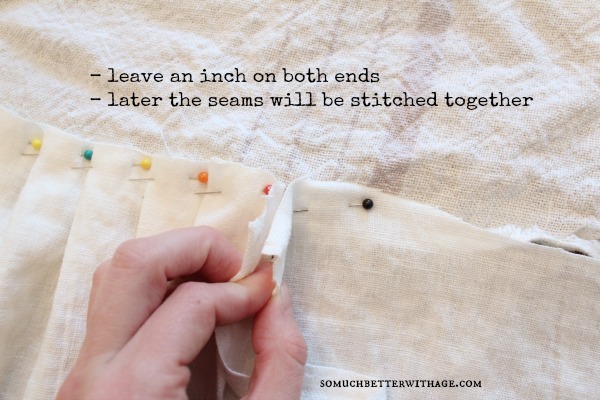 8. When you're done pinning the ruffles down, take it to your sewing machine. If your ruffled tablecloth is heavy like mine, you might want to make a bed out of two chairs so your tablecloth can have a rest while you sew (this is so the weight doesn't pull it down while you're trying to sew).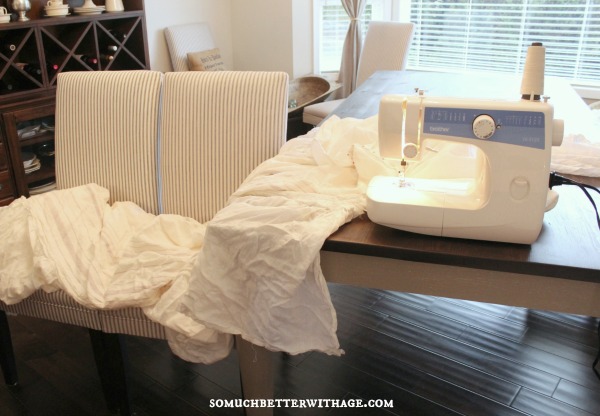 9. Be careful with all those pins! You'll notice I put all my pins in the wrong way for sewing but this was the easiest way for me to pin the fabric down so just do whatever is easiest for you.
10. Put the sewing foot down on a spot at the edge and slowly take each pin out as you sew along. Continue sewing along the whole length.
11. After you've finished sewing the entire length, go back to any parts where you added more fabric. Since you sewed right over it, you're going to need to unpick those two inches of overlapping fabric with a seam ripper (or scissors).
12. Gather those edges together and sew all the way down to the end of the fabric.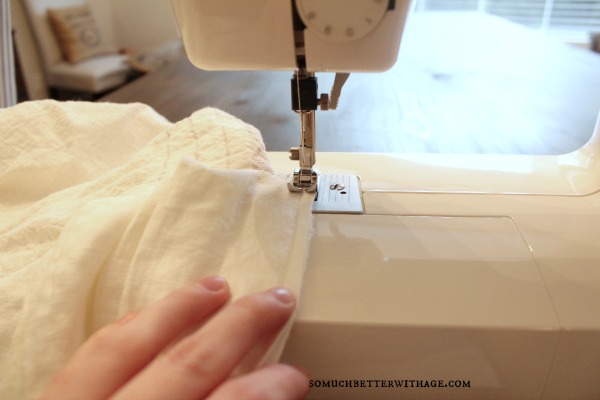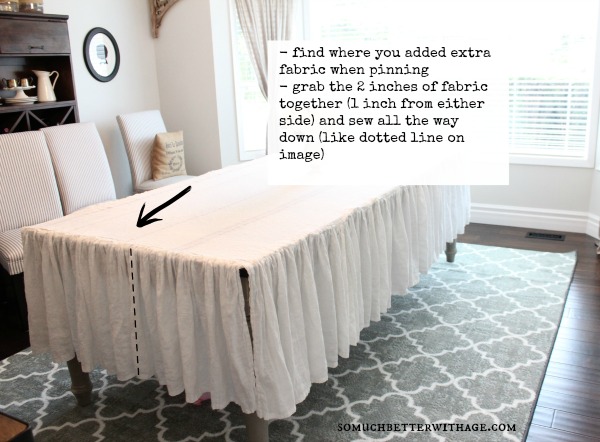 13. Then you can hem your tablecloth to where you'd like it (follow step 1 for instructions).
 And now you have a beautiful tablecloth ready for parties or any special event.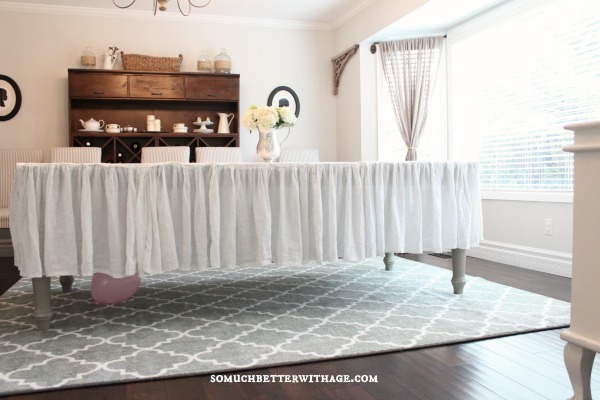 Have I inspired you to tackle a tablecloth with ruffles?
Perhaps you'd like to see how I transformed my bedskirt into a tablecloth.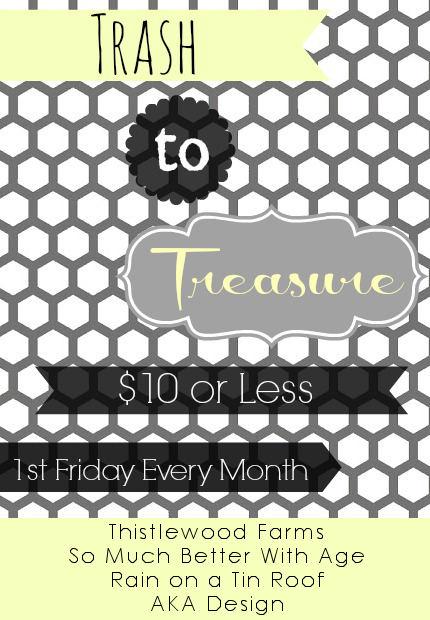 Be sure to check out how fabulous things my co-hosts made!
Karianne from Thistlewood Farm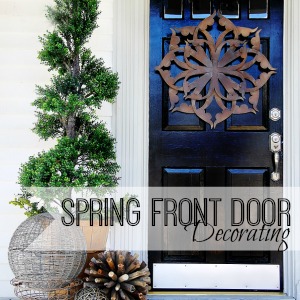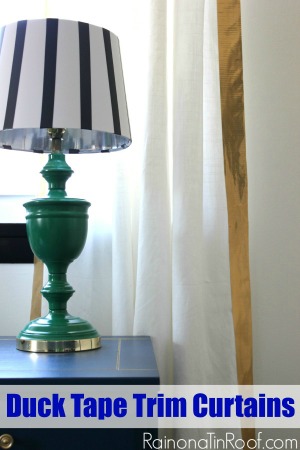 [catablog_gallery id="10318″ template= "gallery"]